December 14, 2017 | The Bite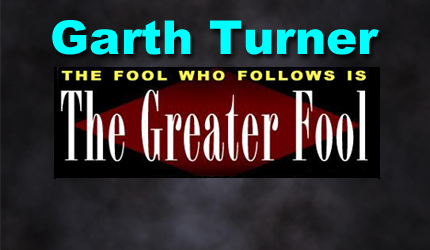 A best-selling Canadian author of 14 books on economic trends, real estate, the financial crisis, personal finance strategies, taxation and politics. Nationally-known speaker and lecturer on macroeconomics, the housing market and investment techniques. He is a licensed Investment Advisor with a fee-based, no-commission Toronto-based practice serving clients across Canada.
She bought the property, firm, plunking down a $50,000 deposit for 46 Raleigh Crescent, in the troubled GTA exurb of Markham. Then, a change of heart. In the midst of a declining market the buyer decided the deal wasn't right. Her lawyer sent notice it was being repudiated – a legal term indicating the contract was unenforceable since one party was walking away.
But, of course, you can never walk. There are always consequences, the very least of which is surrendering your deposit.
So she did something clever, employing an arcane tactic that's been gaining currency at a time of disintegrating deals. Her lawyer registered a 'caution' against the title of the Raleigh house, attempting a sort of blackmail against the owner. Unless the deposit is returned, her lawyer said, the caution will remain, rendering the property unsaleable. (A caution is a legal warning that someone other than the owner has an interest in the property. With one in place, you can't sell or finance.)
Enter Albert Frank. He's a hardened litigation lawyer with three decades of experience in smacking around his clients' enemies. Hired by the owners, he went to battle in a case that intrigued him.
"I'd never seen this before," he told me on Thursday. "I searched case law back for the last hundred years and did not come across any instance where someone used a caution over the issue of a deposit. It was just bizarre. Here's a buyer who repudiated the deal, who's not claiming any interest in the property, and yet filed an instrument against the title. Obviously it was designed only to hold the property to ransom."
So Al went to court to get the thing quashed. "I was startled when I was there and talking to other lawyers that at least two of them were facing the same thing. I guess it's the current new thing to leverage the return of a deposit."
So what happened in the Ontario Superior Court of Justice?
"The judge was very unimpressed." You bet. Not only did he rule that the caution had to be removed, but gave the homeowners costs of $10,000 to cover the cost of hiring a sharp dude like Albert to get the job done. Meanwhile Century 21 Leading Edge Realty was ordered to fork over the fifty grand in their trust account (they would not do so without a mutual releases signed by buyer and seller) to the jilted seller. Now they can close the deal with a new buyer, and still go after the old one for damages.
At least that's the theory.
You might recall the blog dog who sold his suburban house for $2.25 million in early April, only to have the buyers walk days later as the GTA real estate market started to fall apart. He sued, they ignored it. He eventually sold for $400,000 less than the original amount, and filed for damages. They ignored it. His lawyer secured a court date. They said they were busy. And now the whole thing is slated to go to trial – maybe – in May or June. Meanwhile the owners have racked up a sizeable legal bill and feel the justice system is a sham. To make matters worse, the deadbeat buyers are suing the owners, alleging they took too long to get their place back on the market.
Isn't real estate fun?
If you're selling a house – with more market declines ahead thanks to the new stress test – make damn sure the deal is solid. No long close. A mother of a deposit (ask for 10%). No buyer visits prior to closing. Deposit held in your lawyer's trust account, not that of the listing broker. No condition on the buyer finding 'satisfactory' financing. And a clause giving you a day or two for legal approval of the offer.
Also do something radical – find out who the buyer is before you enter into a contract with them. Job? Circumstances? Background? Can they afford it? After all, you'd never rent your cheapo condo to someone without a credit application, references, credit check and income/employment verification. Why sell a $1.5 million house to a stranger and make huge life changes based on a closing months away that may never happen?
Say, did you hear household indebtedness just hit a new all-time high? And that people are borrowing money on their HELOCs at 3.7% to lend out as down payments to desperate moisters trying to beat the stress test, at 10.5%?
If you like disaster movies, you'll probably love 2018.
STAY INFORMED! Receive our Weekly Recap of thought provoking articles, podcasts, and radio delivered to your inbox for FREE! Sign up here for the HoweStreet.com Weekly Recap.