December 1, 2017 | The Bad Day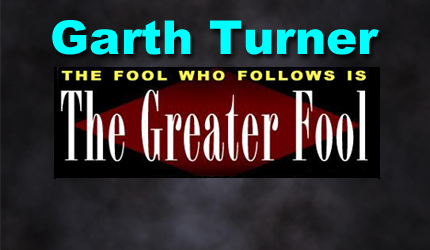 A best-selling Canadian author of 14 books on economic trends, real estate, the financial crisis, personal finance strategies, taxation and politics. Nationally-known speaker and lecturer on macroeconomics, the housing market and investment techniques. He is a licensed Investment Advisor with a fee-based, no-commission Toronto-based practice serving clients across Canada.
Fear & Loathing in Don Mills
There are over 120,000 realtors in Canada. Astonishingly, 48,000 of them work in a single market – the GTA. This probably explains why the region has 10 Audi dealerships. And why there was an audible wail in the air Friday afternoon, epicentred on Don Mills Road just south of the Death Highway known as 401. The massive Toronto Real Estate Board, the largest in North America, just got smoked.
It's taken six years and a massive pile of court documents, but the real estate cartel's stranglehold on information has finally been broken. The federal Court of Appeal upheld a previous ruling that TREB (and, by extension, every other real estate board in the country) must allow its members to freely publish consumer-friendly stats and related data, the way the enlightened realtors in Nova Scotia do.
What this means: expect progressive agents and real estate marketers to start publishing the sold prices of houses, sales histories including expired or renewed listings, days-on-market, price reductions or increases, pending sales as well as broker commissions. Dashed have been the real estate cartel's arguments that this is proprietary data and  revealing it would encroach on the privacy of homeowners.
So, finally. Transparency on sales histories, giving buyers some context, opening the door for a Canadian Zillow. Combined with rising mortgage rates, universal rent controls, anti-Chinese-dude taxes, empty-house taxes and the 2% stress test, plus assaults on AirBnB and the lunacy going on in Vancouver, this ruling helps ensure 2018 will be a year of profound adjustment in the housing market. Aren't you glad you listened to advice here and bailed in March?
More Realtor Panic®
Apparently it's not enough to have 30-year-old children living in the basement, sucking off parental cash flow, or have the Bank of Mom finance junior's new condo by dipping into the equity in the family home, now realtors want kids to Hoover their folks' retirement savings as well.
What better indicator of industry panic than CREA's ask that the 2018 federal budget allow parents' RSPs to be used as down payments on houses their children buy? Not only that, but realtors want the max distribution under the Home Buyers Plan to be increased by a whopping 40% – to $35,000 per person.
The justification? Houses cost too much and "intergenerational RRSP loans would ease the financial burden that many young Canadians face when trying to purchase a home for the first time." The real reason? Everybody knows the market is an unsustainable, inflated, bilious gasbag that, in the absence of even more demand, will righteously rupture. And letting the kidults consume dad's registered funds will help fight the headwinds now gathering force.
Of course, this is appalling. Every survey ever done shows Canadians save way too little as it is with RRSP contributions withering, debt rising and savings rates tanking. Worse, the money in RRSPs was subsidized by taxpayers as an incentive for people to take care of their futures. Letting the Basement People suck it out, tax-free, for use in buying an urban condo so they can bike to Sbux, was never the intention.
Let's hope Bill Morneau makes the ethical and morally correct decision on this. What a pleasant change that would be.
Up she goes
Any doubt 2018 will bring higher interest rates in Canuckistan were just broomed by the latest jobs report. Economists, being the dour little weenies that they are, had forecast 10,000 new jobs to be created in November. Pshaw. Employers created 79,500 positions, which plunged the jobless rate down to 5.9%.
It's the best number since the credit crisis, and the longest span of job-creation we're seen in seven years. The report caused the dollar to surge and the odds jump for another rate increase – if not next Wednesday, then January 17th or (at the latest) March 7th. Meanwhile the US Fed is still expected to increase its benchmark rate a week from next Wednesday, the fourth jump in 12 months – with more to come now that the Trump tax cut package looks like a done deal.
Well, draw your own conclusions about what's coming. And stay close to your local Audi dealership. Big inventory surge ahead.
STAY INFORMED! Receive our Weekly Recap of thought provoking articles, podcasts, and radio delivered to your inbox for FREE! Sign up here for the HoweStreet.com Weekly Recap.