December 4, 2017 | Sticker Shock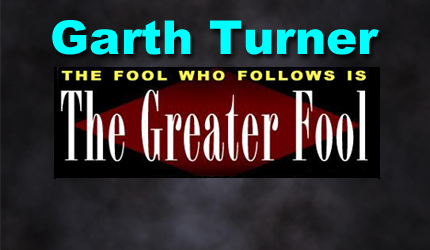 A best-selling Canadian author of 14 books on economic trends, real estate, the financial crisis, personal finance strategies, taxation and politics. Nationally-known speaker and lecturer on macroeconomics, the housing market and investment techniques. He is a licensed Investment Advisor with a fee-based, no-commission Toronto-based practice serving clients across Canada.
In desperate Markham, one of the GTA's affluent, hyperventilating exburbs, James' neighbour's house had been for sale for an eternity. Since April, actually, the month when the lights went out for real estate sales, when dark Audis stopped prowling the streets and prices began their sickening descent.
"I figured he was having a difficult time selling with the market being slower," Jim says, "but I was shocked to see a "Sold Over Asking" sign on his front yard a couple weeks ago." Indeed. The place was listed for $1,048,000 and somebody actually came along and paid $1,050,000. Two thousand bucks – enough to give the listing agent the immense giggle of slapping that 'over asking' sticker on the sign out front, and then on his Century21 web site.
And here it is. Nice house, if you're into glue-&-particle-board McMansions covered with face brick and fake stone on a street where nobody uses their garages because they're full of sweaty hockey pads.
But, being nosy and emboldened by a pathetic blog that knows no shame and has had all its shots, he decided to do some research. Jimbo asked an agent for a sales history of the kind the Toronto Real Estate Board has blocked from being available online at realtor.ca for all to see. This stands in stark contrast to what other consumers can access, like those in Nova Scotia, where Viewpoint.ca – soon to be the model for the nation – gives an instant and full sales ledger, including all relistings, price reductions, terminations and sold data. Everybody browsing for a house can be fully informed on a property's history before ever engaging an agent.
"Now that I have access to what was previously considered top secret realtor data, I can see what really happened," he says. "Originally listed for 1.84 and sold for 1.05 Another sleazy realtor exposed." You bet. Here is the litany of price cuts – five of them.
So what? Well, 64 Outlook may have sold for a few whiskers over the last ask, but it also went for almost $800,000 less than the original price six months earlier – a 44% haircut of Biblical proportions. Transparency in the listing would have disallowed this realtor fiction of a rising market (Sold over Ask!!), and also have guided any potential buyer that may have felt like ruthlessly vultching an owner clearly desperate for an offer. It also would have provided a true representation of a market that's dying.
In any case, if I know what a Bitcoin sold for last week, or a share in my fav weed stock, or a CryptoKitty, then why should I be kept blind to what this house fetched the last time it changed hands, or to know the frequency and magnitude of price changes? This is exactly what the federal courts have wondered, too, and why TREB had its rear paddled last week. Barring any successful appeal (won't happen), soon all houses will be naked.
"Another sleazy realtor exposed," says James. Only 110,000 to go.
$        $        $
Speaking of Bitcoin, you moisters can stop savaging me on social media over my warning not to speculate on this blockchain application. I don't care. Digital currencies may invade our daily lives in the future, but this thing is a massive bubble with close to 100% volatility. You have a very good chance of doubling your money in a week, and then losing all of it in a couple of days. That's not investing. It's gambling.
Two events worth knowing: the Bank of Canada may be getting into the digital currency business which means you can expect the Fed, the Bank of England and the ECB to do the same. Digital money offers no transaction fees and will be cheaper for consumers than debit or credit cards, while promisinging huge savings in the large-scale payments system. Inter-bank transfers alone are massive.
If it happens, guess what the legal tender would be? Adios Bitcoin.
Meanwhile those who think Bitcoin is Tulip Money and are waiting to short the pistils out of it will soon have their chance. Futures trading begins in about five days' time, first on the CBOE, then CME and later on Nasdaq, giving money-sniffing hedge funds a way to trash an asset that's increased 1,000% this year.
This comment from one anxious player sums it up nicely: "This is one of the greatest shorting opportunities ever. You have a lot of zealotry, and a lot of people, including me, who think it's the greatest thing to ever happen in the history of mankind. You have a lot of people who think it's a bubble and a Ponzi scheme. It turns out both of them can't be right."
Futures trading lets people gamble on going long (betting on gains) as well as rolling the dice and going short (betting on declines). It's like smoking, only faster.
STAY INFORMED! Receive our Weekly Recap of thought provoking articles, podcasts, and radio delivered to your inbox for FREE! Sign up here for the HoweStreet.com Weekly Recap.