December 13, 2017 | Sprinkles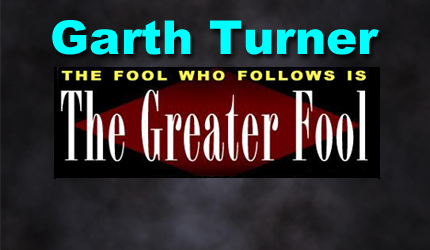 A best-selling Canadian author of 14 books on economic trends, real estate, the financial crisis, personal finance strategies, taxation and politics. Nationally-known speaker and lecturer on macroeconomics, the housing market and investment techniques. He is a licensed Investment Advisor with a fee-based, no-commission Toronto-based practice serving clients across Canada.
Another day, another detour. In Washington, Donald Trump used some average families as props while announcing a "giant, really giant" tax cut. A household making $75,000, he said, would see their federal taxes "cut in half." At the same time the US corporate tax rate is being gutted, from 35% down to 21%.
In Ottawa, our multi-millionaire Minister of Fairness was burdening small business owners with a new raft of regulations designed to extract an extra $220 million in taxes from their hides. To make up a little, the small business tax rate is bring cut by one-half of one per cent. The target this time (more are coming in the March budget) is "income-sprinkling", the made-up and pejorative phrase used to describe how families divide compensation to try and reduce tax (which has been perfectly legal).
The real celebration, however, was taking place over at the stone castle near Parliament Hill which houses the CRA. Just imagine how many more bodies and overtime will be required now to ensure the following is adhered to by hundreds of thousands of small enterprises:
"These tax changes (which are proposed to be effective for the 2018 and subsequent taxation years) will clarify the process for determining whether a family member is significantly involved in a business, and thus is excluded from potentially being taxed at the highest marginal tax rate (known as the tax on split income or TOSI). The changes include clear, "bright-line" tests – or off ramps – to automatically exclude individual members of a business owner's family who fall into any of the following categories:
The business owner's spouse, provided that the owner meaningfully contributed to the business and is aged 65 or over.
Adults aged 18 or over who have made a substantial labour contribution (generally an average of at least 20 hours per week) to the business during the year, or during any five previous years. For businesses with seasonal operations, such as may be the case with farms and fisheries, the labour contribution requirement will be applied for the part of the year in which the business operates.
Adults aged 25 or over who own 10 per cent or more of a corporation that earns less than 90 per cent of its income from the provision of services and is not a professional corporation.
Individuals who receive capital gains from qualified small business corporation shares and qualified farm or fishing property, if they would not be subject to the highest marginal tax rate on the gains under existing rules.
"Individuals aged 25 or over who do not meet any of the exclusions described above would be subject to a reasonableness test to determine how much income, if any, would be subject to the highest marginal tax rate. In certain cases, adults aged 18 to 24 who have contributed to a family business with their own capital will be able to use the reasonableness test on the related income. For additional clarity, the Canada Revenue Agency (CRA) has released guidance with respect to these measures. The CRA's guidance will seek to help businesses and family members understand the operation of the measures and, in doing so, effectively reduce their compliance burden in relation to these new rules."
And what about gender equality, I hear you cry?
Well, if you and another person start a business as co-owners, you can each divide the profits as tax-efficient dividends, whether you work there or not. But if you marry your partner, too bad. Their tax rate jumps to the highest level, unless s/he is an employee, according to the strict CRA guidelines.
And check out this hunk of federal logic:
Gender considerations previously communicated with respect to the proposed income sprinkling measures are not affected by these revised draft legislative proposals. Data show that men represent over 70 per cent of higher-income earners initiating income sprinkling strategies, and women represent about 68 per cent of recipients of sprinkled income. While this income is of benefit for recipients, it also creates incentives that reduce female participation in the workforce.
There you have the rationale for a small business dude being prevented from paying income to his wife for a venture they started together using joint matrimonial funds, or through a shared risk. It makes the babes lazy! They stay home all day snorfling Cheetos!
Seriously. This is your government at work. Making life complicated. Offering disincentives to be an entrepreneur. Creating bureaucracy. Dissing women. Trying to reengineer society. Fostering an employee mentality. Meanwhile family trusts, which both Morneau and the prime minister have and receive income from, are exempted from the rules. Kids, wives, pets – anyone can receive tax-deferred cash from a trust, for no work. Do as they say. Not as they do.
And another detour on rates. Last week the Bank of Canada took a pass, refusing to raise despite a strong labour market, romping economic growth and galloping growth in household debt. This week the US Fed hiked its benchmark rate for the fourth time in 12 months, and promised three more to come in 2018 as it resolutely normalizes the cost of money.
Canadian houses, overall, cost about double those in the States. And you blame the Chinese. Hilarious.
STAY INFORMED! Receive our Weekly Recap of thought provoking articles, podcasts, and radio delivered to your inbox for FREE! Sign up here for the HoweStreet.com Weekly Recap.