December 6, 2017 | Northern Exposure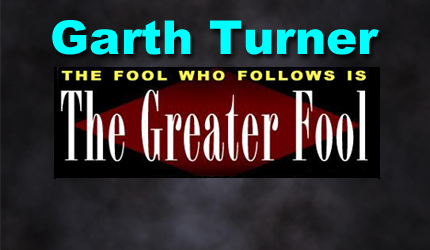 A best-selling Canadian author of 14 books on economic trends, real estate, the financial crisis, personal finance strategies, taxation and politics. Nationally-known speaker and lecturer on macroeconomics, the housing market and investment techniques. He is a licensed Investment Advisor with a fee-based, no-commission Toronto-based practice serving clients across Canada.
The odds are 90% that interest rates south of us will rise next week. That will be the fourth jump in a year, rendering those who said the cost of money can never rise to econo-weenie status. Meanwhile, speaking of weenies, our guys at the Bank of Canada decided Wednesday not to hike here.
So the B0C rate – upped twice during the summer – remains at 1%, likely until the first week in March. In a quick response the dollar gave up half a cent, realtors resuscitated, the price of a condo in Yaletown increased $840 and bank boss Stephen Poloz lost another shard of cred. After all, the Canadian economy is riding high at the moment with boffo job stats out last Friday, solid GPD, obscenely profitable banks, double-digit corporate profit increases, stable oil and, thankfully, no Adele concerts planned for the remainder of the year.
Yes, I know the markets gave only a 20% chance of a rate hike this week, but there's logic in getting this behind us now, instead of during the universal stress test madness that will engulf the coming Spring market. In fact, while wimping out, Poloz did say this: "Higher interest rates will likely be required over time," but the bank, "will continue to be cautious, guided by incoming data in assessing the economy's sensitivity to interest rates, the evolution of economic capacity, and the dynamics of both wage growth and inflation."
Hmm. Okay, caution. Very Canuckistan and beaverish. That should guarantee a seriously lower dollar by rutting season.
Meanwhile Bank of America says the Fed will hike three more times in 2018. Deutsche Bank says four increases. That would bring to seven or eight the number of moves in the US in just 24 months – a reasonably massive upward thrust after eight years of ZIRP. This means our guys will be hiking in three months from now, and may even need to add on a half-point (instead of a quarter) to stem the inevitable slide in the dollar. Or, maybe they'll just let it slide – adding a tragic amount to the cost of a new 2018 Harley.
If Poloz is bold, mortgages at 3.75% are a reasonable expectation. Add on the 2% stress test special sauce, and borrowers will need to qualify at 5.75%.
Higher rates seem an inevitability, even as Poloz the Dove is wary of cooling off a robust economy too soon. Economic growth will come in at 3% this year – just two years after being negative. Unemployment is at the lowest level in ten years. The feds are handing out tens of billions a year that they don't have, spending up a storm on critical economic issues like compensating gay people and gender equity. Commodity values have been inching higher and, most importantly, our biggest trading partner is swimming in presidential testosterone, hopped up on tax cuts and skimming the cream from toppy stock markets.
So what's holding them back from pulling the rate trigger this month along with the Fed?  "The global outlook remains subject to considerable uncertainty, notably about geopolitical developments and trade policies." This means the bank thinks NAFTA is somewhat cooked, and reflects T2's failure to get anywhere with a Chinese free trade deal last week, plus his questionable move in backing out of TPP. Protectionism remains a potent force in the world, exemplified by the America First policy of the Trumpster, and the serious political challenge leaders like Germany's Angela Merkel have encountered. Lately our trade numbers have sucked, despite a dollar which has been flaccid since Labour Day.
Meanwhile higher rates in the US have the yield curve flattening. If that means nothing to you, good. You're normal. But it does indicate building economic imbalances at a time when equity markets around the world are at record highs and millions of people have been flocking into the Bitcoin bubble, along with Vancouver condos. Human nature being what it is, eight years of job uncertainty, flat wages and rising personal debts have blossomed now into the usual uninformed speculation. Yesterday a guy with a million bucks in his portfolio, a good job, nice pension and great future asked me if he should up his risk level and go 75% into stocks. So typical. So dangerous.
Somewhere between our wussy, sexless central bankers and American toxic masculinity lies investment nirvana. Stay balanced, my friends.
STAY INFORMED! Receive our Weekly Recap of thought provoking articles, podcasts, and radio delivered to your inbox for FREE! Sign up here for the HoweStreet.com Weekly Recap.