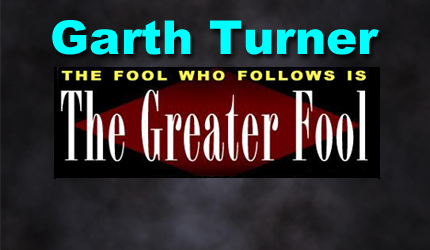 A best-selling Canadian author of 14 books on economic trends, real estate, the financial crisis, personal finance strategies, taxation and politics. Nationally-known speaker and lecturer on macroeconomics, the housing market and investment techniques. He is a licensed Investment Advisor with a fee-based, no-commission Toronto-based practice serving clients across Canada.
To the blog dogs, spade, neutered or whole. To the Mills and mouldy basement dwellers. To the whiners, critics and shop stewards in the steerage section. To the Lay-Z-Boy macroeconomists who know everything and the ingenues who stumble in to learn. To the bigots, the prejudiced and the lame who come to fight me. To the poor Costco shoppers and Kia divers, realtors in leased Audis and babes on Harleys. To the doubters, the disciples and the dipsticks. To the wrinklies, curmudgeons and fading Boomers responsible for all ill. To the commies, taxers and 1%-baiters. May you be saved. To the Bitcoiners, cryptos, bullion-lickers and doomers. To the house-horny, the epic-in-debt and the FOMOs. To the Bank of Moms, the mortgaged, the entitled and the moisters. To the balanced, the cheap, the DIYers and the brain-dead GICers. To those who post comments and the 99% who know better. To every beloved dog owner and misguided cat hostage…
Merry Christmas. Seriously.
STAY INFORMED! Receive our Weekly Recap of thought provoking articles, podcasts, and radio delivered to your inbox for FREE! Sign up here for the HoweStreet.com Weekly Recap.