December 13, 2017 | Bitcoin will be Regulated and Controlled!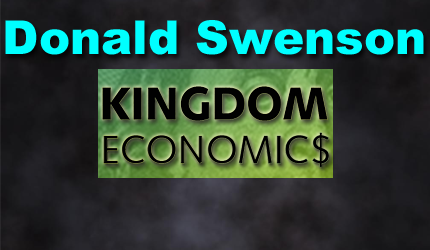 Donald B. Swenson: Born January 24, 1943, Roseau, Minnesota. Graduated H.S. 1961, Moorhead High, Minnesota. Graduated College 1968, Moorhead State University, Minnesota. Designated member of Appraisal Institute (MAI), 1974. Employed with Western Life Insurance Company, 1968 – 71; Iowa Securities Company, 1971 – 73; American Appraisal Company, 1974 – 81. Part-time teacher/valuation consultant/bartender, 1979 – 2008 (taught workshops at Waukesha County Technical Institute, Wi. and Madison Area Technical College, Wi.). Retired 2008 (part time teacher/blogger), AZ. Self educated economist/philosopher/theologian: http://kingdomecon.wordpress.com.
Many pundits are assuming that our crypto-currency markets will remain private and eventually challenge the centralized banking system for control over our markets. This, to me, is total deception and naivety. Wake-up to who controls this planet and what has already been planned for this planet. Read these headlines from Bitcoin News to discern what our elites in authority are already doing to limit and control these crypto-currencies. Then read about this Agenda called AGENDA 2030!
It is obvious, to me, that our Central Bank elites and our Deep State operatives will not allow any challenge to their controlled monetary system. Bitcoin and all the hundreds of Alt-currencies must bow to our control system so as to continue. Now that we have a Futures Market for Bitcoin and soon other Alt-currencies, control and price suppression will become vogue.
Today's Wall Street Journal had a special section called China Watch which was paid for by China Daily, an official publication of the People's Republic of China. This section reveals that China will lead our world into a Digital Age where 5-G becomes the standard by 2020. In merely two years everyone will be controlled and monitored by a global digital computer system called 5-G. All this is happening as I write this missive.
Artificial Intelligence and digital money will rule over this entire planet in a couple of years. For the few who understand reality, this is the 'Mark of the Beast' financial system. A global digital currency will likely emerge in the next couple of years to initiate this 'Mark of the Beast' financial system. Bitcoin and all the other Alt-currencies will be subsumed into this new global network where select elites RULE this planet. This is Prophecy in action for those with wisdom!
Few comprehend that we live in a spiritual universe where our 'words' create our reality. The source of all 'words' is our invisible LOGOS who rules from another realm. All these crypto-currencies reveal, to me, that we are now entering the END TIMES and select elites will attempt to RULE this planet so their corrupt agenda gets implemented. Have you heard of Agenda 2030? This Agenda is now official for our planet and some 193 nations have adopted the principles of this Agenda as of January 1, 2016.
What we need to recognize is that the LOGOS actually rules over this planet and this Source will determine what emerges during this End-Time set of events IMO. The Rule of Man is still here and this will not change until people recognize who they really ARE. For now, I see no meaningful change in human nature or the control system which governs this planet. I expect the 'Mark of the Beast' financial system to emerge and our digital economy will likely create this control system for planet Earth. Think for yourself on all these issues.
Watch what happens to Bitcoin as our Central Bank traders start their scheme to suppress this price (via their 'naked short' strategies). Shorting is what they use to suppress silver/gold prices and they soon will use this same algorithmic strategy to suppress Bitcoin and any rival to their control system. Check out Agenda 2030 for details on what is emerging globally. It's all about CONTROL and manipulation of human emotions. I see no solution until people WAKE-UP and think differently! I am: https://kingdomecon.wordpress.com.
STAY INFORMED! Receive our Weekly Recap of thought provoking articles, podcasts, and radio delivered to your inbox for FREE! Sign up here for the HoweStreet.com Weekly Recap.