December 8, 2017 | Big Alpha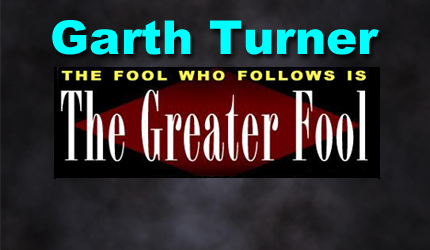 A best-selling Canadian author of 14 books on economic trends, real estate, the financial crisis, personal finance strategies, taxation and politics. Nationally-known speaker and lecturer on macroeconomics, the housing market and investment techniques. He is a licensed Investment Advisor with a fee-based, no-commission Toronto-based practice serving clients across Canada.
Together Canadians have $1,467,000,000,000 in mutual funds. That's almost a trillion and a half. Average embedded fees to own an equity fund are north of 2%. This is why the Investor's Group parking lot is full of Boxsters and Cayennes.
What's a mutual fund? It's a pot of money made up of contributions from many investors that a manager then uses to buy stuff. Like stocks or corporate and government bonds. Managers charge big money to do this job (they have Porsches, too) which is charged back to the investors, and in return try to add 'alpha'. That's financial speak for 'special sauce', which means they attempt to get better returns than you'd achieve just buying the same assets and holding them. In doing this job they buy and sell frequently, often generating capital gains taxes, which the unitholders also pay.
Trouble is, most of these cowboys fail.
Last year, for example, the number of Canadian mutual funds which focus on US stocks and which outperformed the index was… zero. Nada. Donuts. Not one. In the States almost 70% of fund managers investing in large-cap stocks failed to match the index and yet charged big bucks to do so. Over the last 15 years, the failure rate among managers is 90%.
Ouch. Makes you wonder what you're paying for. What also hurts is that the fees these non-alpha dudes charge are buried within the funds themselves, unseen by investors who cannot even deduct them from any gains they might make for tax purposes. Meanwhile the so-called advisors who collect the trailer fees from selling funds do not actually engage in any investing themselves and often collect an extra upfront fee for selling them to folks, or create a seven-year mutual-fund prison that penalizes anyone trying to get out.
But, credit where credit is due. There are $1,467 billion in mutual fund assets in Canadians' RRSPs, TFSAs and other accounts, and yet only $141 billion – a tenth that total – in ETFs (exchange-traded funds). Dinosaurs still rule the landscape!
What's the difference between the two?
Simple. ETFs are like Teslas – they drive themselves. There is no manager, so there's no fat management fee for investors to pay. They don't compensate some fancy guy to try and beat the market, then have to explain why he didn't. They just pace the market itself. What the S&P 500 does this year, for example (up 18.4%), is what an ETF holding those 500 companies does. Plus, they're traded on the stock market, which means you can buy or sell with the click of a mouse and get instant liquidity. Try doing that with a mutual fund (you can't). In fact, most funds have the ability to halt redemptions, so if a crisis emerged you might not be able to sell when you wanted (just like Bitcoin).
ETFs are not free, however. Across a balanced portfolio you can expect to pay an embedded cost of about 0.2% – which is a hell of a lot cheaper than 2.0%.
Now, mutual fund salesguys, for obvious reasons, hate it when they hear such talk. And being in sales, they are daunting adversaries, able to woe naive investors with tales of giant, throbbing Alpha and heaving bosoms. (I may have exaggerated there.)
Jane, in fact, encountered exactly this schtick after she told her mutual fund guy she was leaving to embrace ETFs.
"I talked to him today for the formal "thank you and best of luck" nicety and needless to say he thinks I'm making a huge mistake.  I feel quite defenceless when it comes to talking to financial advisors. My boyfriend tried to do his best to help explain it and then reverted to "Ask Garth."   For ease I will just lay out what was said by mutual fund guy in bullet form and hopefully you can help me out
ETFs are cheaper but that is because they have a much lower rate of return.  So if you compared mutual funds to ETFs, Mutual funds are far better.
Fee-based advisors are cheaper because they do not actively manage my account, unlike mutual fund account managers. He said the MER is to pay for someone to manage my account. ETFs don't charge this because no one is managing anything.
ETFs are for old people in their 50's that can't absorb a loss.
In 2008 ETFs took a much harder hit than mutual funds (50% compared to 20%)
Young people should be aggressively investing and diversity is for old people and wusses
"Can you shed some light on this for me?  My mutual fund guy did make me feel a touch uneasy. I would appreciate the insight just for building my own knowledge and confidence."
You betcha, Janey. ETFs are cheaper because they don't come attached to some Bay Street smartie with three kids in private school. They are pure reflections of a transparent market. The rate of return for nine out of ten has been higher than an actively-managed mutual fund, at a fraction of the cost. Fee-based advisors (who should collect a fee of no more than 1%) actually build and manage client portfolios. They all shop at Costco and recycle their socks.
ETFs for old people? Did he mention dwarfs?
As for the 2008-9 crisis, a balanced ETF portfolio declined 20% while the stock market slid 55%. It recovered all lost ground in a year, then advanced 17%. It's not the structure of the asset that is owned (active or passive fund), but the weightings between various asset classes that will protect you in declines. You can be as conservative or aggressive as you want with either kind of funds. But if you like paying more for less, mutuals are for you. (He was really zooming you on that one.)
Anyway, Jane, good luck with the choice. If you stay with your guy, at least get him to take you for a ride. Another one.
STAY INFORMED! Receive our Weekly Recap of thought provoking articles, podcasts, and radio delivered to your inbox for FREE! Sign up here for the HoweStreet.com Weekly Recap.