December 20, 2017 | America First = 'ME' First!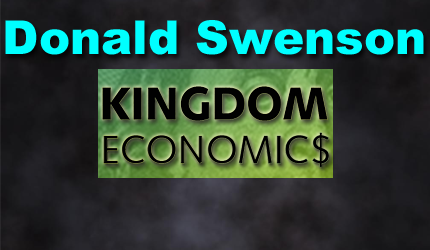 Donald B. Swenson: Born January 24, 1943, Roseau, Minnesota. Graduated H.S. 1961, Moorhead High, Minnesota. Graduated College 1968, Moorhead State University, Minnesota. Designated member of Appraisal Institute (MAI), 1974. Employed with Western Life Insurance Company, 1968 – 71; Iowa Securities Company, 1971 – 73; American Appraisal Company, 1974 – 81. Part-time teacher/valuation consultant/bartender, 1979 – 2008 (taught workshops at Waukesha County Technical Institute, Wi. and Madison Area Technical College, Wi.). Retired 2008 (part time teacher/blogger), AZ. Self educated economist/philosopher/theologian: http://kingdomecon.wordpress.com.
The worldview of our President and his followers creates a psychology of 'ME' first IMO. America first is essentially the same as ME first. ME first is a selfish philosophy which can not work within our global interconnected cyber economy IMO. Think about what is now emerging under the leadership of our America FIRST president. I and/or ME comes 'first' and the 'others' who trade and challenge America economically/politically/socially must take a 'back' seat to this ME first psychology. Will this work in today's interconnected cyber world?
The mindset of America FIRST sounds good to those with a philosophy of ego/selfishness. It may have worked in our world prior to WWII, but this is not a sound philosophy for promoting international good-will, peace, and security (in today's world). Russia will not buy into this America FIRST philosophy…as they must view their interests as 'equal' to ours. China will not buy into this mindset for similar reasons. Iran, Turkey, and the Muslim world will not buy into this worldview. In fact, Europe will not buy into this selfish psychology…now being promoted by our American policymakers.
We now live in a global interconnected world where everyone desires to be treated as equals (at least philosophically). Foreign Nations are led by policymakers who must work with America as we are the single greatest Super Power on this planet (as of today). Our dollar is still KING over all the other currencies. America became powerful by mostly 'Giving' of their talents (and their abundance) PRIOR to 'Receiving'. We could think this way due to our enormous wealth and due to the hard work of our citizens to produce and grow wealth. America was a Nation which 'Gave' FIRST (and then 'Received')!
Today, we are attempting to reverse this 'Giving' attitude (first) by creating this psychology of America FIRST (putting our interests prior of our competitors). This is an unhealthy mindset IMO within economics and I would suggest equally unhealthy in the area of foreign policy and our foreign relations. Those who become victims of this America FIRST mindset will sense that America is selfish and self-serving to their well-being. This will create negative repercussions and eventually a 'counter' psychology of asserting more ME first attitudes (towards America).
The current GOP tax bill represents this America FIRST mindset as it changes the mindset of 'Giving' first (internationally) to the mindset of 'Receiving' first. Think of our America first trade deals and similar ideas (repatriation)! Selfishness and a self-centered psychology will reveal that America no longer desires to 'Give' to others (first) from our abundance and our enormous human/social wealth. It is a change in 'Attitude' (and in our 'values') and also a change in 'Worldview' for Americans (with respect to the less blessed people's). I don't think this is a positive philosophy for America going forward. It creates a 'counter' ME first attitude in others!
America FIRST is equivalent to ME first. A ME first mindset is unhealthy for relations with 'others' on this planet (now a global interconnected world). I sense that America is heading for serious trouble down the road and our current philosophy of America FIRST is part of the problem. In reality, America should promote a worldview of 'GIVE' first. ME first is anathema to our history and to the abundance which America has been given by our Creator. This change in psychology is significant IMO. I do not view it as positive! Think for yourself on this issue! I am: https://kingdomecon.wordpress.com.
STAY INFORMED! Receive our Weekly Recap of thought provoking articles, podcasts, and radio delivered to your inbox for FREE! Sign up here for the HoweStreet.com Weekly Recap.