November 9, 2017 | Why Funerals Are Good for the Economy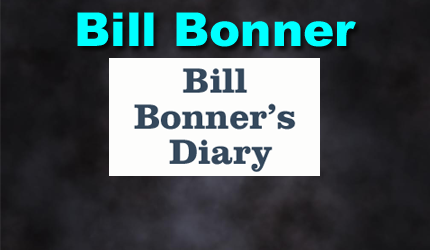 Is an American author of books and articles on economic and financial subjects. He is the founder and president of Agora Publishing, and author of the daily financial column, Diary of a Rogue Economist.
RANCHO SANTANA, NICARAGUA – "I wanted to build a little vacation cottage."
We were getting a tour of concrete and rebar. A colleague is building a house on the ocean. It seems to have gotten away from him.
"Well…" he continued. "How many times am I going to build a vacation house in Nicaragua?
"So, I thought I might as well do it right."
Spectacular Views
"Mizewells" are expensive. Especially when you're building on the Pacific Coast. Every view is spectacular. And every room has one.
In our friend's case, he has perched his castle on a cliff. On the right is a stone shelf, where the waves slap against the rocks, sending geysers of spray 20 feet in the air.
Farther out, there is a long stretch of sand beach reaching to hills in the distance. On the left, it is rougher and wilder, with giant rocks, in the water… and cliffs all along the coast.
How to make use of these views, the architect asks himself.
His new house has five bedrooms – each with a view up or down the beach – and a living room that is bigger than most single-family homes.
"Hey," we noted in amazement, "even your car has a million-dollar view."
Dream Home
Back in Baltimore, where our colleague spends 90% of his time, he is frugal and careful. Down here, he is letting himself go.
Why?
"It's our dream home. When I tried to cut the costs by eliminating some of the space, I showed it to my wife. She was very nice about it.
"'That'll be okay,' she said. But it was only okay. It wasn't a dream home. Now, it's a dream home."
Our friend has probably boosted the local GDP by a couple of percentage points.
At the site, there were at least 50 workers… hammering, sawing, mixing, hauling, toting and trucking. Each one was probably grateful to have a job… and get cash at the end of the week.
If he were not building his palace on the coast, there might not be other jobs available. The locals would return to fishing and gardening… or whatever they did before the building boom began.
Instead, they take the money and share it with family members… grocery stores… liquor stores… churches… and so on.
If he is industrious, the day laborer might learn masonry or carpentry, save some of his money… and use it to buy a truck and start a construction business of his own.
Thus does a real economy evolve. Progress!?
No Bump in GDP
Many years ago, we spotted an item in The New York Times. To the Gray Lady, it was a curiosity; to us, it was gold.
A man from Chicago, in his 50s, was diagnosed with incurable cancer. He went home to a small Greek island to die. Dying was cheaper there… and he could live in his parent's home until the final event.
With time on his hands, he took up gardening. He grew vegetables. And grapes. And made wine.
The seasons came and went. But he remained. He didn't die. Instead, he lived another 30 years, working in his garden, drinking his wine, joining the neighbors in eating, drinking, singing, and dancing.
Although this story had a happy ending for the Times' readers, the economists were left in tears.
No funeral, no flowers, no casket, no grave… no life insurance payment… no medical treatments… no drugs… no doctor visits… no diagnoses… no tests… no estate planning… no inheritance battles… no lawyers… no home sale… no commissions… no new kitchen… and so on.
In short, no bump up in GDP.
Well, dear reader, don't you think it was selfish of the man to deprive the economy of extra GDP?
We do. And we can promise you, when our time comes, we intend to go through with it as planned… The economy is already weak enough.
More to come…
Regards,
Bill
STAY INFORMED! Receive our Weekly Recap of thought provoking articles, podcasts, and radio delivered to your inbox for FREE! Sign up here for the HoweStreet.com Weekly Recap.