November 27, 2017 | Trading Desk Notes – Nov 25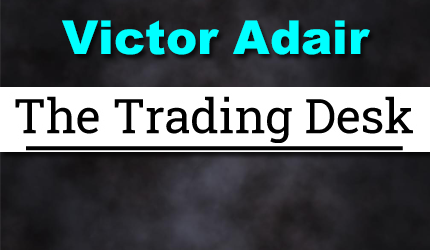 Victor Adair, author of The Trading Desk Notes, began trading penny mining shares while attending the University of Victoria in 1970. He worked in the mining business in Canada and the Western United States for the next several years and also founded a precious metals trading company in 1974. He became a commodity broker in 1977 and a stock broker in 1978. Between 1977 and his retirement from the brokerage business in 2020 Victor held a number of trading, analytical and senior management roles in Canada and the USA. Victor started writing market analysis in the late 1970's and became a widely followed currency analyst in 1983. He started doing frequent media interviews in the early 1980's and started speaking at financial conferences in the 1990's. He actively trades his own accounts from The Trading Desk on Vancouver Island. His personal website is www.VictorAdair.ca.
It was a low volume Thanksgiving week…Congress was on vacation…no tax reform news.
The major American stock Indices continued to make new All Time Highs. The DJIA is up > 30% from the Trump election lows while the Tech sector ETF is up >40% in same time frame. The American, Japanese and Emerging Market stock indices were all higher in November while the major European stock indices were lower.
The US Dollar index fell for each of the last 3 weeks giving back ~60% of the gains made during the September 8 to November 7 rally. The Euro has been particularly strong against the USD over the last 3 weeks despite the HUGE USD interest rate advantage (2 year benchmark US Gov't yields are at a 2.43% premium over Germany.) Over the past couple of years EURUSD has had a tight correlation to the 2 year interest rate spread. Not recently. Something else is "in play" causing the market to "buy Europe and sell North America" (as the Euro rises against USD, CAD and MEX.)
The Canadian Dollar is up ~1% from its November 1st lows mostly due to the weak USD. Interest rate spreads have moved in favor of the USD, while crude oil prices have moved in favor of CAD.
Crude Oil prices have continued to rally with both WTI and Brent at their best levels in 2 ½ years. January WTI closed the week ~$59 which is up ~40% from the $42 lows made in June. Speculators are hugely net long ahead of the annual OPEC meeting in Vienna November 30 on expectations that there will be an agreement to continue production cutbacks.
Gold had its best weekly close in 5 weeks last week due to a very strong rally on Friday November 17. That rally was completely reversed (and then some) on Monday November 20. Gold recovered somewhat on Tuesday/Wednesday to close $6 lower on the week. The relative sideways price action in gold the past 3 weeks is odd given the weakness in the USD. Perhaps gold is focused upon the relative sideways price action in US real interest rates.
My short term trading:
I went into the Long Thanksgiving Day weekend with no positions in any market. Sometimes you just have to take a break!
Currencies: I have a longer term Pro-USD bias…perhaps because I've made money the past few years short other currencies against the USD. I got long the USD the week following the Sept 8 Key Turn Date (short CAD and Euro) but took profits on those positions in October. I re-shorted CAD a couple of times in early November and took small losses both times. I've been aside the currency markets the past 2 weeks, puzzled by the weakness in USD.
Gold: I bought gold on the November 17 rally and it looked great on the close. I sold it for a loss Monday morning, and was glad to have done so because the price action looked awful by the close!
Stocks: I've been susceptible to the "Stocks are WAY overbought and due for fall" story for the past couple of months but last week I bought the S+P as it rallied back from its mid-week lows. I sold it ahead of the long weekend for a profit that almost offset my gold losses.
WTI: I've had a bearish bias on crude…perhaps because I've made money being short crude on and off for the past 3 years. I'm susceptible to the bearish supply/demand/inventory story but obviously the market isn't! My bearish bias has kept me from buying into this 5 month rally but I "can't" buy it here with net speculative positioning HUGELY bullish. Perhaps the market is nearing another "As good as it gets" moment like it hit in December 2016 following the announcement that some non-OPEC producers (notably Russia) were joining OPEC and cutting production. As much as I "can't" buy WTI here I "can't" sell it here either just because I think it's "too high." If I decide to short the market I'll take a page from Bill Fleckenstein's book and wait for the market to roll over and then, "Shoot'em in the back."
The REALLY BIG story in WTI (and Brent) that the public doesn't see has been the absolutely HUGE swing in the pricing of the forward curve. For instance, in June of this year, when front month WTI was making its low around $42, the January 2021 contract was trading at a $5 PREMIUM to the January 2018 contract. Now the Jan 2021 contract is at an $8 DISCOUNT to the January 2018 contract.
This $13 swing shows that the crude oil market has made a very rapid change from a "contango" (cost of carry) curve to an inverted "backwardation" curve whereby product for immediate delivery is now priced at a premium to product for deferred delivery. Backwardation is typically a sign of a bullish market…as buyers bid aggressively for product "right now" and less aggressively for product "later."
Why the dramatic change? I don't know. There's probably several reasons including this idea: Speculators, who have been aggressively buying the crude oil market tend to buy the nearby months. Producers, who have been aggressively selling crude oil to hedge their production costs (lock in a profit) tend to sell the deferred months. That alone would pressure the back months relative to the front months. We could also be witnessing an "epiphany moment" as the market collectively realizes that crude oil is transitioning from an over-supplied market to an under-supplied market…which would indicate still higher prices ahead.
Where's the trading opportunity? If speculative buying over the past few weeks has truly gunned the crude market too high and prices start to fall once we get past the OPEC meeting then instead of just outright shorting WTI I might do a spread trade: buying deferred months while selling nearby months. That kind of spread should make money if crude oil falls and being spread instead of outright short might insulate me from some of the day-to-day "market noise."
PI Financial Corp. is a Member of the Canadian Investor Protection Fund. The risk of loss in trading commodity interests can be substantial. You should therefore carefully consider whether such trading is suitable for you in light of your financial condition. In considering whether to trade or the authorize someone else to trade for you, you should be aware of the following. If you purchase a commodity option you may sustain a total loss of the premium and of all transaction costs. If you purchase or sell a commodity futures contract or sell a commodity option  or engage in off-exchange foreign currency trading you may sustain a total loss of the initial margin funds or security deposit and any additional fund that you deposit with your broker to establish or maintain your position.  You may be called upon by your broker to deposit a substantial amount of additional margin funds, on short notice, in order to maintain your position.  If you do not provide the requested funds within the prescribe time, your position may be liquidated at a loss, and you will be liable for any resulting deficit in your account. Under certain market conditions, you may find it difficult to impossible to liquidate a position. This is intended for distribution in those jurisdictions where PI Financial Corp. is registered as an advisor or a dealer in securities and/or futures and options. Any distribution or dissemination of this in any other jurisdiction is strictly prohibited. Past performance is not necessarily indicative of future results.
STAY INFORMED! Receive our Weekly Recap of thought provoking articles, podcasts, and radio delivered to your inbox for FREE! Sign up here for the HoweStreet.com Weekly Recap.