November 1, 2017 | The Prelude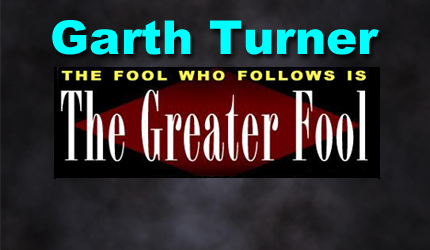 A best-selling Canadian author of 14 books on economic trends, real estate, the financial crisis, personal finance strategies, taxation and politics. Nationally-known speaker and lecturer on macroeconomics, the housing market and investment techniques. He is a licensed Investment Advisor with a fee-based, no-commission Toronto-based practice serving clients across Canada.
Plus ça change, baby. That's what sexy French people say when they remind you that the more things look different in the world, the more they're actually the same. When it comes in assets, money and financial security, it's worth remembering.
Like Kardashians, investment fads come and go. People, being people, always fall for them. But be careful.
For example in April when GTA houses cost 30% more every month than the year before, cash was trash and nobody cared about their TFSA. The panic was on to buy into the market before being priced out forever.
Now houses in many parts of the region have lost a quarter of their value, yet balanced portfolios are ahead 9% in ten months. Scads of house deals never closed and are grinding through litigation. In a few days we'll get official numbers showing sales in October were down a withering 30% from year-ago levels, and that the market is getting more and more skewed. Condos are up, detacheds are down. What everybody was slobbering over in the spring – $2 million McMansions in the 905 boonies – sit unloved, unsold and devaluing daily (see below).
Now it's November with lower sales, higher inventories and a giant sword hanging over the one asset most families have hung their futures on. Not just in southern Ontario, either. The same pattern is being repeated in the Lower Mainland, Victoria and elsewhere as markets position for what is likely to be a riotous 2018. So what can we expect over the critical 180 days lying ahead?
Fearless predictions:
Modestly higher sales from early November through eggnog season with almost all of the action concentrated on the bottom end of the market. Condos, a few townhouses and slanty semis on dodgy streets plus the odd SFH built on an old landfill site. Just the stuff moisters love, and don't know enough not to purchase. Many will regret.
Agents and brokers will continue to turn up the heat, using the universal stress test as 100% of the motivation to get pre-approved and buy, "while you still qualify." Of course, suckers will be qualifying for elevated debt to buy houses at an inflated price. Once valuations drift lower, the mortgage will remain. The agents and brokers will not call again.
Inventory levels will erupt right after the reindeer pull out, especially if the winter proves to be anything like the last one. Thousands of owners yanked their listings over the last few months as the market for once-hot properties virtually collapsed, unwilling to believe the decline was structural. Big mistake. It was. Supply will overwhelm demand by March.
Mortgage rates will rise again, at least at the long end. The US economy is in third gear with the Fed guaranteed to drive its key rate higher for the fourth time in 12 months in December. While the Bank of Canada may skip its rate hike next month, it will not do so on January 17th or March 7th.
The stress test will be, well, stressful. Nobody escapes. By forcing all buyers to qualify at the current rate + 2%, it means we've effectively achieved 5% mortgage levels, doubling them in eight months. Just as significant will be the trapping of millions of borrowers inside the bosom of their current lenders. Anyone switching companies will be forced to pass the test, while renewers need not. So much for competitive rates. No wonder the bankers love this.
Less credit due to a higher mortgage bar will eventually impact values. Spring prices should be flat, summer ones faded and by this time next year many newbie buyers will wish they'd never listened to mom or Hoovered their TFSAa. People who always thought leverage was a good thing will learn otherwise.
The government will take credit for a successful soft landing. With croissant crumbs on his cravat, M. Morneau will send a message from a favourite patisserie outside his villa in Oppède, Provence, that, voilà!, fairness has returned to the middle class. With $2 trillion in household debt, rising rates and submerged Millennials, it won't feel that way.
The next six months will prove critical. If the stress test does its job, almost everyone who bought real estate between the end of 2015 and Easter of 2017 will regret it. If the stress test fails, Toronto houses will quickly climb to $8 million. This blog will start celebrating cats.
Meanwhile, thanks to veteran GTA realtor Alex Prikhodco, here's a preview of what to expect when the real estate cartel releases its numbers later this week (maybe). Is this what a melt looks like, or the prelude to an abyss?

STAY INFORMED! Receive our Weekly Recap of thought provoking articles, podcasts, and radio delivered to your inbox for FREE! Sign up here for the HoweStreet.com Weekly Recap.