November 14, 2017 | The Power of Classic, Common Sense Investing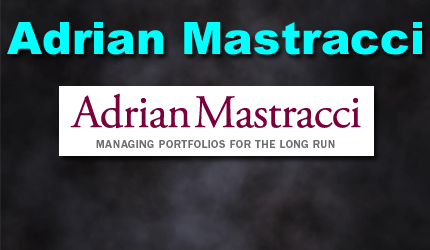 Adrian Mastracci, Discretionary Portfolio Manager, B.E.E., MBA. My expertise in the investment and financial advisory profession began in 1972. I graduated with the Bachelor of Electrical Engineering from General Motors Institute in 1971. I then attended the University of British Columbia, graduating with the MBA in 1972. I have attained the "Discretionary Portfolio Manager" professional designation. I am committed to offering clients the highest standard of personal service by providing prompt, courteous and professional attention. My advice is objective, unbiased and without conflicts of interest. I'm part of a team that delivers comprehensive services and best value in managing client wealth.
"History is a vast early warning system." — Norman Cousins, (1915–1990) American essayist, publisher
Investors can be excused for thinking that the concept of portfolio management is a modern day creation. After all, it is commonly referred to as Modern Portfolio Theory (MPT). In addition, the Nobel prize in Economics has been handed out.
Today's professionals and investors have a large basket of MPT tools at their disposal. Tools to analyze, select, benchmark, monitor, tweak and attend to every conceivable portfolio nuance. Fresh takes spring up virtually every day.
It is quite easy to get lost in the Modern Portfolio Theory forest. The tool chest is so vast that most investors barely scratch the surface of MPT.
In reality, MPT is not modern at all and nobody need get lost in it. Portfolio theory, also known as wealth management, has a long and rich history, spanning centuries.
Ageless wisdom
The following quotation ought to interest every investor:
"Divide your fortune into four equal parts: stocks, real estate, bonds and gold coins. Be prepared to lose on one of them most of the time. During inflation, you will lose on bonds and win on gold and real estate. During deflation, you lose on real estate and win on bonds. While your stocks will see you through both periods, though in a mixed fashion. Whenever performance differences cause a major imbalance, rebalance your fortunes back to the four equal parts."
It reads like something published by a modern day scholar of MPT. In fact, it is attributed to Jacob Fugger the Rich, (1459–1525), a German banker. Jacob captured the essence of managing wealth while at the helm of his family's nest egg. His ageless wisdom is the summary of portfolio management—both for his time and now.
I view it as fundamentals of what every investor ought to know something about. A simple, yet powerful, common sense approach to guiding the nest egg over the long haul.
My take aways
What can we gleam from Jacob's wisdom? Here are my top four take aways:
Simplicity — His approach is the spirit of classic simplicity. He minimized risks. He had a diversified asset mix. He monitored results. He tweaked the mix. He had a clear plan.
Discipline — His discipline served him well. He anticipated losses. He set personal targets. A disciplined investor typically makes better decisions. This outome continues today.
Process — His process was logical and void of emotional attachments. Especially in portfolio rebalancing, which often involves selling some winners and buying some laggards.
Timeless — His insights have weathered the telling tests of time. Something all investors aspire to achieve. Try your best not to reinvent the already proven wheels of investing.
Jacob's wisdom deserves special attention from every investor. His prudent perspective serves as well today as it did five centuries ago. The good news is that many users have contributed to improving the value of MPT over time. Now it can easily be implemented with basic technology
Investors may have to dig deeper to design and follow a comfortable asset mix. Perhaps, equal parts are not always best and there certainly are more asset class choices available. Today's vast MPT tools make it easier to deal with portfolios, as compared to Jacob's day. The pillars of portfolio management contain plenty of powerful, classic, common sense
Periodically revisit Jacob's premise and how to best apply it to your situation. I think of it as a powerful, yet concise, plan of action. MPT aims for a simple blueprint that satisfies your long run investing needs, while co-existing with a broad array of bulls and bears.
Holding discussions with a discretionary portfolio manager sheds more light on the value of MPT, vis-à-vis your long term objectives. History repeats itself and consistency delivers value!
STAY INFORMED! Receive our Weekly Recap of thought provoking articles, podcasts, and radio delivered to your inbox for FREE! Sign up here for the HoweStreet.com Weekly Recap.