November 8, 2017 | The NEXT Czar within our Fed System!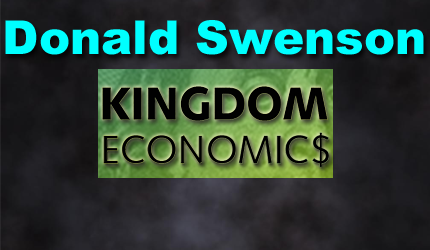 Donald B. Swenson: Born January 24, 1943, Roseau, Minnesota. Graduated H.S. 1961, Moorhead High, Minnesota. Graduated College 1968, Moorhead State University, Minnesota. Designated member of Appraisal Institute (MAI), 1974. Employed with Western Life Insurance Company, 1968 – 71; Iowa Securities Company, 1971 – 73; American Appraisal Company, 1974 – 81. Part-time teacher/valuation consultant/bartender, 1979 – 2008 (taught workshops at Waukesha County Technical Institute, Wi. and Madison Area Technical College, Wi.). Retired 2008 (part time teacher/blogger), AZ. Self educated economist/philosopher/theologian: http://kingdomecon.wordpress.com.
Who is Randal Quarles?
– Mr. Quarles is 60
-Currently managing director at the Cynosure Group, a private equity firm based in Salt Lake City.
– His wife's great-uncle is Marriner Eccles, the Fed's chairman from 1934 to 1948.
– Former lawyer for the financial industry before joining the Bush administration in 2002, first as assistant secretary for international affairs and then as under secretary for domestic finance.
-Left administration in 2006, to become a partner at the Carlyle Group
– Helped found Cynosure in 2014.
The finance system is now so corrupt that we need a Czar to analyze the system and propose new policies as the system crumbles from within. Who is this Czar that is emerging within our Fed System? My sense is that it is Randal Quarles, age 60, who has connections with the history of our Fed via his wife, Hope Eccles. He is the new Chairman for system supervision and might even be chosen as a candidate to replace Dudley at the New York Fed. This guy is worth watching as he emerges within our digital finance system going forward.
The Alexander Hamilton award (the highest honor given by our Treasury) was given to Randal Quarles and this gives him additional credibility among the elites within finance. I would watch the behavior of this administrator going forward. His mindset appears to be Globalism 101. As our digital markets start their descent from on high, this elite could play a crucial role within our global financial system. His background is with debt issues and debt default problems as well as international currency issues.
Randal Keith Quarles (born September 5, 1957)[1] was confirmed as Federal Reserve Board member and vice chair for bank supervision in October 2017. Previously he was founder and head of The Cynosure Group, a private investment firm, and a former partner of The Carlyle Group,[2] one of the world's largest private equity firms.[3] From August 2001 until October 2006, he held several important financial policy posts in the George W. Bush administration, ultimately serving as Under Secretary of the Treasury for Domestic Finance.
In July 2017, Quarles was nominated by President Donald Trump to be board member and Vice Chair for Supervision of the Federal Reserve. He was confirmed by the United States Senate on October 5, 2017[4] by a 65-32 vote on the board seat and by voice vote on the vice chair position. The bank supervision position had been created under the 2010 Dodd-Frank financial law but had never before 2017 been filled.[5] In 2012, Quarles was widely mentioned as a possible Treasury Secretary or senior White House adviser in future Republican administrations.[6]
Comments: Our Fed is at the center of finance for our planet. And, today, we live with a digital financial system which is gradually collapsing from within. At some point the entire 'house of cards' will start its descent into oblivion and a person like Randal will likely emerge as a key policy administrator during this period of collapse. Our Deep State (such as Henry Kissinger) appears to approve of this person. Watch this person for new policies which emerge in the coming days, weeks, months.
Our Fed is undergoing major change with new elites emerging daily. Jay Powell, another Globalist, will replace Janet Yellen in February. Stanley Fischer, Vice Chairman, has resigned as of October, 2017. Janet Yellen may soon resign also. William Dudley, with all his insider info, is resigning in six months (as New York Fed President and permanent member of our FOMC). Additional new members of our Fed will soon be appointed. All this 'smells' like policy change for all our collapsing markets in the near future.
Yes, our corrupt Central Bank and the elites who run this system will gradually be exposed as the core problem for progress going forward. In my view, this institution is totally UNCONSTITUTIONAL and corrupt. It's a criminal institution IMO and must be abolished at some point down the road. Maybe Randal Quarles and whoever replaces Dudley at the New York Fed can start a clean-up process! It's definitely needed! Watch and learn as events will change rapidly. I am: https://kingdomecon.wordpress.com.
STAY INFORMED! Receive our Weekly Recap of thought provoking articles, podcasts, and radio delivered to your inbox for FREE! Sign up here for the HoweStreet.com Weekly Recap.