November 26, 2017 | Strong Hands Needed to Expose Silver/Gold Price Manipulation!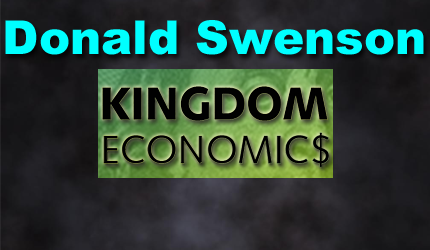 Donald B. Swenson: Born January 24, 1943, Roseau, Minnesota. Graduated H.S. 1961, Moorhead High, Minnesota. Graduated College 1968, Moorhead State University, Minnesota. Designated member of Appraisal Institute (MAI), 1974. Employed with Western Life Insurance Company, 1968 – 71; Iowa Securities Company, 1971 – 73; American Appraisal Company, 1974 – 81. Part-time teacher/valuation consultant/bartender, 1979 – 2008 (taught workshops at Waukesha County Technical Institute, Wi. and Madison Area Technical College, Wi.). Retired 2008 (part time teacher/blogger), AZ. Self educated economist/philosopher/theologian: http://kingdomecon.wordpress.com.
The awareness of price control, price suppression, and price manipulation is growing within the hard money camp. But our miners and our media pundits who recognize this fraud and corruption refuse of seek a remedy for all this corruption within the hard money camp. What must be done to reverse all this price manipulation and corruption.
I have followed the price suppression of our precious metals now for seven years. The suppression scheme is ubiquitous and most everyone who has followed these markets recognizes that market forces are being manipulated so as to suppress any growing sentiment for our historical monies.
Our official authorities desire to promote our cyber/digital monies at the expense of our historical monies. This has become obvious to me and the majority of pundits who follow these hard money markets. With computer trading and electronic exchanges, it is nearly impossible to stop this suppression scheme which originates at the top.
The only solution for this corruption is either to STOP participating in these precious metals markets (get out of all precious metals investments) and/or seek some solution which can expose the culprits so that their suppression scheme does not work. Many are getting out of these markets and refusing to buy or invest in mining stocks or virtual silver/gold derivatives.
The real solution to this mess is to get strong hands (who recognize the problem) to buy up the majority of physical silver/gold within our markets. The Hunt Brothers did this back in the 80's and it worked to some extent by removing silver from our trading markets. Today, this could be done again to expose the culprits behind all this price suppression.
It is obvious that silver/gold prices are being suppressed daily and 24/7 within our global electronic markets. This can now be accomplished with an algorithm and by a trader who works for our official banking authorities. An algorithm programmed to trade naked short contracts on a futures exchange (electronically) is the mode for all this suppression.
This will continue and it will eventually drive most traders out of these hard money investments completely. That is happening now to a degree. Personally, I see no solution to this price suppression scheme without a change in behavior by savvy investors who recognize the problem.
We need strong hands to buy up most of the supply of silver/gold so that the digital/paper/electronic/algorithmic price suppression gets exposed as a corrupt scheme which is illegal and unsustainable. I see no other solution to this mess within our electronic markets.
Get out of these markets and refuse to participate and/or buy up the physical supply and store this supply privately. I see no other viable alternative as our official authorities (at the top) are behind all this corruption. They do not see their own corruption as they desire a digital monetary system for our entire planet.
Think about either getting completely OUT of all these hard money investments and/or buying up the physical supply with your current savings. Fight corruption at the top by getting out of all these markets (as traders) and then allowing the corruption to grow so the real culprits get exposed over time. That is my view on the matter. I see no other alternative as of today! I am: https://kingdomecon.wordpress.com.
STAY INFORMED! Receive our Weekly Recap of thought provoking articles, podcasts, and radio delivered to your inbox for FREE! Sign up here for the HoweStreet.com Weekly Recap.