November 3, 2017 | Pretty Bad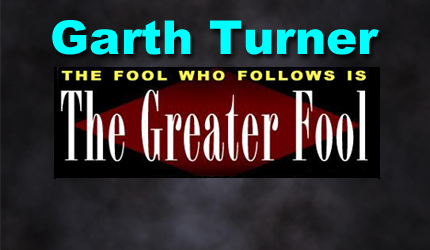 A best-selling Canadian author of 14 books on economic trends, real estate, the financial crisis, personal finance strategies, taxation and politics. Nationally-known speaker and lecturer on macroeconomics, the housing market and investment techniques. He is a licensed Investment Advisor with a fee-based, no-commission Toronto-based practice serving clients across Canada.
A final few words on the numbers released this week by real estate boards. Increasingly, they are suspect. Perhaps not deliberately, but misleading nonetheless. Experiences on the ground are showing a different reality than that which appears behind the paywall at the Globe & Mail, for example. Markets are not recovering. They are floundering or, at best, treading water. Sellers are still greedy, buyers are bewildered and the only buzz is at the lower end of the price range where hormones outnumber years of experience.
Beware.
And here's an example – Richmond Hill, in the northern arc of the GTA with a heavy Asian-Canadian population, acres of McMansions and a massive real estate appreciation over the last five years. Here are the current facts, gleaned by stats freak Hanny Elsayed at his most useful site ( http://torontorealestatecharts.com/).
READER ADVISORY:
The following numbers may cause periods of coarse language, incite brief violence and marital discord or conjure images of frightening situations, especially when combined with leverage or stress. Reader caution is advised. Thank you.
Richmond Hill detached home sales in October down 54.8%
Listings up 144.0%, year-over-year
Sales to active listings ratio (SALR) is trending downward
Average Richmond Hill detached home price is down 12.1% year/year
Median Richmond Hill detached home price is down 13.6% year/year
The average detached home is now $238,429 cheaper than six months ago
Decline in average detached price since April: 15%
Says Hanny: "The outer burbs are still looking very soft (see Richmond Hill/Markham/Burlington/Oshawa), with prices flat or down. On top of that supply is up big time in these areas and shows no signs of dropping. Even City homes and nearby 'burbs are ok at best.
"Many media outlets are saying things look like they're picking up, but it's more nuanced than that: when you separate out 'burbs from city detached and condos you see a few different stories. There is a lot of regional subtlety that the news headlines gloss over, and some of these areas look pretty bad."
Now, let's get the other concerning news out of the way.
It snowed in Vancouver. And Richmond, Burnaby and Surrey. Yes, in the first week of November, where there's a socialist government now in power determined to bring in a slate of land restrictions and other equity-sucking measures to accompany the Empty Houses Tax and the Foreign Buyers Tax. Vancouver (and the LM) is already one of the most inhospitable financial climates in the world in which to live, where the savings rate is negative and too many people have 100% of their net worth in a single, inflated asset. What big advantage did they have going for them? Yes, the weather. Oops.
Interest rates are going up. No, really. Again. The latest jobs numbers pretty much confirm the cost of money will be rising, and Canadian mortgage rates right along with them. The US churned out 261,000 new positions last month, seriously rebounding from the post-hurricane low that went before.
And Canada continues down the same path, even after the dreadful news about Sears and other retailers. A rebound in oil and manufacturing were partially responsible for a whopping jump of 35,300 in new jobs created last month, which also came with stronger wage increases. An 11-month streak of job gains is the best in a decade, with most positions being in the private sector – over 200,000 of them in the last two months alone, the best deal since 1976.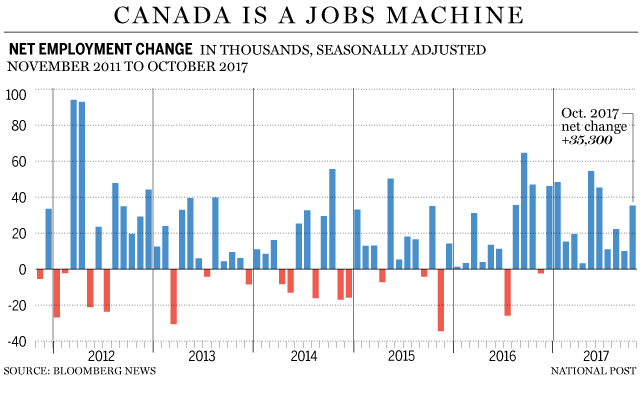 Will the Bank of Canada also raise rates in a few weeks? Uncertain. Scotiabank economists say Poloz will wait until April, then hike twice next year. Others are more hawkish, seeing four increases. But it's worth remembering the central bank rate has already doubled this year, and the new stress test will add 2% on top of that.
Meanwhile the Fed will not be finished in December. The Trump tax cuts, double-digit corporate earnings and the sustained GDP growth which continues to throw off jobs (even as America has reached technical full employment) promise future inflation, rising stocks and higher money costs. Bond prices will retreat. Bond rates, and the mortgages they fund, will increase.
Basic thought: over the next six months don't believe anything you read about real estate. Well, almost.
STAY INFORMED! Receive our Weekly Recap of thought provoking articles, podcasts, and radio delivered to your inbox for FREE! Sign up here for the HoweStreet.com Weekly Recap.