November 2, 2017 | Bad News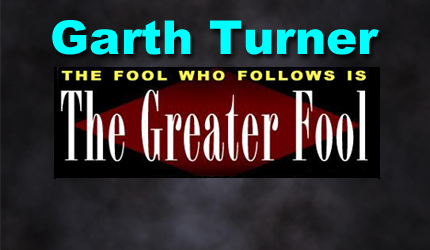 A best-selling Canadian author of 14 books on economic trends, real estate, the financial crisis, personal finance strategies, taxation and politics. Nationally-known speaker and lecturer on macroeconomics, the housing market and investment techniques. He is a licensed Investment Advisor with a fee-based, no-commission Toronto-based practice serving clients across Canada.
On the same day the real estate regulator crashed a GTA Re/Max franchise and froze buyer trust accounts after discovering 'irregularities", and buyers in a major downtown condo project learned it was going paws-up, we have new numbers. Hot from the trembling fingers of industry leaders.
Here are the facts: Sales of all kinds of properties in the nation's (by far) largest market last month plopped 27% from last year – about what was predicted here. Inventory romped higher, and there are now 78% more properties for sale than a year ago. Goodness. The largest decline in sales (almost 30%) came in the detached sector – which was the crown jewel of properties one year ago. In short, condos up, houses down. Average prices holding steady and running 15% below the peak of last April, when the industry told you to buy because prices would go up forever.
Media coverage has been all over the map. Many swallowed the realtor line that October sales proved the bleeding's been staunched, a floor established, and the bubble is back in business. After all, that's what the majority of people want to believe – since they took on heroic debt to score property and will be seriously pooched it if tumbles much more.
But that's naïve. Says realtor Alex Prikhodco, who provided yesterday's detailed stats: "The market is a flat in the 416 right now because people are buying before OSFI rules kicks in, but from what I'm hearing from mortgage brokers and private lenders, the new rules are gonna crush real estate prices, especially in the stacked mortgage situations. At least that's the expectation.
"You must be wondering why I'm cheering the crash, eh? I'm cheering the crash because the normal transaction rates are not going to return until the unconditional seller capitulation, which I believe is inevitable."
Hmm. Capitulation. Is that a realistic view? Will sellers just give up on their greedy, inflated, unrealistic, gouge-the-buyer, windfall expectations and accept prices 15% or 30% below current levels? And how long would that take to unfold?
Beats me. I come here for the bitches. And puppies.
However, it's hard to see October's sales increase over September's disaster as anything other than a dead cat bounce. Sales have rebounded from around 6,000 a month in the summer to just over seven grand for two reasons – seasonality and B20. Deals always multiply in the autumn, so the better comparison is with last year, not the summer. By that measure, the feline is croaked. More consequential is the growing realization among misguided moisters of what comes next – which is the stress test.
Here's all you need to know about what this week's stats:
Detached house prices fell 2.5%.
Condo prices rose 22%.
The same pattern has manifested itself in Vancouver and the Lower Mainland. As word spreads that B20 will mean buyers can finance 20% less house after the start of the new year, there's a little stampede of pre-approvals and offers now happening. Expect it to continue for the next six weeks as demand is drawn forward from what's likely to be a brutal 2018.
Most people still have no idea what's coming. B20 means mortgages, effectively, rise to 5% in January. Meanwhile the Fed will raise its benchmark rate for the fourth time in 12 months in December. The Bank of Canada, as night follows day (and as history has confirmed) will follow suit in the first quarter of the year. Long-term mortgage rates will continue to creep higher, followed by VRMs and secured HELOCs. The combination of higher rates and less credit it toxic to property values. Those rushing to buy now are the greatest of fools.
However, the kids know everything. They have Snapchat.
Finally, here's Tim Syrianos, the current head honcho dude at the world's biggest real estate board which, natch, is in Toronto. "Every year we generally see a jump in sales between September and October. However, this year that increase was more pronounced than usual compared to the previous ten years," he said in a statement to the masses. "While the number of transactions was still down relative to last year's record pace, it certainly does appear that sales momentum is picking up."
Now you know why. So does he.
STAY INFORMED! Receive our Weekly Recap of thought provoking articles, podcasts, and radio delivered to your inbox for FREE! Sign up here for the HoweStreet.com Weekly Recap.