November 2, 2017 | A Sneak Peek at the Economy of Tomorrow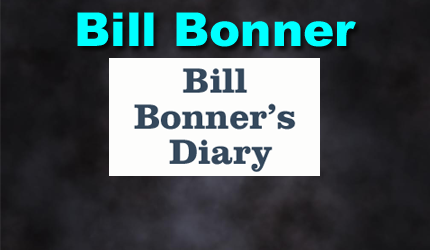 Is an American author of books and articles on economic and financial subjects. He is the founder and president of Agora Publishing, and author of the daily financial column, Diary of a Rogue Economist.
POITOU, FRANCE – We have been in almost constant motion for the last 10 days or so.
It's nice to be back at home… if only for a few days.
One of the pretensions of modern design is that things have to be different… modern… and new.
Progress, almost everyone believes, is undeniable and unarguably good.
What's nice about being at home is that you don't have to deal with so much of it.
"Seek Assistance"
At our hotel room in Paris, for example, it took a good five minutes just to turn on the hot water.
And in our hotel room in Porto, we spent several minutes trying to figure out how the A/C worked… and finally gave up.
The problem is not confined to hotel rooms. The clerks seem to have disappeared from airport check-in counters. Instead, you are confronted by a phalanx of computer terminals.
"Touch screen," they tell us. But then begins a long process which inevitably ends badly. "Seek assistance" is the last screen.
Of course, it was assistance that we were seeking in the first place… and it would have been a lot easier to get it from a helpful clerk.
One of the problems with new technology is that it doesn't work as advertised.
Another is that we're out of step with it.
Thrill of the New
Standing on a street corner in Lisbon, we were about to hail a cab.
"No, no, Dad," said one of our sons, "I'll order an Uber… it will be better."
We watched one… two… then three… cabs go by.
"The Uber driver is having trouble finding us," came the update.
We were standing on a busy street corner.
"Sometimes the GPS isn't very precise," came the explanation.
Eventually, we gave up on Uber and got in a cab.
When we were younger, the thrill of new things… the adventure of going to new places and trying new technology… the curiosity of flicking new switches and turning new knobs, just to see what would happen… was captivating.
But now, we can think of no greater pleasure than just to be able to stay home.
We look forward to a night in our bed as a mother looks forward to the day her children return to school… and as her son looks forward to seeing his school burn down.
Back to the Future
The anticipated pleasure of the familiar is more alluring to us now than the surprise of the unknown.
Besides, from our experience, most new technology is a waste of time.
Most innovations are failures. And most great new ideas – especially in politics – are the same jackass panaceas that have been tried time and time again… always with regrets.
But for the next couple of days we'll go back to the future, trying to connect the dots between technology, investment, and the economy of tomorrow.
And we'll begin by exploring one of the hottest new "techie" investments, electric carmaker Tesla.
Investment manager Harris Kupperman (who blogs for Adventures In Capitalism) helpfully provides a list of tech innovations that were left behind by newer innovations: Palm, Gateway, BlackBerry, GoPro, Fitbit, Handspring, Compaq, Blu-ray, Garmin, DeLorean, Casio, Sega, Tamagotchi, TiVo, Betamax, AOL, the Walkman, set-top boxes, Kodak, Atari, Napster, Netscape, and Polaroid.
The question on the table: Will Tesla soon join the list?
A lot of people seem to think so. Short-sellers (investors betting Tesla's stock will fall in price) are many. And the company is running out of cash.
On the other hand, Tesla CEO Elon Musk is a genius. If you want to go to Mars, and you've got enough money, he's probably the person to talk to.
But if you don't want to go to Mars, and you want to enjoy your life here on Earth more fully… it might be a good idea to stay away from the man.
For although money goes into the Musk organization, it rarely comes out.
John DeLorean, RIP
And here, a little sidelong glance at capitalism is in order.
People put their savings into new projects hoping to get it back… and then some.
This last "then some" part is the important part. It is the measure of how well the project has succeeded. Press releases don't matter. "Pro forma" earnings are a distraction. The celebrity status of the creator, too, is beside the point.
What really matters is capital in… and capital out. If the capital goes in… and doesn't come out, it is lost. Investors are poorer. The world has gotten poorer too; it has less capital available for other projects… or consumption.
So far, Tesla has done nothing but destroy capital. The company's market cap – the value of all its outstanding shares – is at $53 billion. That's higher than Ford's market cap, despite Ford making profits of $4.6 billion last year and Tesla losing $675 million.
And Tesla has almost as high a market cap as GM, which had more than $9 billion in earnings last year… and which sold 10 million vehicles versus Tesla's 76,000. (For more, see today's Market Insight below.)
And the losses are getting bigger; a record $619 million in capital disappeared in the last quarter alone.
We reach back into our memory. There, the image of John DeLorean sits sadly next to an automobile bearing his name.
Sleek, "futuristic," it was once the newest, most innovative set of wheels on the market – the DMC-12. It was the car that featured in the Back to the Future movie trilogy.
Poor Mr. DeLorean launched his car company in 1975. Over the next years, he took in – and mostly destroyed – approximately $100 million.
Toward the end, he was so desperate for financing that he was an easy target for the feds' entrapment program. Claiming to be investors, FBI agents coaxed him into talking about importing $24 million worth of cocaine into the U.S. and taped the conversation.
DeLorean beat the rap, but DMC went bankrupt in 1982.
Later, he faced challenges from investors and car buyers and was driven into personal bankruptcy, too. He lost his home in 2000. Then he lost his mind… suffering strokes, which killed him in 2005.
John DeLorean, RIP.
That was then. This is now. "When will Tesla's stock promote finally implode?" asks Kupperman.
Answering his own question: "When people realize that it's a cash incinerating vanity project for Elon Musk, at a time when newer, better products are coming to the market. That point is coming soon. Very soon."
Regards,
Bill
STAY INFORMED! Receive our Weekly Recap of thought provoking articles, podcasts, and radio delivered to your inbox for FREE! Sign up here for the HoweStreet.com Weekly Recap.