October 11, 2017 | Trading Desk Notes – October 11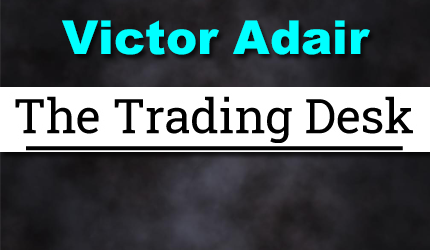 Victor Adair, author of The Trading Desk Notes, began trading penny mining shares while attending the University of Victoria in 1970. He worked in the mining business in Canada and the Western United States for the next several years and also founded a precious metals trading company in 1974. He became a commodity broker in 1977 and a stock broker in 1978. Between 1977 and his retirement from the brokerage business in 2020 Victor held a number of trading, analytical and senior management roles in Canada and the USA. Victor started writing market analysis in the late 1970's and became a widely followed currency analyst in 1983. He started doing frequent media interviews in the early 1980's and started speaking at financial conferences in the 1990's. He actively trades his own accounts from The Trading Desk on Vancouver Island. His personal website is www.VictorAdair.ca.
Catalonia (the area around Barcelona ) had a referendum last Sunday calling for independence from Spain. The Spanish Federal government (Madrid) said the vote was "illegal" and tried to stop it by sending 1000's of troops and police to Catalonia. The King of Spain sided with the Madrid government. Approximately 40% of the eligible Catalonian voters actually voted…hugely in favor of separation. Many other eligible voters who do not want to separate boycotted the referendum. The political leaders of Catalonia say that they will make a formal declaration of independence next week.
The proponents of the referendum see Catalonia as a "distinct society" from the rest of Spain. They have a number of economic and historical grievances with Spain.
Whether the referendum leads to Catalonia becoming a separate country or becomes a negotiating lever for the Catalonian government to wring concessions from Madrid is yet to be seen…but clearly it heightens the prospect of more referendums throughout Europe as people in certain areas try to "redefine" their relationships with other people. Northern Italy with southern Italy, for instance, Scotland with England, the Basques with Spain and France, the Flemings and Walloons in Belgium etc.
From a trading standpoint: I see the Catalonian referendum as one event in a string of events, both past and future, which represent a demand for greater self-determination and less Big Government. I see the Euro currency as a "symbol" of Big Government. I expect to see more "distinct society" referendums in Europe and therefore more pressure on the Euro.
Markets: There was an important PIVOT across currency, interest rate and commodity markets the first week of September. The US Dollar made an important turn higher, other currencies turned lower, interest rates turned higher and a number of commodities turned lower.
The Fed: markets are now pricing in more than an 80% chance that the Fed will raise interest rates again in December. This is a big change from two months ago when markets were expecting the Fed to "go easy" on raising interest rates. This change in interest rate expectations has played a big part in the September PIVOT. BUT…the most important aspect of the Fed is that Trump will have the opportunity to nominate up to 6 new members to the FOMC in 2018, including the chair and vice-chair. There is a good chance that the "make-up" of the FOMC will therefore be much different than what it is now…and if the Fed is different the market will be different.
Tax cuts: Trump promised tax cuts on the campaign trail. Since his inauguration the market has continued to discount his ability to "get anything done" but it may be wrong to assume that tax cuts won't happen. If the market begins to believe tax cuts will happen the US Dollar will rally.
China: The 19th Communist Party National Congress begins on October 18. This is an opportunity for Xi Jinping to consolidate his power and lay out his vision for the future.
Positioning risk: Futures market speculators are the most short the US Dollar (long other currencies) that they have been in the past 5 years. If the US Dollar continues to rise they will likely start covering their short positions…adding to upward pressure on the USD. Speculators are also VERY long crude oil…if prices fall they will become sellers.
Stock markets: keep making new highs while volatility measures keep making new lows. Many valuation and sentiment metrics say the market has gone up too far too fast…but it is what it is!
My short term trading: I was short CAD for most of September and took profits this week. As of Friday I'm positioned for a small bounce higher but I'll be looking for a spot to get short again. I've been short WTI since it reversed lower after hitting $53 in late September. It has responded poorly to "bullish" news stories this week, encouraging me to remain short.
PI Financial Corp. is licensed as a broker-dealer in all provinces and territories of Canada and is a member of the IIROC and the Canadian Investor Protection Fund. The contents of our Website are not intended, and should not be construed, as a solicitation of customers or business in any jurisdiction in which we are not registered as a dealer in securities.
STAY INFORMED! Receive our Weekly Recap of thought provoking articles, podcasts, and radio delivered to your inbox for FREE! Sign up here for the HoweStreet.com Weekly Recap.