October 22, 2017 | Trading Desk Notes – Oct 21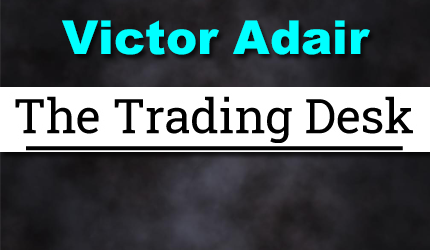 Victor Adair, author of The Trading Desk Notes, began trading penny mining shares while attending the University of Victoria in 1970. He worked in the mining business in Canada and the Western United States for the next several years and also founded a precious metals trading company in 1974. He became a commodity broker in 1977 and a stock broker in 1978. Between 1977 and his retirement from the brokerage business in 2020 Victor held a number of trading, analytical and senior management roles in Canada and the USA. Victor started writing market analysis in the late 1970's and became a widely followed currency analyst in 1983. He started doing frequent media interviews in the early 1980's and started speaking at financial conferences in the 1990's. He actively trades his own accounts from The Trading Desk on Vancouver Island. His personal website is www.VictorAdair.ca.
Global stock markets were higher again this week, after a brief dip Thursday following a "warning" from the Peoples Bank of China about "too much debt and too much leverage." The major American indices hit All Time Highs again this week with the DJIA up about 18% YTD.
Real and nominal US interest rates rose this week and, not surprisingly, so did the US Dollar. Markets are pricing in an 80% chance that the Fed raises s/t rates again in December (up from about a 20% chance in early September.)
Tax cuts in the US took a step closer to fruition this week (but there's still a long way to go) adding upward pressure on interest rates and the US Dollar. In some respects the USD rally of the past 6 weeks is a continuation of the "Trump trade" that took the USD to 14 year highs following his election on anticipation that he would accomplish "great things" only to fall 12% over the next several months as the narrative became "he can't get anything done." Trump, in other words, was extremely "oversold" by September 8!
Fed Chair: President Trump is expected to announce his nomination for Fed Chair within the next few weeks. Governor Powell may be the "safe middle pick" between maintaining the status quo by re-appointing Yellen and "shaking thing up" by picking Taylor, Warsh, Cohn or someone else. See last week's comments for more on this issue.
The Chinese Communist Party Congress continues. Last week I was asking, "What kind of Fed does Trump want?" This week I'm asking, "What kind of China does Xi want?" given that he seems to be "very much" the man in charge. Broadly speaking it would seem he'd like to see China as more of a "world player" with less pollution, less financial speculation and with less money leaving the country. Last week I wondered if something might "bust loose" following the Congress but maybe the "first derivative" trade is just to play his move to clean up pollution. There is apparently something like 200 million cars in China and only 1% of them are electric. He wants to see 20% of all cars electric in 7 years. Given that Europe and India are also pushing for less diesel and gasoline powered cars and more electric cars maybe we should look into buying copper against the sale of crude?
September 8 was a Key Turn Date: American bond yields hit their lowest level since Trump's election on September 8 and turned higher while the US Dollar Index hit its lowest point in nearly 3 years and turned higher against nearly all other currencies and gold. Key Turn Dates have a lot of "power" because they happen simultaneously across several markets and mark a significant shift in market psychology and are therefore are a sign of a real reversal, not just a brief correction in an on-going trend.
The Canadian Dollar: Hit a 16 month low on May 5 and began to rally. At that time the Canada/US 2 year interest rate spread was about 65 points in favor of the US. In June the Bank of Canada accelerated the CAD rally by doing a "180" on interest rate policy and over the next couple of months raised Canadian short rates by 50bps. CAD rallied 5% in 6 trading days into the September 8 Key Turn Date and at that time the Canada/US 2 year spread was 25 points in Canada's favor and the markets were pricing an 80% chance of another 25bps increase in s/t rates from the Bank of Canada by December. From the May lows to the September highs futures market speculators had swung from being hugely short CAD to being hugely long. The current huge net long position held by futures market speculators may become an "albatross" around the neck of the CAD market if it continues to fall.
The US Dollar Index daily chart may be developing a 3 month head and shoulders bottom. A break of the 94 cent "neckline" would project a move to 97 cents. Speculators in the futures markets hold a record net short position against the USD (they are net long the other currencies except the Yen.) If the USD continues to rally these speculators may cover their positions adding to upward pressure on the USD.
Short term trading positions: Drew and I both expect to see USD move higher against other currencies and we are therefore short CAD, EUR, YEN and MEX.
Front month WTI crude oil has trade mostly between $49 and $52 for the past 6 weeks. It has traded mostly between $42 and $54 for the past 12 months producing a relative "equilibrium" after the huge disequilibrium created by the fall from $110 to below $30 between mid-2014 and January 2016. I have traded WTI almost exclusively from the short side but currently have no position.
PI Financial Corp. is a Member of the Canadian Investor Protection Fund. The risk of loss in trading commodity interests can be substantial. You should therefore carefully consider whether such trading is suitable for you in light of your financial condition. In considering whether to trade or the authorize someone else to trade for you, you should be aware of the following. If you purchase a commodity option you may sustain a total loss of the premium and of all transaction costs. If you purchase or sell a commodity futures contract or sell a commodity option  or engage in off-exchange foreign currency trading you may sustain a total loss of the initial margin funds or security deposit and any additional fund that you deposit with your broker to establish or maintain your position.  You may be called upon by your broker to deposit a substantial amount of additional margin funds, on short notice, in order to maintain your position.  If you do not provide the requested funds within the prescribe time, your position may be liquidated at a loss, and you will be liable for any resulting deficit in your account. Under certain market conditions, you may find it difficult to impossible to liquidate a position. This is intended for distribution in those jurisdictions where PI Financial Corp. is registered as an advisor or a dealer in securities and/or futures and options. Any distribution or dissemination of this in any other jurisdiction is strictly prohibited. Past performance is not necessarily indicative of future results.
STAY INFORMED! Receive our Weekly Recap of thought provoking articles, podcasts, and radio delivered to your inbox for FREE! Sign up here for the HoweStreet.com Weekly Recap.