October 4, 2017 | Stephen Paddock – Mentally Ill or Morally Corrupt?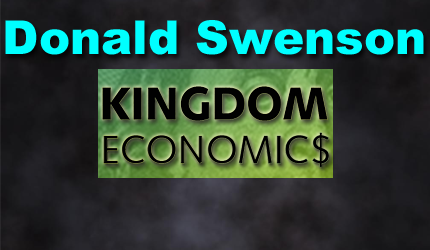 Donald B. Swenson: Born January 24, 1943, Roseau, Minnesota. Graduated H.S. 1961, Moorhead High, Minnesota. Graduated College 1968, Moorhead State University, Minnesota. Designated member of Appraisal Institute (MAI), 1974. Employed with Western Life Insurance Company, 1968 – 71; Iowa Securities Company, 1971 – 73; American Appraisal Company, 1974 – 81. Part-time teacher/valuation consultant/bartender, 1979 – 2008 (taught workshops at Waukesha County Technical Institute, Wi. and Madison Area Technical College, Wi.). Retired 2008 (part time teacher/blogger), AZ. Self educated economist/philosopher/theologian: http://kingdomecon.wordpress.com.
Today's Arizona Star presented various views on the issue of Stephen Paddock (his mindset) and his killing event last Sunday in Las Vegas. Many think that Stephen was mentally ill and this led to his behavior. Others think that the problem is a lack of moral thinking (morality) within this person. Stephen must have had a confused and corrupted moral compass is the view of many. Let's talk about these issues in this missive. Was Stephen mentally ill and/or morally corrupted?
First of all, let me define this concept called mental illness. What is it and what can we discern from a person's behavior? Here is one definition:
A mental illness is a condition that affects a person's thinking, feeling or mood. Such conditions may affect someone's ability to relate to others and function each day. Each person will have different experiences, even people with the same diagnosis. Types of mental illness. Mental illnesses are of different types and degrees of severity. Some of the major types are depression, anxiety, schizophrenia, bipolar mood disorder, personality disorders, trauma and eating disorders. The most common mental illnesses are anxiety and depressive disorders.
Given the above description of mental illness, I think we all (including myself) could be labeled 'mentally ill' to some degree (at some point-in-time). The issue, to me, is the degree of mind problems which can affect our thinking. I certainly would not view myself as exempt from some degree of mental illness (when considering the above definition). I have experienced depression, anxiety, eating disorders, and a feeling of despair (on various occasions). This implies that we all could qualify as 'partially' mentally ill (to some degree). I would add that 'mental' illness could also be labeled 'spiritual' illness (as the human spirit is involved)!
Stephen Paddock's moral compass is still unknown as I write this missive. What was his core motive which led to this behavior? Did he have political, religious, and philosophical issues that ran deep within his spirit. Behavior results from one's beliefs and one's thinking about reality. Beliefs can create good as well as evil behavior. We all witness good and evil in this global society which we live within. Our moral compass can play a huge role in controlling one's core behavior within select situations. What did Stephen believe at his core? Was he depressed and anxious over particular events within his purview? Did he 'hate' various leaders, officials, elites?
As we obtain additional information, a better level of discernment can be realized. My personal sense is that Stephen was seriously depressed/anxious/troubled about some political situation within our country. Stephen did not appear to be suffering from a serious health issue. His thinking was detailed and well thought out. His mission to kill as many people as possible was planned with expertise and detail. This suggests that Stephen was intelligent and mostly healthy (physically). His inner spirit, however, was seriously troubled and confused. The human MIND is at the core of this killing event and prior to his actions serious THINKING occurred.
The key to controlling my/your inner negative impulses is usually our MORAL compass. Morality is usually involved in one's behavior to some degree. A weak or absent 'moral' compass could have played a huge role in this killing event. Morality, however, is a relative concept which I don't think can be objectified (completely). What is moral for one person may be immoral for another. Traditional morality, however, can help to control one's negative impulses in most situations. Evil does rest within all of us to some degree, however. This, to me, is obvious when reviewing one's behavior over longer time periods.
Who is perfect morally? I would suggest, NONE! This means that ALL (everyone) is subject to forces of mental/spiritual illness at some point. Are our esteemed leaders within government morally perfect/sound? I don't think so! Are religious leaders morally perfect/sound? I don't think so! Are military and/or law enforcement leaders morally perfect/sound? I don't think so! Are our Central Banksters morally perfect/sound? Absolutely not! This leaves everyone as a victim of moral failure and mental illness to some degree! Blaming the 'other' may not be a wise philosophy. Looking within, may be a better mindset! That is my view for today! I am: https://kingdomecon.wordpress.com.
P.S. How does our corrupted economic/financial system respond to dire events and corrupt behavior (such as above)? It appears that our cyber/digital/virtual/electronic money markets go UP irrespective of what happens to people and our society. Why is this so? Are you aware that all our markets are now computer driven? Are you aware that our money units today are mere 'photon' digits (created from the mind of our banksters via a computer)? How moral is our financial system? Could we view this system as mentally ill? Personally, I think so!
As I write this missive our Dow Index is at 22,661 (it continues UP irrespective of any dire human events). The corrupt Index over in Venezuela is now at 539,055 (UP today some 24,465 points as this economy collapses within). Are any of these corrupted markets healthy and viable for measuring REAL economic activity? I would suggest, NO. All our cyber/index/digital/electronic markets are corruptions which can not measure REAL economic activity properly. What we now need is a NEW model for economics and finance. Kingdom Economics is my alternative. Think on this when you have time to reflect! Have a good day!
Some images to ponder:
Does this lady (Stephen's girlfriend) have information which might lead to his inner thinking and motive?
Paddock's live-in girlfriend, Marilou Danley, reportedly has family in the Philippines and was overseas during his shooting spree. Officials said Danley had traveled to the Philippines on Sept. 15, left Sept. 22, then returned to the Philippines from Hong Kong on Sept. 25, The Associated Press reported. She returned to the U.S. late Tuesday for questioning.
Does Eric Paddock (brother to Stephen) have information which might reveal the moral compass of his brother?
LAS Vegas gun maniac Stephen Paddock was a burrito-loving mummy's boy who enjoyed hunting, his brother has revealed. Eric Paddock said he has "no idea" why his multi-millionaire property developer brother Stephen, 64, "snapped" and sprayed hundreds of bullets into a music festival, killing 58 and wounding more than 500 others.
Stephen must have planned this killing event for months as he wired large sums of money to the Philippines for a reason.
Paddock also was quite wealthy; he earned millions through real estate deals and spent most of his time gambling, his brother said. He had multiple homes, and he and Danley (his girlfriend) lived in at least three retirement communities. He had no reported history of mental illness. This was no outburst of sudden rage. Stephen Paddock used 10 suitcases to move his weapons to his Mandalay Bay hotel room over the weekend. He used a "bump-stock" to convert two weapons from semi-automatic firearms into fully automatic guns, increasing the firing rate from 400 rounds a minute to 800. At his home in Mesquite, Nevada, police found explosives, more than 19 extra firearms and several thousand rounds of ammunition.
STAY INFORMED! Receive our Weekly Recap of thought provoking articles, podcasts, and radio delivered to your inbox for FREE! Sign up here for the HoweStreet.com Weekly Recap.