October 6, 2017 | Leaders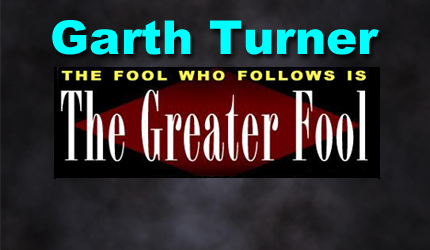 A best-selling Canadian author of 14 books on economic trends, real estate, the financial crisis, personal finance strategies, taxation and politics. Nationally-known speaker and lecturer on macroeconomics, the housing market and investment techniques. He is a licensed Investment Advisor with a fee-based, no-commission Toronto-based practice serving clients across Canada.
When Wayne Long got back to the cute little airport in Saint John this week there was a crowd waiting. Something weird happened. Citizens had come to applaud the guy. 'Thank you, Wayne,' they said. And he got a bit choked up.
Long is an MP, elected for the first time two years back in the Trudeau sweep of the maritime provinces. He's 54, kinda normal and before being elected ran a three-person seafood company, as well as managing the Saint John Sea Dogs hockey club. He went to Ottawa to fight for the Energy East pipeline (which was just nixed) and, silly man, to represent his constituents.
The riding of Saint John-Rothesay has a lot of people like him. Guys who started small businesses because that's how you get a job. It also has a slew of medical personnel, because of the big regional hospital. Over the summer the message he got from the area was crystal. Ottawa's plans to seriously increase the tax burden on these folks were ill-conceived.
So when Wayne Long flew back to Parliament Hill he thought his political leaders should spend more time on the issue and that the brief 75-day consultation period had been awful short. When the Tories introduced a motion on Tuesday to extend it, Wayne stood up for the ayes.
Big mistake. What the newbie MP learned is that if you want democracy, don't go to the House of Commons.
He was scolded Wednesday by the Trudeau party whip, then as punishment stripped of his membership on two Parliamentary committees. The next step, should he again listen to the voters instead of the party, is to be thrown out of caucus. That's almost always the kiss of political death in a country when people vote for parties and leaders, not local reps. I know.
Being punted, ostracized and outed is a painful, lonely experience. I certainly remember the morning it happened to me. Senior members of the prime minister's office stood at the back of the caucus room in Centre Block when some appointed executioners – including the minister of finance – took to the microphone to condemn me, my blogging and my damn populism. "Garth Turner is not running an alternative government," the minister thundered. A lightening vote, amid the confused looks on many colleagues' faces, and it was done. I was history. Stephen Harper road kill.
What Wayne Long has discovered is that Liberals don't differ from Conservatives. Trudeau is another Harper. Leaders are leaders. They demand loyalty, obedience and subservience. In Ottawa they believe the role of MPs is to go home and represent the party to the people. But voters believe the role of the elected is to represent them to the government. It's a major failing of the system which has brought us to this – when a Member of Parliament is punished for voting to listen.
Canada has developed a toxic political culture. In Britain or the US, elected politicians don't so easily sell out their beliefs, principles or constituents. Leaders have to earn support rather than bully it. Look at the US administration, the variety of opinions openly expressed among Republicans and an icon of independent thought like John McCain. Unthinkable in Canada where party discipline is far more valued in Ottawa than the trust of the people.
This may be why electoral reform died. Trudeau gained power promising it. No more. In the last election the Liberals received 39.4% of the vote and won 54.4% of the seats. If proportional representation were a fact of life, T2 would have gained 50 fewer seats. We'd have a coalition government. And Wayne Long might not be dead meat. Just a local hero.
Yesterday this strange blog highlighted the meteoric rise of Jagmeet Singh of the NDP. Like Trudeau, the media slobbers over him. Young. Muscular. Cool. So the cult of leaders continues. Leaders matter, of course, but they're not gods. Democracy fails if based a caucus of eunuchs. When MPs are punished, the voters are trashed.
Wayne Long's constituents wanted to debate this tax thing more. So he did his job. Thank you.
STAY INFORMED! Receive our Weekly Recap of thought provoking articles, podcasts, and radio delivered to your inbox for FREE! Sign up here for the HoweStreet.com Weekly Recap.