October 16, 2017 | Ideal Time to Accumulate AG and AU!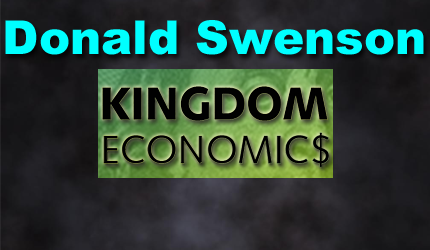 Donald B. Swenson: Born January 24, 1943, Roseau, Minnesota. Graduated H.S. 1961, Moorhead High, Minnesota. Graduated College 1968, Moorhead State University, Minnesota. Designated member of Appraisal Institute (MAI), 1974. Employed with Western Life Insurance Company, 1968 – 71; Iowa Securities Company, 1971 – 73; American Appraisal Company, 1974 – 81. Part-time teacher/valuation consultant/bartender, 1979 – 2008 (taught workshops at Waukesha County Technical Institute, Wi. and Madison Area Technical College, Wi.). Retired 2008 (part time teacher/blogger), AZ. Self educated economist/philosopher/theologian: http://kingdomecon.wordpress.com.
The time to accumulate silver coins and also gold coins is now. The low price environment allows maximum accumulation of weight (ounces). Keep in mind that silver and gold (in your possession) is REAL historical wealth. The 'digits' which you use to buy these precious metals with are fake/imaginary wealth (which our corrupt banksters want us to accumulate for their ego survival). Keep these concepts in mind as you buy your real wealth (silver and gold)!
So now is the IDEAL time to start a program of accumulation of ounces or weight. With silver in the $15 to $18 range and gold in the $1200 to $1300 range, this makes for maximum accumulation of weight or ounces in a short time period. And the more weight or ounces I store (assuming I store the physical metals and not the ETF's or stocks) the more REAL wealth I have for a rainy day.
A rainy day is obviously coming as our digital/cyber markets are artificial and fake. I have proven this to discerning readers now for over 10 years. Think of what recently happened over in Venezuela with their Caracas General stock exchange. This market of 'digits' was at the lofty level of 558,000 just a couple of weeks ago. Today, it is at 550.38 (this decline of 99+% is what will also happen to many of our global digital stock exchanges at some point).
Fake digits (today's money) circulating as legal tender (created by our Central Banks and their proxies) can only last for a season. At some point this fake/imaginary market (living within cyber-land) will crash and disappear. Think of virtual money as an 'image' with no body of flesh. The image seen in the computer screen 'fools' the many who can not discern their own inner consciousness. But it does not 'fool' those of us who know ourselves and who know the history of money and wealth.
History reveals that money is a product from nature (it's an object which I can hold in my hand). It derives its 'value' from the people who trade the object. Today, we are not really trading any of our markets (as human beings). We are merely clicking our computer mouse and allowing algorithms (plus robots) to trade for us. This type of trading is artificial and temporary. At some point all this algorithmic deception will be discovered by the wise traders and then they will clammer for something REAL (like silver and gold coins).
The price of gold in Bolivars is currently near 13,000 as of October, 2017. This chart shows some of the change in the past five years.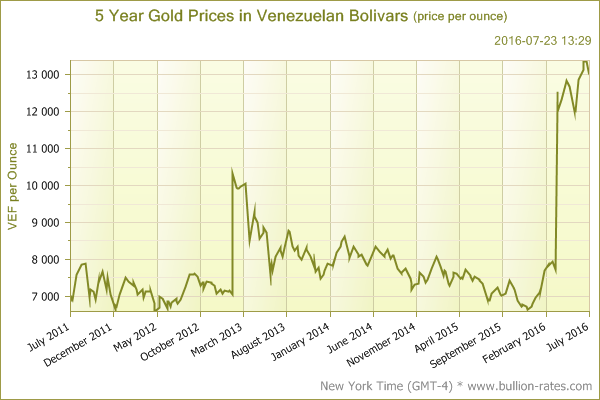 As traders discover the fakeness of our digital currencies (which is happening now over in Venezuela) they will start a program of accumulation of REAL historical metals. This is now starting in many markets and eventually it will also develop in our Western markets as well. Now is the time to accumulate at the unbelievably LOW prices I now witness.
I can go to http://www.jmbuillion.com (for example) and buy silver for these prices and have the ounces delivered directly to my possession (home address):
STAY INFORMED! Receive our Weekly Recap of thought provoking articles, podcasts, and radio delivered to your inbox for FREE! Sign up here for the HoweStreet.com Weekly Recap.