September 21, 2017 | Who Owns Planet Earth? Let's 'think' on this concept!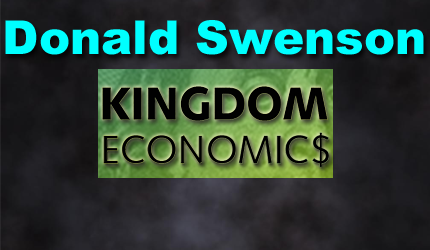 Donald B. Swenson: Born January 24, 1943, Roseau, Minnesota. Graduated H.S. 1961, Moorhead High, Minnesota. Graduated College 1968, Moorhead State University, Minnesota. Designated member of Appraisal Institute (MAI), 1974. Employed with Western Life Insurance Company, 1968 – 71; Iowa Securities Company, 1971 – 73; American Appraisal Company, 1974 – 81. Part-time teacher/valuation consultant/bartender, 1979 – 2008 (taught workshops at Waukesha County Technical Institute, Wi. and Madison Area Technical College, Wi.). Retired 2008 (part time teacher/blogger), AZ. Self educated economist/philosopher/theologian: http://kingdomecon.wordpress.com.
Read and listen to the following info and ask the question…WHO owns planet Earth?
https://weather.com/storms/hurricane/news/hurricane-maria-category-5-leeward-islands-virgin-islands-puerto-rico
"God is with us; we are stronger than any hurricane," Mr Rossello said. "Together we will rise again."
Maria made landfall in Yabucoa in the east of Puerto Rico early on Wednesday as a category four storm, according to the US National Hurricane Center (NHC). It was the first category four hurricane to directly hit the island since 1932.  Hours earlier, Maria barreled through the US Virgin Islands' St Croix as a category five storm, sustaining winds of up to 175 mph (281km/h).
Comments: The vast majority of victims to a major natural event seem to recognize that God (our Creator and/or Providence) is/was responsible for the natural event. Victims also seem to think that it was God who protected or saved them from the consequences of the event. I witness this mindset with countless victims of these events as they report their perspectives. Our media and official authorities, however, do not attribute God or any Higher Source as the creator of disasters or the savior of victims. Why this difference?
The common people are mostly believers in a Higher Power it would seem. I sense this mindset whenever major disasters arise or when unexplained data in the heavens appear. We witnessed this same mentality after 911 here in America. The general public bowed to an invisible Source as the cause… as our official media and governmental sources seemed impotent and out-of-touch with these hard realities.
What does this suggest for those of us who are awake to reality? Is there a Spiritual realm of reality beyond the visible horizon which governs this planet? To me, this mindset of victims, suggests that our official educators and our official media personalities are totally out-of-touch with the hard spiritual realities of life. Hard realities are spiritual in nature. People recognize this situation spontaneously when difficult trials arise. As a philosopher of reality, I would suggest that we need to pay attention to this mindset of victims…and those who respond after a natural disaster about their specific experiences.
God, our Creator, is most likely the SOURCE which ultimately is responsible for all events on this planet. Our founding Fathers also recognized this hard reality during our Revolutionary period. God essentially OWNS this planet (in my view) and all that transpires on this planet. Kings and power brokers actually are not the ultimate SOURCE of events on this planet. Events happen and then we all think about the nature of the event. Is it now time to put these puzzles together and seek the REAL source?
We all need to get 'closer to reality' if we desire to make progress on this planet. This seems obvious to me. Listen to the words of victims to a natural disaster. Listen to the words of those who survive and respond after dire situations. Listen to the words of those under trial as a result of all these natural disasters. We have just experienced Harvey, Irma, Maria, and a two major Earthquakes in Mexico. What comes next? Think on this! Ignore the official authorities as they desire to confuse and deceive on many issues of life! I am: https://kingdomecon.wordpress.com.
P.S. The next event to happen is the Great Sign in the constellations of Leo and Virgo. This star and planet configuration (over Israel on September 23, 2017) is so unique and special that it 'seems' like a real sign from our Creator. Our Creator, Elohim/Yahweh, could be sending all of us a message of significance. It may take a few days, weeks, or even months for all these spiritual events to play out. See this link for more info:
http://earthsky.org/human-world/biblical-signs-in-the-sky-september-23-2017
Watch the news media as they attempt to play down this event of September 23 and similar events such as earthquakes and hurricane destruction. Coverage will be available but I suspect that NONE of the media will attribute these events to Providence or to a Higher Source/Intelligence. The obvious (human words, thoughts, and thinking) will be ignored as 'nothing more than material forces' in motion. My brain neurons will be espoused as the source of all these ideas. What nonsense! Who can discern the hard spiritual realities which originate within the human consciousness?
My sense is that the obvious (our spiritual financial system)…now mere photon digits of the mind will be attributed to material forces and matter in motion as well. What nonsense! And all the natural disasters and heavenly signs will also be attributed to material causes which arise by CHANCE (spontaneously)! Again, what nonsense! Our official educators, media, and governmental authorities seem totally BLIND to all the hard spiritual realities of life. Think for yourself is my advice. Enjoy! I am: https://kingdomecon.wordpress.com.
STAY INFORMED! Receive our Weekly Recap of thought provoking articles, podcasts, and radio delivered to your inbox for FREE! Sign up here for the HoweStreet.com Weekly Recap.