September 14, 2017 | War Cycle Triggers Gold's Charge Higher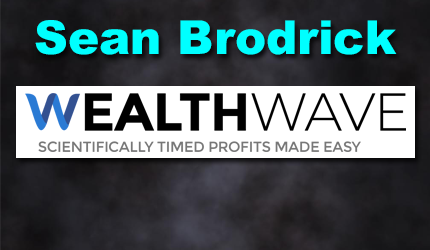 Sean is the natural resource analyst for Weiss Ratings. You can read his thoughts on gold, oil, cannabis, uranium and other natural resources at Wealth-Wave.com
Martin Weiss and I just finished broadcasting Part 2 of our emergency subscriber conference. (If you missed it or want to see it again, click here for the video recording.)
Wow! Attendance was huge. We really struck a chord, and I think I know why. It's because our subscribers can now clearly see that nearly everything we've predicted is unfolding before their very eyes …
The War Cycle ramping up. The global tsunami of fear money driving up U.S. asset prices despite our own troubles here at home. And yes … gold charging higher!
You did see the surge in gold last week, right? The yellow metal soared to its highest price in a year. Numerous forces are lining up to push gold to $1,400 and beyond. And one of the most-irresistible forces is North Korea's atomic madness.
This is just one part of the War Cycle that Martin and I talked about online just now. And that we've been talking about for quite some time.
I'll tell you bluntly, some of the possibilities scare the crap out of me …

But at this juncture, it seems unstoppable. The world is heading into a widening, worsening cycle of chaos and conflict.
Heck, even if there's no all-out shooting war (let's pray that NEVER happens), the extra defense spending, the extra government borrowing and the FEAR alone are going to drive markets berserk.
Last week, North Korea conducted its sixth nuclear test. The latest was a hydrogen bomb. That's much more powerful than the atomic blast that flattened Hiroshima. And North Korea keeps darkening the skies over our Asian allies with its missile tests.
All this is making investors nervous. And when they get nervous, they turn to gold.
North Korea's latest provocation comes at the end of a string of crazy behavior. It started in February. That's when tubby tinpot tyrant Kim Jong-un launched a missile into the sea, then assassinated his half-brother.
Yen Crisis Dead Ahead

The funny thing is, investors used to turn to the Japanese yen during times of crisis.
But since North Korea started acting like the Unabomber, the yen — as measured against a basket of currencies — is losing its luster.
This is especially evident in the chart below, which shows how the yen has been sliding against the euro.
Why? Because if nuclear war breaks out on Japan's doorstep, who the heck wants to own yen? Doubly so if a mushroom cloud rises over Tokyo.
Will it actually happen? Highly unlikely.
Will anxious investors react to the fear by favoring the euro and other currencies over the yen? You bet!
This plays to another point that we've been making at The Edelson Institute: that currencies around the world are going to come under intense stress.
These are terrible things to consider. I sure don't like writing about them. But as investors, we can't ignore them.
The Rocket to $7,400 Gold

Sure, very near-term cycles are pointing to a possible correction in gold here. If so, great. Another buying opportunity!
In any case, I'm positioning my Supercycle Investors to ride the big UP wave. Investments I've already given them are performing handsomely. And I'll give them more picks soon.
Have you missed the boat on gold? Heck, no. Not if you've been following my columns! Last week, for example, I laid out my case for gold rocketing to $7,400. This party is just getting started. And the sooner you get onboard, the sooner you can participate.
In my book, "The Ultimate Suburban Survivalist Guide," I wrote about a whole bunch of worst-case scenarios. This was back in 2010. But even then, I could see the currency and debt crises looming over us. Even then, I talked about the value of gold.
Now? Well … now the world looks ready to learn the value of gold in a hurry.
The Least You Can Do

At the end of every chapter of my book, I ended with "The Least You Can Do." In other words, the least you can do to cover any of the emergencies I talked about.
For gold, the least you could do is to buy some physical gold as a hedge against potential hard times. Also, you could buy a good gold miners fund like the Sprott Gold Miners ETF (NYSE: SGDM).
Why? Because gold miners are leveraged to the metal; so as gold goes higher, the better gold miners will soar.
But there is so, so much more you can do than just the bare minimum. To profit, and protect your portfolio. For starters, watch today's emergency conference we just broadcast and recorded. And if you missed it or want to view it again, watch yesterday's emergency conference, too! Yes, they'll make you worry. But forewarned is forearmed.
The War Cycles are kicking into higher gear. Gold may zig-zag, but it's just gathering steam for its next charge higher. Become even more aware of what's going on — both the dangers and the opportunities. You'll be very glad you did.
All the best,
Sean Brodrick
STAY INFORMED! Receive our Weekly Recap of thought provoking articles, podcasts, and radio delivered to your inbox for FREE! Sign up here for the HoweStreet.com Weekly Recap.