September 5, 2017 | The Hawk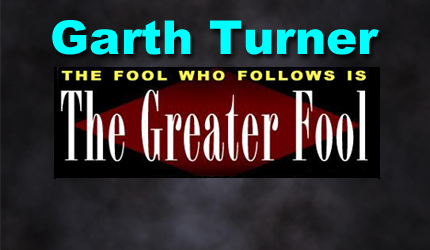 A best-selling Canadian author of 14 books on economic trends, real estate, the financial crisis, personal finance strategies, taxation and politics. Nationally-known speaker and lecturer on macroeconomics, the housing market and investment techniques. He is a licensed Investment Advisor with a fee-based, no-commission Toronto-based practice serving clients across Canada.
Imagine. The dollars at 81 cents. Three, four or even five rate increases by the end of 2018. Maybe one Wednesday. If not then, it'll come in October.
The currency has swelled for a bunch of reasons, including gonzo growth based on reckless consumer spending, a weakening US buck as the drums of war beat, the latest climate change twins, Harvey & Irma, and the fact our central bank's gone macho. Boss Stephen Poloz has switched from dove to hawk in a hurry. Six months ago nobody was anticipating any interest rate bump this year. Now we have one down, one 100% certain and maybe one more in the oven.
By the end of 2018 bank economists (they know everything) say rates will be a full 1% higher than now. That puts the prime at almost 4%, HELOCs at 4.5%, personal lines at 6% and five-year fixed mortgages around 4%. Combined with the universal stress test requiring an extra 2% insurance, borrowers in late 2018 will be applying for home loans at an effective rate of 6%.
Renewers? Well, let's see what protocol the banks adopt once the OSFI (regulator) guidelines are made clear. If real estate markets deteriorate after the rate hikes and rule changes take effect, it'll be risk on for the Big Six. People who bought houses without a stress test and 2.3% mortgages could be in a for a shock if they're offered less or to pony up some cash upon renewal.
The odds of a rate hike on Wednesday are 57% as I write this. A month ago they were effectively zero. Credit for this is a 4.5% economic growth rate, which is twice that of the US and what you'd normally expect from an emerging market after a rainstorm. Ironically, a big part of that expansion came from the debt-snorfling and careless spending of the Canadian middle class which took place before the real estate gasbag started deflating in April. Almost nobody expects it to continue. However, the central bank is happy to leverage it into higher rates.
Why? Well, the big banks get better spreads since you can count on loan costs escalating a lot faster than the returns on savings accounts and GICs. Second, the central bank puts a little insurance under its best. If the economy lags in the future it has room to backpedal and throw some stimulus around. Right now, with its benchmark at just 0.75%, there's precious little room on the downside.
Third, our guys want to keep up with the Americans, who have advanced rates three times in the last nine months. The yield on two-year Justin Bonds has risen weed-like in the past few weeks and now paces those of the US. Markets see our bank as being more aggressive than the Fed in 2018.
The result?
For the past three or four years crazed consumers and horny housebuyers have accounted for 90% of Canadian economic growth. They've financed that with more than $2 trillion in household debt. Astonishingly, new credit continues to expand at three times the rate of inflation. When people take loans to buy stuff they can't afford with current dollars, they borrow against the future. Consumption from years yet to occur is moved into the present. It's a bet that five years from now you'll earn more, still be employed, and able to pay down what you took.
What a gamble.
Most of that debt – two-thirds of it – is in mortgages. Many were taken to acquire properties at their apex of value, when the cost of borrowing had never been lower. Now rates are rising with the assumption that house prices will fall. Add in the new borrowing test, and overall credit is expected to fade by about a fifth.
Oh, and did I ever mention taxes are going up for almost two million small business owners, entrepreneurs and professionals like doctors?
According to StatsCanada, almost 65% of the economy is now the result of people buying things, as opposed to making stuff or selling product beyond our borders. The bulk of that is residential real estate. Never have Canadians invested so much in a single asset class, nor borrowed so extremely to get it. Leverage is off the chart when you consider that the bulk of million-dollar house buyers in Toronto have debt-to-income ratios above 450%.
The last time our economy was this hooked on house porn? That's right. Never.
So, rates may hike this week. Or next month. But up it is. Expect consequences.
STAY INFORMED! Receive our Weekly Recap of thought provoking articles, podcasts, and radio delivered to your inbox for FREE! Sign up here for the HoweStreet.com Weekly Recap.