September 5, 2017 | The End of Bitcoin?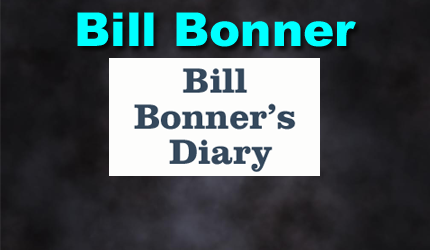 Is an American author of books and articles on economic and financial subjects. He is the founder and president of Agora Publishing, and author of the daily financial column, Diary of a Rogue Economist.
POITOU, FRANCE – It was a slow Labor Day weekend.
We spent the time visiting with neighbors and tying up loose ends on our renovation projects.
Then, yesterday, a daughter arrived from California. She brought bad tidings from the film industry…
Depressed in LA
"Everybody's depressed in LA because the movies have been so bad.
"Every once in a while, I guess the producers just miss the mark. Wrong kind of films. Wrong time. Or just bad flicks. This Labor Day weekend was the worst flop in 20 years."
We turn to Bloomberg for more precision:
The credits have rolled on Hollywood's worst summer in a decade, closing out with a dismal Labor Day weekend that was the first in a generation without a big, new movie opening in wide release.
Old-timers in Hollywood have an expression that works for just about everything: "Nobody knows anything."
With 30 years of experience… and millions of dollars of "skin in the game"… even the best of them often guess wrong about which films will be box office successes.
Win-win deals don't always make the world a richer place. On the other hand, win-lose deals never do.
Daylight Robbery
Back on our farm, we've been fixing up the gatehouse.
This weekend, we repaired the handmade kitchen cabinets and repainted the windows.
It's barely worth the effort since the gatehouse rents for so little money – only $300 a month. Still, it's important to have someone living there – to discourage win-lose deals (aka scare off thieves).
"Did you hear what happened to [a nearby castle]?" began a now-familiar conversation. "They cleared out everything."
The castle was the last place we thought would be robbed. It is protected by a moat! But clever thieves used a small boat to cross the water… broke into the house… opened the gate on the bridge… and drove up in a van.
The "pregnable fortress" in the French countryside
They put up ladders to make it look as though they were painting. Then, in broad daylight, they systematically emptied the house of everything of value.
"[The owner] is heartbroken. They have been in that chateau for 1,000 years," continued our informant. "And the thieves took the family silver… and portraits of ancestors that were hundreds of years old.
"They were not good paintings; the grandmothers were pretty ugly. The thieves just wanted the frames.
"And they took everything out of the family chapel, too – the candlesticks, the cross, and even the altar. It's sad. Why bother to keep something in the family for all those generations if someone is going to steal it from you?"
Crypto Clampdown
But the biggest win-lose deals are those forced upon us by the federales.
Yesterday, for example, the Chinese authorities acted on their much-anticipated crackdown on cryptocurrencies by banning "initial coin offerings," or ICOs (see Market Insight below).
These are the cryptocurrency equivalent of stock market initial public offerings, or IPOs. But instead of selling shares to the public to raise money like regular companies, crypto startups raise money by selling cryptocurrencies. Investors buy them because they believe they'll go up in price if the crypto startup is a success.
Reports Bloomberg:
Bitcoin tumbled the most since July after China's central bank said initial coin offerings are illegal and asked all related fundraising activity to be halted immediately, issuing the strongest regulatory challenge so far to the burgeoning market for digital token sales.

The People's Bank of China said on its website Monday that it had completed investigations into ICOs, and will strictly punish offerings in the future while penalizing legal violations in ones already completed. The regulator said that those who have already raised money must provide refunds, though it didn't specify how the money would be paid back to investors.

It also said digital token financing and trading platforms are prohibited from doing conversions of coins with fiat currencies. Digital tokens can't be used as currency on the market and banks are forbidden from offering services to initial coin offerings.
Will this be the end of bitcoin?
In 1933, the U.S. government successfully banned private ownership of gold when President Roosevelt signed Executive Order 6102, "forbidding the Hoarding of gold coin, gold bullion, and gold certificates within the continental United States."
For 40 years, the yellow metal was out of circulation.
What if you can't use bitcoin without risking jail time? What if you can't convert your cryptocurrencies into regular, government-issued paper? What good is a better form of money if you can't use it?
Again, nobody knows anything.
Regards,
Bill
STAY INFORMED! Receive our Weekly Recap of thought provoking articles, podcasts, and radio delivered to your inbox for FREE! Sign up here for the HoweStreet.com Weekly Recap.