September 26, 2017 | A Complex World is Now the Issue!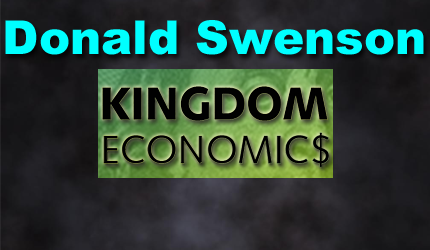 Donald B. Swenson: Born January 24, 1943, Roseau, Minnesota. Graduated H.S. 1961, Moorhead High, Minnesota. Graduated College 1968, Moorhead State University, Minnesota. Designated member of Appraisal Institute (MAI), 1974. Employed with Western Life Insurance Company, 1968 – 71; Iowa Securities Company, 1971 – 73; American Appraisal Company, 1974 – 81. Part-time teacher/valuation consultant/bartender, 1979 – 2008 (taught workshops at Waukesha County Technical Institute, Wi. and Madison Area Technical College, Wi.). Retired 2008 (part time teacher/blogger), AZ. Self educated economist/philosopher/theologian: http://kingdomecon.wordpress.com.
Our global financial and political systems have evolved into total complexity and confusion. We live with a new global system of communication (called the internet) which is creating more complexity and confusion daily. A few pundits are waking up to our situation but the vast majority assume that our global society has not changed (fundamentally). I think this is one of the problems which needs attention. Our internet society has changed the communication system globally and fundamentally. I now can talk and write to persons anywhere and everywhere (so can you). This is unique to our global history. Where is this leading going forward?
Every day our political leaders talk and tweet information about their ideas, plans, and goals. This creates counter information (and responses) from leaders who read and listen to all this communication. Our global leaders read and listen to what Trump (for example) says and tweets and then they react as if they know his inner thinking. All this is now done in real-time (now) and this creates confusion, propaganda, false interpretations, and counter actions (now mostly military actions and/or preparations).
The situation between Trump and Kim is unlikely to get resolved peacefully. All the rhetoric between the two administrations along with all the counter rhetoric globally makes for more uncertainty and confusion going forward. This is what I call complexity. A diverse world of viewpoints is emerging and this means more division and disunity going forward. We now have political disunity, religious disunity, financial disunity, and consumer disunity. Will this lead to global UNITY and PEACE?
The trend in motion is more disunity and diversity of viewpoints on all issues. Political issues will get more confused and complex. Religious issues will get more confused and complex. And financial issues will get more confused and complex. None of this complexity and confusion will diminish for many years. Human beings are subjective beings. Human beings are uncertain beings. And human beings are unknowing the future beings. Furthermore, our political systems are set up to challenge any counter political systems which challenge the status quo. All this complexity and confusion will get much more dire as we experience the above realities.
What is now needed is a discussion on the above issues. People and pundits need to get themselves AWARE that our situation is dire and that more disunity is built into the trends. Our financial situation is very dire…to the point of needing immediate discussion of the underlying problems. Our debt situation is so complex and dire that the only remedy (temporarily) is to continue pumping up the markets to prevent a total loss of confidence in the system. Our Central Banks are doing just that now! But is this a wise policy for solving our problems?
Avoidance of the problems is NOT a wise policy. Avoidance merely makes the situation worse and more worse. It increases the complexity and confusion. The intelligent policy would be to inform the public of our dire situation. Inform the public of our entrenched problems and the consequences that are emerging daily. Let the public react to the problems which our system has created these past 87+ years (since the last Great Depression). How can the public help with resolving these problems if they are not AWARE of the likely consequences? Let's start to become responsible and inform the global public about our global problems!
It is obvious, to me, that our current system is unworkable and corrupt. We need a NEW model for a complex world which is now totally interconnected. Amazon and Google are now completely a 4100 mile underwater cable system which will further connect the global community. Will this bring us stability and unity? I don't think so! Complexity will grow and confusion will grow in the coming days, weeks, months, and years. Wake up to this reality and start informing the public about these issues. Reality is always NOW! I am: https://kingdomecon.wordpress.com.
P.S. the responses from the sports community on various Trump tweets reveals the disunity that is emerging. What we need to recognize is that our world society desires individual freedom (universally). This means that our current CONTROL political systems must change to allow this desire for 'individual' freedom. Politics is now the problem and the individual is the potential solution! Think on this!
STAY INFORMED! Receive our Weekly Recap of thought provoking articles, podcasts, and radio delivered to your inbox for FREE! Sign up here for the HoweStreet.com Weekly Recap.