August 15, 2017 | Trump Haters Deface Most Historic Four Corners in America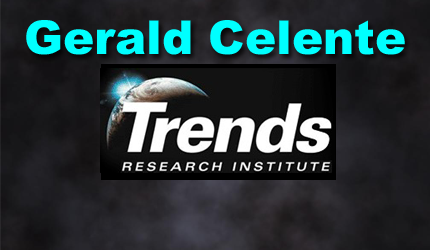 Gerald Celente, who developed the Globalnomic® methodology to identify, track, forecast and manage trends, is a political atheist. Unencumbered by political dogma, rigid ideology or conventional wisdom, Celente, whose motto is "think for yourself," observes and analyzes the current events forming future trends for what they are — not for the way he wants them to be. And while Celente holds a U.S. passport, he considers himself a citizen of the world.
KINGSTON, NY, 15 August 2017—Over the past two weeks, anti-Donald Trump graffiti has spreadacross Colonial Kingston, NY, defacing artifacts, landmarks and public properties where the seeds of democracy were sown.
Notably, at the intersection of John and Crown streets, the only place in America where pre-Revolutionary War stone buildings still stand on each corner, graffiti has spread throughout this Stockade National Historic District.
In front of the circa 1700 Dr. Jansen house its historic stone Carriage Step has been damaged by indelible black ink with the graffiti, "Corrupt. Expensive, Useless. This is our President. Now, traitorous to?"
At this historic intersection – which also includes the 1661 Persen House, the 1752 Franz Roggen House, the 1774 Academy – and throughout Colonial Kingston, bluestone sidewalks and buildings have been desecrated with anti-Trump graffiti such as "Trump equals poison," and those supporting him "can neither see nor smell the stinking swamp he is!"
Gerald Celente, founder of the Kingston-based Trends Research Institute and publisher of the Trends Journal, owns three of these richly historic buildings. The Person House is a county-run museum. Celente acquired these buildings not only to restore and preserve them as tribute to Kingston's vital role in the birth of the nation, but also as an act of patriotism.
"I am outraged that some disrespectful hypocrite who attacks Trump as being "poison," and "vulgar," takes it upon himself or herself to desecrate this historic community with poisonous graffiti," said Celente. "This has nothing to do with politics – who you like or who you hate – it's about the reckless disregard for the city … its people, traditions and treasures.
"I bought these buildings, not for a real estate investment but because I love America and what our Constitution and Declaration of Independence represent. I could not be me if I was born in Altavilla Irpina or Vico Equense in Italy. Besides, of course, all that I was given by my parents, relatives and mentors, I am who I am and achieved what I have because I was born in the Bronx, USA, as a free American spirit to become who I wanted to be and to think for myself. A cultural freedom that is only Made in America," Celente said.
Day by day, the anti-Trump graffiti continues to spread throughout this historic area. To date, the culprit(s) have not have yet been identified.
"To have some thoughtless lowlife etch his or her anger on the very foundation of American history is a pathetic commentary on the state of the Union," Celente concluded.
STAY INFORMED! Receive our Weekly Recap of thought provoking articles, podcasts, and radio delivered to your inbox for FREE! Sign up here for the HoweStreet.com Weekly Recap.