August 25, 2017 | Stocks Haven't Been This Pricey Since the Dot-Com Bubble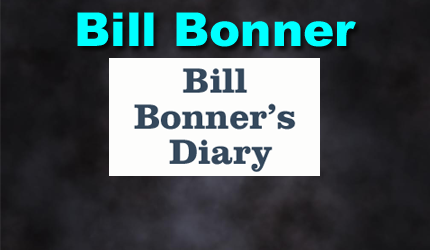 Is an American author of books and articles on economic and financial subjects. He is the founder and president of Agora Publishing, and author of the daily financial column, Diary of a Rogue Economist.
POITOU, FRANCE – Day ends in night. Life ends in death. Stability ends in instability.
Now, with shadows stretching out in our life, we don't care much for the program.
It is what it is.
Freaks and Clowns
It has been a quarter-century since the U.S. stock market has been so calm for so long.
Investors were sure the feds had their backs; they forgot how to panic.
But that may be coming to an end. The feds run out of money in October. To borrow more, Congress must raise the debt ceiling.
There is no question about the outcome: The debt ceiling will be raised.
The insiders run the show… and they want the money. But the Deep State is a big-tent operation, with plenty of freaks and clowns, each with his own agenda.
Democrats will demand protection for their social welfare programs. Republicans have boondoggles of their own. And at the center of the Big Top is an aging reality TV winner who desperately needs a win.
It's going to be fun to watch. But not if you are depending on the feds to protect your assets. This just in from Bloomberg:
The rate on Treasury bills maturing October 12 jumped by as much as 5 basis points Thursday [a basis point is 1/100th of a percentage point], the largest intraday move since March, after Trump blamed Congress's inability to increase America's borrowing authority on the Republican leaders in a series of tweets. […]

The surge in rates began Wednesday morning as investors reacted to comments Trump made at an appearance in Phoenix the previous evening, when he threatened to bring the government to the brink of a shutdown if needed to pressure Congress into funding a Mexican border wall.
Bubble Trouble
Over the past eight years, the fix was in.
Central banks added about $15 trillion to the world's money system… feeding it to financial markets like an expensive drug in an IV.
Even after the Fed gave up its quantitative easing (QE) program in 2015, other central banks kept the vital fluids flowing. The patient never showed much improvement, but the drug company stock went up!
Sooner or later, it had to come to an end. How? When? Today, we ramble through one possibility…
After more than 100 months of rising prices, stock markets are probably ready for a change of direction.
In terms of sales – which can't be fudged – U.S. stock prices haven't been this high since the heady days of the dot-com bubble. [For more, scroll down to today's Market Insight.]
That tells us all we need to know as investors; the idea is to buy low and sell high, not the other way around. Just ask someone who piled into stocks in 1999.
We also notice that stock market margin debt is at an all-time high – at $539 billion. This is money investors have borrowed from their brokers using their shares as collateral.
And as Dan Denning reported in the latest issue of our monthly publication, The Bill Bonner Letter [paid-up subscribers can catch up in full here], there is also more than $100 billion of "shadow margin."
This is where investors borrow against their stock market portfolios to buy houses or take vacations.
"They use them like homeowners used their own houses in 2007 – like ATMs," says Dan.
Comic Whirlwind
The stock market's "internals" don't look good, either.
For example, students of Dow Theory – who analyze stock charts for clues as to what will happen in the future – watch the performance of transportation stocks closely.
"If they're not shipping, they're not selling," say the old-timers.
The Dow Jones Transportation Average is now below its 200-day moving average (MA) – a widely watched technical indicator often referred to as the "line in the sand" between a bull and a bear market.
So are the great majority of small-cap stocks – stocks with market valuations of between $300 million and $2 billion. These tend to lead the market up when animal spirits are running high… and lead it lower as investors turn more pessimistic.
The small-cap Russell 2000 Index is also trading below its 200-day MA.
The Russell 2000 circa 2017 looks more and more like the Nasdaq circa 1999. Since the U.S. stock market hit its post-crash bottom in 2009, the small-cap index has been going up at a rate of about 10% a year. That's about five times as fast as the economy that supports it.
Meanwhile, the real economy weakens…
Up and down Main Street – far from the luxuries and bonuses of Lower Manhattan – people go about with long faces and empty pockets.
People with only a high school education have lost income at a rate of about 1% a year during this entire century. Even college graduates have made little progress. Restaurants report fewer diners, spending less money. Auto sales are still slipping.
Google "auto sales down" and you'll find a long list of negative headlines: "Auto sales down again in February." "Auto sales down again in March." "Auto sales down again in April."
Reporters don't show much imagination in their headlines. But little imagination is needed to see what is going on: People, too, are running out of money.
The other pillar of the Main Street economy is housing. But there, we see the same thing. New house sales fell 9% in July. And they're now selling at the same rate they did 55 years ago!
Strange things happen from time to time.
A tornado could rush through a junkyard and leave a fully-assembled Mercedes 500. But it's not likely.
And it's not likely that the comic whirlwind now approaching the nation's capital will leave anything but destruction behind it.
Watch out…
Regards,
Bill
STAY INFORMED! Receive our Weekly Recap of thought provoking articles, podcasts, and radio delivered to your inbox for FREE! Sign up here for the HoweStreet.com Weekly Recap.