August 8, 2017 | S&P Sell Signal Triggers Decennial Danger Period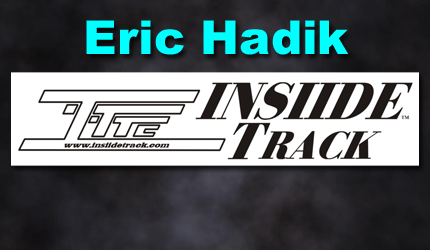 Eric Hadik began studying & trading the futures markets in the early-80's - eventually providing his analysis & trading strategies to multi-national oil companies & top-20 banks. In the 90's, while continuing to trade, Eric consulted dozens of gold & silver miners & manufacturers - before founding INSIIDE Track Trading and providing similar analysis to institutional & individual traders. His work has been featured in IBD, WSJ, Barrons, on CNBC and most recently at Forbes. His trading approach begins with extensive cycle & wave analysis, then honed by specific technical indicators & trading signals (which are reserved for his subscribers).
Stock Index futures just attacked critical upside targets with the S+P futures triggering a decisive sell signal at 2484.5/ESU. That meets the final criterion necessary for the ideal selling scenario and the onset of a quick, sharp drop in the coming weeks (possibly days).
The specifics for that sell signal, along with the corresponding analysis (including when future lows are likely), was published in the August 5, 2017 Weekly Re-Lay. The following is an excerpt from that publication:
"Stock Indices are giving the first signs of vulnerability after fulfilling multiple upside objectives at 21,616–22,030/DJIA & 2465–2531/ SPX (shortly after the NQ did the same thing).  Those 1–2 year targets combined with weekly extreme upside objectives (LHR) to produce the optimum price range for peaks…the DJIA just spiked up to a related convergence at 21,927–22,057/DJIA…
The Russell 2000 also remains in focus after dropping ~4% since July 25th. and closing back below the levels of its early-March peak. This took hold immediately after it perpetuated a 6-week/40–44 day high-high-high-high Cycle Progression. That cycle also projects a drop into early-Sept.
The Russell 2K has gained very little ground in the past 8 months. It peaked in Dec. '16 at 1392 and again in Jan. '17 at 1388. This past week's low approached those highs (resistance turned into support), which could provide a pivotal level in the coming week.  A weekly close below 1388 would neutralize the intra-year uptrend.
The DJTA remains negative but still needs a weekly close below 9147 to reverse its weekly trend down and confirm a 1–3 month peak. (A more convincing sign of a multi-month top would be a weekly close below 8980/DJTA – turning the intra-year trend down.)…
1–4 week traders can be selling Sept. e-mini SP futures at 2473 up to 2484.5/ESU." FUTURES TRADING INVOLVES SUBSTANTIAL RISK!
In order to better understand the precarious nature of the next 3–4 weeks, it is important to comprehend the uncanny precision of the 'Decennial Danger Period'. The following is a sampling of that analysis (the full article can be viewed at https://www.linkedin.com/pulse/decennial-danger-period-eric-s-hadik
Decennial Danger Period
Eric S. Hadik – www.insiidetrack.com
7-29-17 – Late-July through early-September represents an extremely precarious time in the stock market, when a myriad of cycles – ranging from 40-Year & 80-Year Cycles down to multi-week cycles – pinpoint the most likely time for a sharp correction in equities. Specific downside price targets are also forming and will be discussed separately.
In order to understand this, it is best to step back and first view the longer-term indicators & cycles that identify a much broader period of time for serious economic challenges (2017–2021 & 2017–2019) and then work to more specific indicators & cycles that pinpoint late-July–early-September 2017 as the (first) period with the greatest synergy of corroborating cycles – all arguing for a significant sell-off…
Consider the following pattern of the past 20 years (with only 2003 representing a failure of this consistently bearish period, surrounding the 3rd Quarter of every other year) ….
July–Oct. 1997 – Asian Financial Crisis sell-off.
July–Oct. 1999 – Sell-off before final spike high of early-2000.
May–Sept. 2001 – Drop leading into 9/11.
[July–Oct. 2003 – Nothing (failure).]
July–Oct. 2005 – Sideways correction, leading to Oct. '05 low & new advance
July–Aug. 2007 – Sell-off before final high.
July–Oct. 2011 – Sharpest part of May–Oct. 2011 decline.
July–Oct. 2013 – Sideways correction, leading to Oct. '13 low & new advance.
July–Aug. 2015 – Chinese equity meltdown (30–40% drop) infecting global stocks.
Of course, there were other 3Q declines interspersed in the 1990's–2010's that further validated this pattern. They include:
July–Oct. 1998 – Russian Ruble Crisis & corresponding global equity sell-off.
Aug.–Oct. 2000 – 2nd sharp decline in developing bear market.
June–Oct. 2002 – Sharpest decline in 2000–2002 bear market (that bottomed in Oct. 2002).
June–Oct. 2004 – 2nd half of 2004 sell-off.
May–Nov. 2008 – Overall market meltdown – exacerbated by Lehman Bros. collapse, AIG insolvency & Fannie Mae/Freddie Mac debacle.
Aug.–Nov. 2016 – Market correction, leading into US Election equity low.
In 2011, 2013 & 2015 (as well as 2016), the DJIA suffered significant sell-offs between late-July/early-Aug. & late-Aug./early-Sept. – further honing these cycles. Could August 2017 repeat?
Daily & weekly indicators are lining up and could trigger a decisive sell signal in the coming days. If that occurs during the first week of August, it would provide the latest and most important confirmation to this overall outlook. But, that would just be the first step of a potentially precarious journey from mid-2017–2021.
Eric Hadik is President of INSIIDE Track Trading and the editor of INSIIDE Track and the Weekly Re-Lay. More information can be found at www.insiidetrack.com. Corresponding analysis on the 40-Year Cycle & 17-Year Cycle can be found at www.40YearCycle.com & www.17YearCycle.com.
STAY INFORMED! Receive our Weekly Recap of thought provoking articles, podcasts, and radio delivered to your inbox for FREE! Sign up here for the HoweStreet.com Weekly Recap.