August 11, 2017 | Gold Surging; Stocks Plummeting; Cycles Confirmed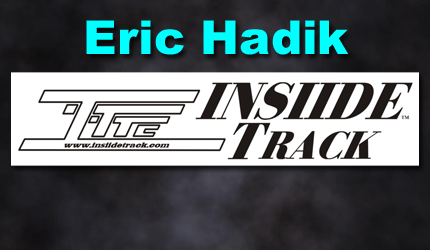 Eric Hadik began studying & trading the futures markets in the early-80's - eventually providing his analysis & trading strategies to multi-national oil companies & top-20 banks. In the 90's, while continuing to trade, Eric consulted dozens of gold & silver miners & manufacturers - before founding INSIIDE Track Trading and providing similar analysis to institutional & individual traders. His work has been featured in IBD, WSJ, Barrons, on CNBC and most recently at Forbes. His trading approach begins with extensive cycle & wave analysis, then honed by specific technical indicators & trading signals (which are reserved for his subscribers).
Gold Validates Aug. 7–11th Cycle Low;
Surge into Mid-August on Track!
1310–1319.0/GCZ = Weekly LHR Convergence.
S+P Sell Signal (2484.5/ESU) Confirmed!
Stock Index futures are powerfully confirming the sell signal triggered earlier this week (and e-mailed to you) – at 2484.5/ESU. That met the final criterion necessary for the onset of a quick, sharp drop in equity markets – expected on August 8–22nd.  The likelihood for a late-July through early-Sept. 2017 drop has been the focus of ongoing analysis since late-2016. Much of that was included in:
https://www.linkedin.com/pulse/decennial-danger-period-eric-s-hadik?published=t
At the same time, Gold & Silver pulled back into cycle lows and produced a textbook daily trend pattern signal – projecting a surge to new highs. That cycle low (Aug. 7–11th) has been discussed for several weeks & was updated in the August 9, 2017 Weekly Re-Lay Alert. The following is an excerpt from that publication:
"Gold & the 4-Month Cycle"
"Gold & Silver have initially fulfilled near-term analysis for a secondary low during the ideal week for a low (Aug. 7–11th) and within 1 day of the midpoint of the prevailing, ~2-month cycle (Aug. 9th).
They provided another textbook daily trend pattern, dropping long enough to twice neutralize their daily uptrend before spiking down & reversing higher… without turning those daily trends down.…
Gold could produce another high in mid-August, the latest phase of another 4-month cycle. That is reinforced by the daily trend pattern, which increases the potential for new highs in the near-term (since it could not turn down while Gold was dropping into intermediate cycle lows).
As explained before, that ~4-month cycle governed Gold in 2014–2016 and was expected to trigger a lower high in early-Nov. '16. Gold fulfilled that and then set ensuing lows in early-March & early-July 2017 – at 4-month intervals.
Meanwhile, an overlapping 4-month cycle emerged from the late-2016 bottom and could now be governing successive highs. Gold rallied for 4 months – from mid-Dec, into mid-April '17 and could produce a subsequent high in mid-August '17 (low-high-high Cycle Progression)…
Gold is the only one (out of Gold, Silver & XAU) that remains in an intra-year uptrend and in an uptrend basis its weekly 21 MAC. Its monthly trend also remains positive after turning back up in Jan. 2017.   That trend pattern continues to project a rally back to the mid-2016 peak (~1377/GC)…
The XAU completed its drop from July 26th into August 7–11th – as part of an ongoing, ~5-month trading range. Based on its daily trend pattern, intra-month downtrend, daily 21 MAC, intra-year trend and overall outlook, the XAU is far from being 'out of the woods'..." FUTURES TRADING INVOLVES SUBSTANTIAL RISK!
Gold has surged in the past 24 hours, validating this analysis and the likelihood for a surge into mid-August. Stock Indices are powerfully confirming their sell signals while honing their downside targets.  Gold & Silver are similarly focused on key upside objectives. Meanwhile, War Cycles – discussed at length in 2014/2015 & projected for 2015–2021 – are receiving further validation from the inflammatory rhetoric between North Korea & the US – and corroborating these market cycles. You can read more about these cycles at:
https://www.linkedin.com/pulse/40-year-cycle-war-peace-eric-s-hadik
STAY INFORMED! Receive our Weekly Recap of thought provoking articles, podcasts, and radio delivered to your inbox for FREE! Sign up here for the HoweStreet.com Weekly Recap.