July 5, 2017 | Secret Force for Marijuana Legalization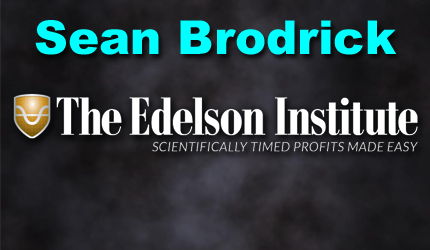 Sean is the natural resource analyst for Weiss Group. You can read his thoughts on gold, oil, cannabis, uranium and other natural resources at EdelsonInstitute.com
At midnight on July 1, Nevada bet on green. That's when recreational marijuana use suddenly became legal in the Silver State.
And I'll tell you what it means – a harbinger of good times to come for marijuana investors.
It's part of a bigger picture I call "Cannabis capitalism."
Legalization follows a ballot initiative, Question 2, put before Nevada voters last November. About 55% of those voters cast ballots to green-light commercial cultivation and sale of recreational marijuana. Buyers over 21 can purchase up to one ounce of marijuana at a time.
Plenty of heavy-hitters there opposed legalized weed. Republican Gov. Brian Sandoval was "categorically opposed." And Democratic U.S. Sen. Harry Reid, retiring from the U.S. Senate, made a point of blasting the initiative. He said he was "very, very dubious."
And Sheldon Adelson, the conservative billionaire who founded the Las Vegas Sands Corp. (LVS), used the power of his newspaper, the Las Vegas Review-Journal, to rip marijuana legalization.
The anti-weed forces lost. And I'll tell you why.
Nevada was suffering through an economic recession that hit tourism and construction hard. Now, the state expects a big boost in cannabis-related tourism.
Until California begins its recreational marijuana dispensing in January 2018, experts say Nevada will likely be the biggest market in America.
So, tourists will flock to Nevada to smoke weed. They'll spend money on hotel rooms, restaurants and other entertainment. Along with tourism, the state will reap a total 31.85% tax on marijuana.
'Market This Thing Around the World'
"We're going to really market this thing around the world," reportedly said State Sen. Richard "Tick" Segerblom, the chairman of Nevada's Senate Judiciary Committee.
"We've already been approached by marijuana hotels, tours, and ranches," Segerblom added.
He figures weed could bring in as much as $150 million in two years for the Nevada government.
I'll point out that all estimates of tax revenue from weed legalization in Colorado were far too low. So, Nevada might reap an even-BIGGER tax windfall on pot.
And what will Nevada use that money for? Higher education.
In fact, when Gov. Sandoval outlined his budget for his final two years in office, he proposed $115 million in new spending. It will go to higher education plus a raise for all state workers. And it's going to be funded in large part by taxes on Nevada marijuana sales.
But wait! Didn't Sandoval oppose marijuana legalization?
Yep. But no one ever said politicians had to be consistent.
Sandoval also asked for $20 million in college scholarships, and for technical and vocational training.
Other marijuana-funded budget items include $100 million helping low-income students, as well as special-education and gifted programs.
And then there's $36 million for a new veterans' nursing home, a new Department of Motor Vehicles facility, and a new National Guard center.
So, other taxes aren't being raised … and the state gets a bunch of goodies, all paid for by weed-smoking hippies.
Nevada is following examples already set by other states. Last year, Colorado collected nearly $200 million in sales taxes and fees from recreational marijuana. More than $138 million went to education. At the same time, Washington state raked in $255 million in taxes from marijuana sales.
Here's the benefit for investors: I think that's going to sound irresistible to other states. And it's NOT priced into the better marijuana stocks yet.
Bale-Sized Budget Holes
Last week, John Isaacson filled you in on Illinois' budget woes. The state has a $6 billion hole lined with red ink, according to Bloomberg. How do you solve a problem like that?
Legal weed would help. It could raise up to $700 million in tax revenue, according to some estimates.
Meanwhile, both New Jersey and Maine shut down their governments due to budget impasses.
Fortunately, New Jersey legislators brokered a budget deal late in the afternoon on Monday, July 3. And Maine lawmakers followed suit early on Tuesday, July 4.
Maine has legal medical marijuana. It collected $1.5 million in taxes on it last year. The state just legalized recreational marijuana, but sales won't start until 2018. I bet they wish they had that money now.
Maine's a small state. New Jersey is a much bigger state, with much bigger problems. It is facing a budget gap of $3.2 billion spread over five years. Then again, estimates are that legal weed would bring the state at least $300 million a year in tax revenue.
Recreational marijuana isn't legal in New Jersey because outgoing Gov. Chris Christie hates the idea. Plans are being drawn up to legalize it as soon as he's out of the way.
A Dozen Squeezed States
Here's the fascinating thing: 46 states started a new fiscal year on July 1. In nearly a dozen of them, budget negotiations are down to the wire.
I can give you plenty of other benefits of legalization. Medical benefits, starving the Mexican cartels of revenue, and more.
But if there's one thing we can count on in politicians, it's self-interest.
The reality is that consumers don't want higher taxes on sales or income. But they still want government services.
And that's why I think the tax revenue from legal recreational weed will prove irresistible – and usher in legalization at the state level sooner rather than later.
Sure, there are still federal obstacles. But smart investors will position themselves ahead of the wave. Cannabis capitalism is coming. Revenue-hungry states will demand it.
All the best,
Sean Brodrick
STAY INFORMED! Receive our Weekly Recap of thought provoking articles, podcasts, and radio delivered to your inbox for FREE! Sign up here for the HoweStreet.com Weekly Recap.