July 13, 2017 | Our Prices are now Manipulated with Algorithms!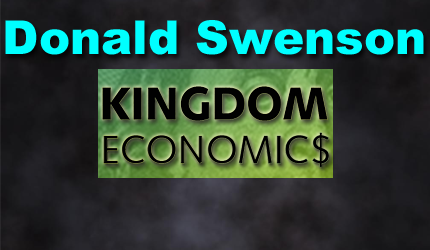 Donald B. Swenson: Born January 24, 1943, Roseau, Minnesota. Graduated H.S. 1961, Moorhead High, Minnesota. Graduated College 1968, Moorhead State University, Minnesota. Designated member of Appraisal Institute (MAI), 1974. Employed with Western Life Insurance Company, 1968 – 71; Iowa Securities Company, 1971 – 73; American Appraisal Company, 1974 – 81. Part-time teacher/valuation consultant/bartender, 1979 – 2008 (taught workshops at Waukesha County Technical Institute, Wi. and Madison Area Technical College, Wi.). Retired 2008 (part time teacher/blogger), AZ. Self educated economist/philosopher/theologian: http://kingdomecon.wordpress.com.
It's time to wake-up, folks, to a new technology which creates most of our daily prices and also manipulates price discovery for our markets. The word is 'algorithm'. Now that computers trade all our markets (mostly) this new invention for creating our prices is the 'algorithm'. What happens is that a special agent called a Quant will program a trader's computer with a source code and then this code (set of instructions) within an algorithm trades our markets. Algorithmic trading is now ubiquitous and most of our resources (energy, commodities, stocks, and futures) can and are traded with the help of algorithms.
High Frequency Computer Trading and Algorithms can use a 'source code' to trade in microseconds and the counterparty to the trade is another Algorithm. This type of trading (also called machine trading or automated trading) is becoming the default method for trading and creating changes in our daily electronic prices. Today, our Central Banks have trading computers which can also change our cyber prices using automated trading algorithms. This is because our markets are now electronic and machine driven. The human aspect to trading is being transferred to the computer and an 'algorithm'. It is the reality of today's markets!
The problem with all our digital trading markets is that the human aspect to trading is being removed (totally). Most of all trading is now electronic and all our major exchanges are now electronic. This makes artificial intelligence the best means for trading today's markets. Robots and algorithms are the best option for most trading activity. In fact our speed of light markets almost demand that traders use algorithms and source codes for effective trading. There are all kinds of different algorithms which can trade, learn from prior trading decisions, and set parameters for getting in and out of trades. This is now reality for every computer trader.
Why do our markets continue to go up irrespective of geopolitical events and trader emotions? Why can a price (say for silver or gold or oil) be manipulated up or down with a trading strategy using algorithms? This has become the default method of trading for most of our traders and institutions. Supply and demand (via human negotiation) has been mostly replaced with speed of light spoofing and other trading gimmicks (with algorithms as the means). Following is a description of the concept called 'spoofing':
Spoofing is a disruptive algorithmic trading entity employed by traders to outpace other market participants and to manipulate commodity markets.[1][2][3] Spoofers feign interest in trading futures, stocks and other products in financial markets creating an illusion of exchange pessimism in the futures market when many offers are being cancelled or withdrawn, or false optimism or demand when many offers are being placed in bad faith.[4] Spoofers bid or offer with intent to cancel before the orders are filled. The flurry of activity around the buy or sell orders is intended to attract other high-frequency traders (HFT) to induce a particular market reaction such as manipulating the market price of a security.
In Australia layering and spoofing in 2016 referred to the act of "submitting a genuine order on one side of the book and multiple orders at different prices on the other side of the book to give the impression of substantial supply/demand, with a view to sucking in other orders to hit the genuine order. After the genuine order trades, the multiple orders on the other side are rapidly withdrawn."[16]
Our trading algorithms can now be programmed with a source codes which can spoof and layer trades without anyone being aware of what is happening. So far, our corrupt officials at the CFTC and the SEC do not seem to deal with all these trader source codes. This allows private Quant's and similar programmers to create algorithms which manipulate our prices and our various markets with no oversight. Who can compete with speed of light trading, cancellations of trades, withdrawals of trades, and all the other gimmicks which our algorithms can accomplish at near the speed of light.
We need to get educated on the NEW trading environment which is now ubiquitous. Forget the Open Outcry Trading mentality. This is nearly totally abolished given today's electronic markets. Human decision-making is being replaced with robots, automated trading, algorithmic trading, and high frequency trading. The new word for everyone to remember is ALGORITHM. We live in a NEW world of electronic trading, price discovery via algorithms, price manipulation via algorithms, and fraudulent trading by centralized authorities (also via algorithms). Machines rule over prices and Quant's rule over source codes used by algorithms. Basically the markets today are RIGGED and the system is CORRUPT. I am: https://kingdomecon.wordpress.com.
STAY INFORMED! Receive our Weekly Recap of thought provoking articles, podcasts, and radio delivered to your inbox for FREE! Sign up here for the HoweStreet.com Weekly Recap.