July 8, 2017 | No "Trump Bump" for the Economy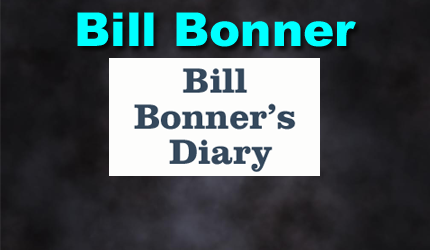 Is an American author of books and articles on economic and financial subjects. He is the founder and president of Agora Publishing, and author of the daily financial column, Diary of a Rogue Economist.
POITOU, FRANCE – "Nothing really changes."
Sitting next to us at breakfast, a companion was reading an article written by the No. 2 man in France, Édouard Philippe, in Le Monde.
The headline promised to tell us how the country was going to "deblock" itself.
But upon inspection, the proposals were the same old claptrap about favoring "green" energy… changing the tax code to reward one group and punish another… and spending more money on various humbug initiatives.
Crackpot Schemes
Philippe claims, for example, that France will "invest" $50 billion in job training programs, new industries, and infrastructure.
The idea behind it, although not stated expressly, is that a brighter future is out there somewhere, and that France's politicians and bureaucrats will do a better job of going to meet it than the people themselves.
"Just like the U.S.," our American companion continued.
In order to "invest" $50 billion, the feds have to get the money from somewhere.
Where?
They earn no money. They can only get funds by taking them away from others. Tax it. Or borrow it.
Either way, the resources used to build a new road or hire a new person must be taken away from other plans and programs set in motion by other people, who came by the resources honestly.
The only possible way in which the economy, or the people as a whole, could benefit from shuffling resources from private use to public use would be if the feds were somehow better resource allocators. But the proposition is laughable.
People invest their resources in many different ways. One wants a new car. Another prepares for his retirement. Still another remodels his home, moving his refrigerator closer to the TV screen so he won't miss anything when getting another beer.
The feds are completely ignorant about these investments. And completely inconsiderate of them. They just take the resources away… and use them for their own crackpot schemes.
Terrible Investors
The feds are always terrible investors.
They have little or no experience with real business. They've never earned a dime. They have no appreciation for risk; they never put their own money on the line, so they never learn.
And their motives are always distorted by their own desire for re-election, payoffs, or political advantage.
That is just business as usual. But things DO change. As more and more resources are diverted from bona fide uses… and turned over to cronies and zombies… the more the economy creaks and groans.
It takes real investment, real work, real innovation and competition… real resources and time… to make people better off. In France, as in the USA, the real economy suffers as the claptrap programs and phony "investments" multiply.
In the 1950s, 1960s, and 1970s, the French government commanded about 40% of the economy; growth and prosperity boomed. It was the "30 glorious" years.
Now, the feds control 60% of the economy… and it limps along with 10% unemployment and negligible real growth.
"Just like the U.S.," our companion repeated.
In America, during the 1950s, 1960s… and even the 1970s… government spending made up about 25% of the economy.
Later, by expanding regulation, the feds got control of new segments of the economy – directing money into medical/pharmaceutical industries, schools and universities, housing (via Fannie Mae, Freddie Mac, and mortgage-interest deductions), and Wall Street (via fake money and cheap credit).
The feds now effectively control 60% of the economy – roughly the same percentage as in France.
No "Trump Bump"
And the U.S. economy, too, struggles to make headway.
Many people thought they saw an unlikely messiah last year – in the person of Donald J. Trump.
Here was a "disruptor" willing to shake up the system. Here was a brawler ready to take on the elite. Taxes and spending would be cut. Regulations, too. The economy would boom.
Alas, there is no "Trump bump" for the economy. At least not yet. The New York Times:
While the June jobs report, coming on Friday, is expected to show that hiring continued at a healthy pace last month, other recent indicators in areas like consumer spending, construction and auto sales have been decidedly less robust.

As a result, Wall Street forecasters have been busy lowering their growth estimates for the second quarter, which ended last Friday, much as they were forced to do over the first three months of the year. Economic expansion for the full year now appears unlikely to be much greater than 2 percent – about the average for the current recovery, which celebrates its eighth year this month.

While hardly terrible, it is not the burst of growth – a "Trump bump" – that many expected to result from an upturn in consumer and business sentiment after Mr. Trump's election.
"What did I tell you?" asked our companion rhetorically.
America's new president… and France's new chief, Emmanuel Macron… promised something new. A breath of fresh air. But to make any real change, each would have to squeeze the power and money now flowing to the elites.
And neither is inclined to do so.
"Fresh air?" she asked again, not posing a question but jumping to a conclusion…
"What I smell is the same stale gas. And it stinks."
Regards,
Bill
STAY INFORMED! Receive our Weekly Recap of thought provoking articles, podcasts, and radio delivered to your inbox for FREE! Sign up here for the HoweStreet.com Weekly Recap.