July 20, 2017 | Good 'Intentions' Do Not Mean Good Results! Why?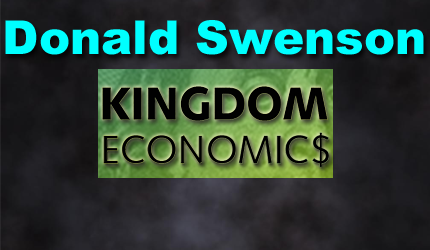 Donald B. Swenson: Born January 24, 1943, Roseau, Minnesota. Graduated H.S. 1961, Moorhead High, Minnesota. Graduated College 1968, Moorhead State University, Minnesota. Designated member of Appraisal Institute (MAI), 1974. Employed with Western Life Insurance Company, 1968 – 71; Iowa Securities Company, 1971 – 73; American Appraisal Company, 1974 – 81. Part-time teacher/valuation consultant/bartender, 1979 – 2008 (taught workshops at Waukesha County Technical Institute, Wi. and Madison Area Technical College, Wi.). Retired 2008 (part time teacher/blogger), AZ. Self educated economist/philosopher/theologian: http://kingdomecon.wordpress.com.
Our elites (on the surface) appear to have good intentions. Their 'words' reveal these good intentions. Listen to the video below to hear words of 'good' intentions. But do these words of 'good' intentions lead to a better, more free, more peaceful, and more prosperous global society? We have witnessed the 'good' intentions of those who formed the Federal Reserve Act of 1913, which led to the Federal Reserve banking system. We have witnessed the 'good' intentions of Franklin D. Roosevelt with his New Deal legislation and policies of tax and more entitlements. We have witnessed the 'good' intentions of Lyndon Johnson with his Guns and Butter policies of the 1960's.
We have witnessed the 'good' intentions of Richard Nixon with his China policy as well as his OPEC dollar policy. We have witnessed the 'good' intentions of George Bush, Jr. with respect to his nation building policy over in Iraq and Afghanistan. And we have witnessed the 'good' intentions of Mr. Obama's Middle East policies which now confront us daily on the front pages of our official news. Good intentions tend to fool those who lack wisdom and understanding of our history. Good intentions tend to fool those who lack discernment of human nature. Yes, 'good' intentions fool nearly all uninformed citizens all over planet earth. This has been the history of 'good' intentions. Why?
The above video needs to be watched with a mindset of discernment and with a mindset which has understood our prior human history. Human nature has not changed these past 6,000 years. Man desires to rule over man and this has been our legacy since Eve ate the apple. Cain then killed Able and the game of human nature has played out since this starting point. Those who acquire positions of power will continue with their schemes and their rhetorical word games so as to deceive and fool the many. Few discern human nature correctly (it seems). This is one of our core problems!
The key to understanding others is 'first' to understand oneself. Socrates laid down the correct mantra back in 400 B.C. IMO. He said "The unexamined life is not worth living". "To gain wisdom one must recognize that one knows nothing with certainty". "I can not teach people anything, I can only make them think". "Life is full of questions, Idiots are full of answers". "Strong minds discuss ideas, average minds discuss events, weak minds discuss people". "False words are not only evil in themselves, but they infect the soul with evil". Listen to these words of wisdom from a great historical philosopher!
Plato added to the words of Socrates with this additional wisdom:
What our world needs now is wisdom. People need to develop some critical thinking skills. Critical thinking means asking questions and recognizing that answers from rulers are generally based on hubris and false/good intentions. Can this Agenda 2030 which is outlined above lead our world to peace, freedom, happiness, and prosperity? Can a centralized politburo of select elites govern the entire human race (all 7.4 billion)? Can a central warehouse of goods, produced with robots and enforced labor camps, bring the world a better and more fulfilled lifestyle? What do you think?
Wisdom is much more than mere knowledge of events and knowledge of laws, rules, policies, and social contracts. Wisdom derives from understanding oneself and the basic laws of human nature. Is everyone only 'good' at their core? Is human nature based only on positive thinking and positive rhetoric ? My sense is No. Human nature is based on two faces (one dark and one light). The yin and yang of reality creates our human nature. Overcoming the 'dark' is part of growing up and developing sound character. Overcoming the 'problem' comes prior to developing a 'solution'. Give these principles some reflection at your convenience. I will do likewise! I am: https://kingdomecon.wordpress.com.
Some additional words of wisdom from select individuals:
The Golden rule is generally a wise and prudent policy!
The book of Proverbs is generally scripture which enlightens the inner being!
Founding Father, Ben Franklin, back in 1776 – 81. He acquired some wisdom during his lifetime!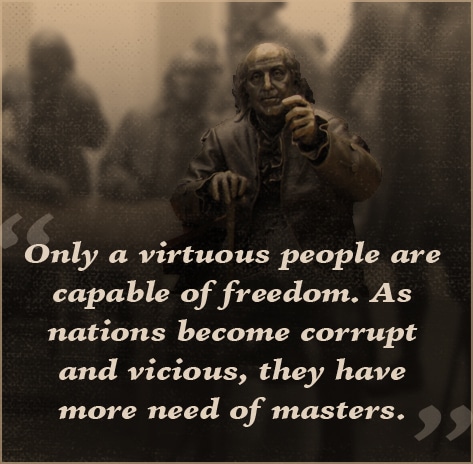 Another great set of words from Mr. Benjamin Franklin!
The End of our Republic must now be here! The Universal Basic Income concept comes to mind!
John Adams recognized that enslavement develops when our rulers lose their sense of history!
A free society flourishes when all elites in authority can be challenged and questioned!
Knowing oneself is essential if one is to discern the mind of others! We are ALL similar yet unique! Becoming a singularity is the ultimate goal of a true individual! The question comes prior to the answer! The problem comes prior to the solution! Think on these words!
STAY INFORMED! Receive our Weekly Recap of thought provoking articles, podcasts, and radio delivered to your inbox for FREE! Sign up here for the HoweStreet.com Weekly Recap.