July 16, 2017 | Debt Ceiling Default a Real Possibility!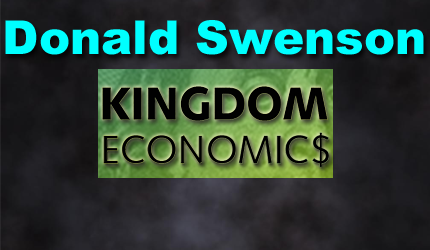 Donald B. Swenson: Born January 24, 1943, Roseau, Minnesota. Graduated H.S. 1961, Moorhead High, Minnesota. Graduated College 1968, Moorhead State University, Minnesota. Designated member of Appraisal Institute (MAI), 1974. Employed with Western Life Insurance Company, 1968 – 71; Iowa Securities Company, 1971 – 73; American Appraisal Company, 1974 – 81. Part-time teacher/valuation consultant/bartender, 1979 – 2008 (taught workshops at Waukesha County Technical Institute, Wi. and Madison Area Technical College, Wi.). Retired 2008 (part time teacher/blogger), AZ. Self educated economist/philosopher/theologian: http://kingdomecon.wordpress.com.
The Sunday Arizona Star had an article called "Obama-era plan on standby for possible default". This article points out that in August of 2011 there was a secret plan between the Fed and the Treasury which was meant to be kept secret for five years. The five years was up recently and the plan is now being partially revealed. Basically the plan is to selectively pay bond holders less than full redemption value when and if the Debt Ceiling is not renewed or not allowed to increase. The article says "holders of U.S. debt and recipients of Social Security, veterans, and other entitlements would be paid first with everyone else getting delays in payments or merely partial payments".
The Obama administration back in August of 2011 devised this secret program which our Treasury and our Fed agreed to keep secret for five years. The plan is based on how debt is to be prioritized when the game of increasing the Debt Ceiling ends. It now appears that our Treasury Secretary, Steve Mnuchin, can fund the government with various gimmicks until late September or early October, 2017. Various Republican congressmen will push the issue of not increasing this ceiling so that they can gain influence to push new gimmicks upon the American people (so the article claims). What I witness is more financial gimmicks being proposed until the system collapses.
But what all this reveals is that our elites in government recognize that a day of financial judgment is coming. And my sense is that this day of financial judgment could/might be this fall. I, personally, don't think that any further delay will be allowed. This September or October will likely be the longest that this judgment day will be postponed. The policies of Mr. Trump when it comes to our finances have not improved our situation. Debt is the issue and postponement can not be delayed much longer. The American people now recognize that debt, deficits, and gimmicks must cease. This awareness is now mostly everywhere thanks to the internet.
The message which various websites present is getting publication and our media is starting to inform the people slowly. Websites like: http://www.usdebtclock.org have been presented to the public and our leaders for over 10 years. To comprehend the problem Americans merely need to study the numbers and ask themselves a few pointed questions. Can this debt be repaid? How? Can the debt be reduced to manageable levels? How? Can this process of increasing debt be postponed indefinitely? How? Is it now time to pay the piper and accept the realities that America must restructure its house of finance? Basically, is Judgment Day here?
Watch what emerges in the coming months and ask yourself if the DAY OF FINANCIAL JUDGMENT is here! I am: https://kingdomecon.wordpress.com.
Some images to consider as you contemplate our situation: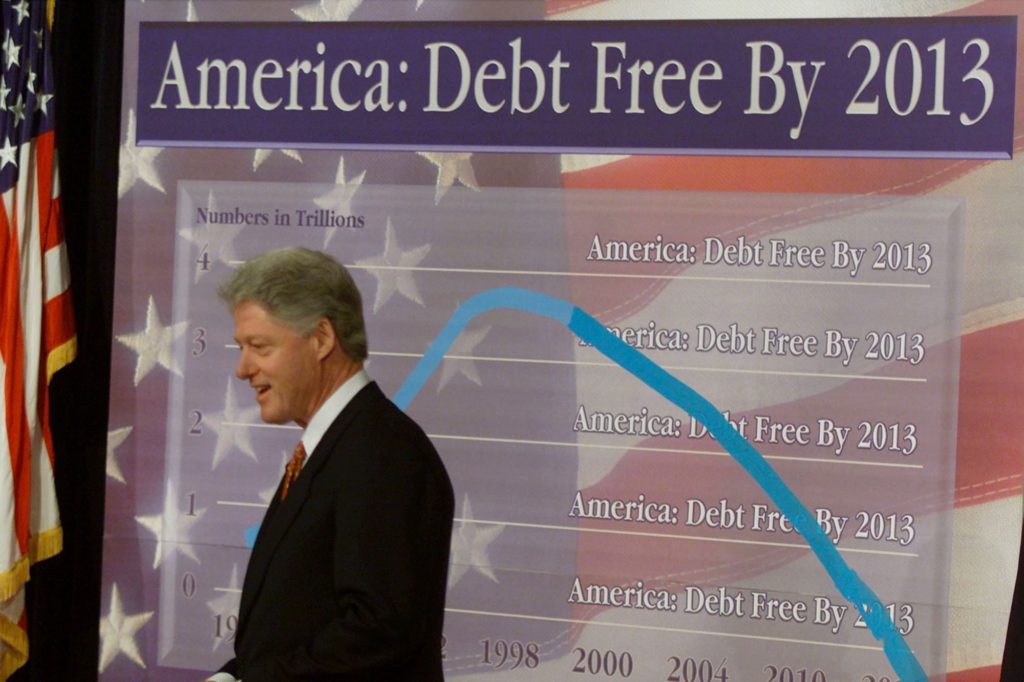 Our small surplus (under Clinton) led many to project that all our debt would be repaid in a few years (what happened)?
This graph is misleading as Obama increased the nominal $ debt by nearly $10 trillion (much more than the others)!
As of 2017 our debt is nearly $20 trillion (whereas it was less than $1 trillion when Reagan took office)! Are American's aware that Judgment Day is near?
The big increase in our trend was under the Obama administration (2008 – 2016)! Trump has inherited this debt bomb! Can his administration postpone this farce much longer? My sense is NO!
Our debt bomb has reached levels where everyone realizes that it can not be repaid! Is ignoring this fair to our children? http://www.usdebtclock.org
Will Trump and Mnuchin try to continue the charade of debt explosion or will they accept reality and deal with it? We should find out this fall at the latest! September or October, 2017, should reveal what will happen going forward!
STAY INFORMED! Receive our Weekly Recap of thought provoking articles, podcasts, and radio delivered to your inbox for FREE! Sign up here for the HoweStreet.com Weekly Recap.