July 4, 2017 | Cannabis Capitalism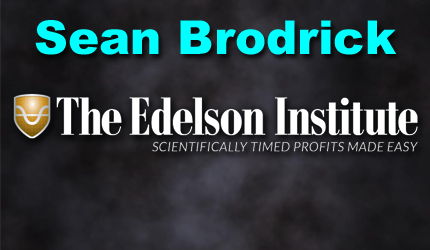 Sean is the natural resource analyst for Weiss Group. You can read his thoughts on gold, oil, cannabis, uranium and other natural resources at EdelsonInstitute.com
Last week I jetted off to Denver to check out that city's burgeoning cannabis capitalism.
That's right. Cannabis capitalism.
Oh sure, some people are high as kites in the Mile High City. But what intrigued me most are those people and companies working to make a fortune on marijuana.
I sat down with some very interesting companies. I'll be telling subscribers about them soon enough.
Execs at one of those companies invited me to a party. A huge party featuring booths from more than 100 Colorado-based cannabis companies.
You might be surprised to learn there was no marijuana use inside the party. That was restricted to buses outside. And they wafted smoke out their windows like high-horsepower fog machines.
I stayed inside – talking to weed-preneurs. It's been a long time since I felt the good vibrations of capitalism like those in that room.
Sure, there were a few growers, and plenty of cannabis dispensary reps. But that's so small a part of the big picture. As the old saying goes: If you want to get rich in the gold rush, sell picks and shovels.
So I talked to people and companies in the fields of law, real estate, advertising, sales, marketing, irrigation, lighting, distribution, software, insurance, security. And much more.
I'm starting to think these ancillary businesses will eclipse the cannabis market itself.
I talked to …
⊗ A CEO who makes a hobby of building and selling successful businesses. Now he's pivoted to marijuana with a marketing company.
⊗ A 24-year-old who already built and sold one consulting company. Now he's building another company, which he says could be "The Facebook of Marijuana."
⊗ The head baker of a bakery that dishes up delectable edibles. Some are just good ol' cookies and brownies, like Mom would make. Some contain 10 milligrams of THC. Business is booming!
Yeah, the profit potential is enormous.
Head West, Young Entrepreneur
But as much money as there is in Denver – as much as cannabis fuels the beating heart of capitalism in the Mile High City – the buzz at the party was about California's impending legalization of recreational marijuana. That starts in January 2018.
Plenty of the companies I talked to in Denver had plans to either expand into California or clone their companies in the Golden State.
Why? Because California, if it was measured as its own country, would have an economy bigger than France.
A widely read white paper, "The Economic Impacts of Marijuana Sales in the State of California," was published by the consulting firm ICF International last year.
It estimates that legal sales of marijuana in California could support between 81,000 and 103,000 total jobs, and between $8.4 billion and $10.6 billion in total industrial activity.
How is that possible? You take all the business activity on the black market … and you put it in the "green" market.
By some estimates, Los Angeles's medical marijuana market alone is already close to $1 billion. That's about the same as Colorado's entire market.
Jobs! Jobs! Jobs!
Cannabis is a dynamic marketplace. It's also a regulated marketplace. And that creates jobs both private and public.
Heck, the cannabis industry already employs between 165,000 and 230,000 people. Take a look at this chart …
America has more people working in weed than as dental hygienists. And this is without recreational legalization in California … yet. This is also without recreational legalization in Florida or Texas.
More importantly, this is with the federal government doing its darndest to cut weed off at the roots.
As for the public side, marijuana generated Colorado more tax revenue in 2015 than alcohol.
So yeah, riches are possible. Fortunes can be made.
These are the early days of the marijuana industry. Dang, weed is still outlawed by the federal government. That leaves pot entrepreneurs starving for institutional capital.
Major stock exchanges won't accept listings for businesses that Washington deems illegal. Banks shy away from making loans to someone who could be raided by the feds.
So, some U.S. companies are heading north, listing their stocks on the Canadian exchanges. Meanwhile, Canadian entrepreneurs have told me they're mobilizing cash to invest in the U.S., because this market is so fragmented.
So what happens when the U.S. government legalizes marijuana?
I'd say the resulting move in marijuana stocks could be massive. And that's how YOU can make your fortune. By getting in now.
Just be very selective in what you buy. There's plenty of drek out there, mixed in with the buds.
Best wishes,
Sean Brodrick
STAY INFORMED! Receive our Weekly Recap of thought provoking articles, podcasts, and radio delivered to your inbox for FREE! Sign up here for the HoweStreet.com Weekly Recap.