June 6, 2017 | Is Spoofing & Front Running Market Manipulation?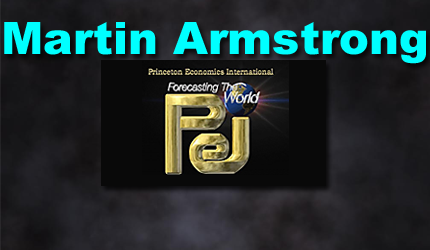 Martin Arthur Armstrong is the former chairman of Princeton Economics International Ltd. He is best known for his economic predictions based on the Economic Confidence Model, which he developed.
QUESTION: Any comments on the Deutsche Bank trader admitting to manipulating the metals markets?
JK
ANSWER: The way these people claim the metals are manipulated make it sound as if gold would be $10,000 but for the market manipulations. That is total and complete nonsense. The former Deutsche Bank trader David Liew has confessed to a completely new definition of market manipulation when in fact this was the way markets trade ALL THE TIME!. He told a US court that he had learned at Deutsche Bank how to manipulate precious metal prices on the derivatives market. Traders from other major banks were also involved in these so called manipulations.
What David Liew has confessed to is really absurd. He did so to get out of jail cooperating with the public prosecutor and they will say absolutely anything in such a situation. The accusations against David Liew are "spoofing" and "front-running" which has been going on for my entire career in finance. Floor brokers routinely engaged in "front running" so you had to engage in "spoofing" to send false signal to them just to be able to get a trade off.
I had to manage the Aristotle Onassis estate metal position. I had the biggest position in platinum in the world. To be able to trade that much, I had to prove to the CFTC that I actually had that physical metal. It took probably 6 months to get authority to trade at that level. When I picked up the phone to do the very first trade, every broker in London and New York already knew what I was doing and how much I had. The regulators told everyone off the record of course.
I was forced into "spoofing" because if I wanted to sell platinum, the market-makers would move the quotes assuming I was a seller. I would have to buy gold, then silver, in respectable size orders and then ask for the quote on platinum. They then flipped and assumed I would be a buyer and "front running" began. They would move the bid-offer up assuming they read me correctly, and then I would sell. I had to take intentional losses on the gold and silver to sell the platinum. If you did not know HOW the markets traded, you were gone by the third trade.
This type of "manipulation" is within the trend and by no means changes the bull market into a bear market. The bigger your size, the harder it is to trade and you better know what you are doing. I would certainly not want to trade today with prosecutors bringing criminal changes calling this type of trading "manipulation" when it does not alter the trend. This is how you trade and it has been how you play poker. To them, if you bluff and raise the bid and the guy who would have had the winning hand folds, that's the game. Who has the better "poker face" as they say.
All the prosecutors are doing is destroying the marketplace. The net result of these type of prosecutions are against the public interest for they are destroying the LIQUIDITY. The more people who withdraw from trading, the greater the risk of FLASH CRASHES. If nobody is there, you will get bigger gaps than you have ever seen in history. This is interesting enough what our computer model is warning. We are in a huge bull market for panic style volatility.
STAY INFORMED! Receive our Weekly Recap of thought provoking articles, podcasts, and radio delivered to your inbox for FREE! Sign up here for the HoweStreet.com Weekly Recap.