April 26, 2017 | World Strife. What's Next? Are You Ready? We Are!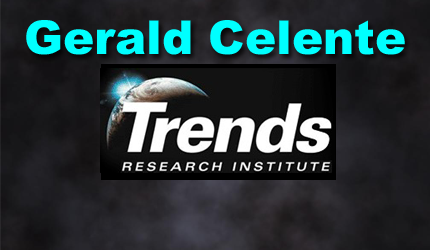 Gerald Celente, who developed the Globalnomic® methodology to identify, track, forecast and manage trends, is a political atheist. Unencumbered by political dogma, rigid ideology or conventional wisdom, Celente, whose motto is "think for yourself," observes and analyzes the current events forming future trends for what they are — not for the way he wants them to be. And while Celente holds a U.S. passport, he considers himself a citizen of the world.
KINGSTON, NY, 26 April 2017—Across the nation and around the world, explosive geopolitical and economic trends are erupting.
Within days, the United States launched a massive missile strike against Syria, dropped the "mother of all bombs" on Afghanistan, incited global concern of nuclear war with North Korea and announced new military operations in Somalia. And now the US claims Iran threatens Israel with ballistic missiles and warns of reprisal.
From South Africa to Venezuela, massive demonstrations against ruling leaders are escalating, while Turkey's latest constitutional referendum strikes fears of dictatorial rule.
There's more: Brexit worries across the eurozone, massive anti-government demonstrations in Romania, the Ukraine war tinderbox, and China retaliating against the US-installed THAD missile system in South Korea by restricting trade.
On the economic front, the International Monetary Fund warns that a "sword of protectionism" hangs over world trade. Will the great Trump rally – based on expectations of lower taxes, less regulation, massive infrastructure development and job creation – sharply reverse if those expectations fall short?
While consumer confidence in the US has hit a decade high, consumers are not putting their money where their mouths are. In March, restaurants' same-store sales were down 1.1 percent while traffic dropped 3.4 percent year over year.
Overall retail sales fell for the second straight month, driven down in large part by declining auto sales, sparking fears of an auto subprime-loan meltdown that we have long forecast. Spending on vehicles and parts has fallen for three straight months, the longest streak of decline since the Panic of '08. Last March, retail sales spiked 5.2 percent. This year, they were down 0.1 percent.
Indeed, with student debt soaring beyond $1.3 trillion, consumer debt on credit cards spiking 6.2 percent year to date and wages stagnant, financial facts, not confidence levels, will determine the health of the economy.
In addition, industrial and commercial loans are slowing, up just 2.8 percent in March compared to average growth over the last two years of 10 percent. Commercial real-estate lending by banks and insurance companies declined 3 percent in 2016 with most of the decline occurring in the fourth quarter.
Investors are now rethinking risk.
Although global stock markets gained strength following the French elections, signs of concern that US markets are overvalued were evident. In just one week, investors withdrew $14.5 billion from US equity funds. That was the largest outflow in 82 weeks.
The lack of broad economic growth is reflected in how just 10 stocks, mostly technology-oriented, fueled 53 percent of Standard & Poor's gains this year. And, while the Nasdaq index spiked above 6,000, some 40 percent of the index is being driven by just five companies.
TREND FORECAST: As we say at the Trends Research Institute, when all else fails, they take you to war. The subprime auto-loan bomb is ready to explode. Flashing warning signs are signaling a major equity-market reversal. Should cold war threats escalate into actual war or should terror strike, stock markets will tank and gold prices will soar.
STAY INFORMED! Receive our Weekly Recap of thought provoking articles, podcasts, and radio delivered to your inbox for FREE! Sign up here for the HoweStreet.com Weekly Recap.