April 22, 2017 | Why You Should Generally Ignore Real Estate Predictions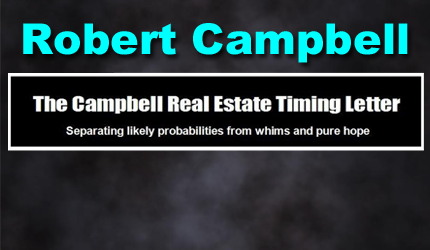 Robert Campbell is a real estate analyst and economist. He's been publishing The Campbell Real Estate Timing Letter since 2002. His book (Timing the Real Estate Market) presents a clearly defined method for predicting the peaks and valleys of real estate cycles.
On April 13th, I gave a speech in Los Angeles on "Where California Housing Prices are Going in 2017 … and Why."
Early on in the presentation, I said "the trend is still up" for California housing prices — and then one-by-one, I went over the charts of each of my five key Vital Sign indicators (which make up my market timing model) to show them why.
Later on, I showed the audience the chart below — which is a housing price index produced by the Federal Housing Finance Agency (FHFA) to show the movement of single-family housing prices in Los Angeles from 1975 to 2017.
The chart also shows that not only is the trend for L.A. housing prices still clearly up as of February 2017 – but it also shows how well my market timing model was able to identify the peaks and valleys of the highly cyclical Los Angeles housing market during the past 26 years
Then Up Went a Hand with a Question
"Mr. Campbell, when are L.A. housing prices going to peak out?"
"I don't know," I replied. "The peak could occur six months from now – or years from now.  We'll just have to let the timing model tell us when that is."
By the look on her face, I could tell she did not like my answer.
However, she persisted:  "But aside from your timing model, can you just give me some idea when you personally think the peak is going to occur?  This year?  Next year?"
I just smiled and said: "Ma'am, all I can tell you is it's  coming – but I can't tell you when.  Nor can anyone else predict specific events at specific times with any consistent degree of accuracy."
"…. which of course is the reason that you as an investor need a system that has been tested over time to help you make good buying and selling decisions."
I then turned my attention back to the entire audience.  "Ladies and gentlemen, it's really pretty simple.  If you want to make consistently superior returns on your real estate investments (or on any investments for that matter), you must have a system."
It's Human Nature:  Everybody Craves Certainty
I get it that people crave certainty.  They want to know that some person can predict or tell them with certainty what is going to happen in the future.
Folks, the best investors don't wake up every day worried that they don't know what is going to happen tomorrow.  Instead they have a plan – or in most cases "a system" – for dealing with uncertainty and unexpected events, and there are always going to be unexpected events coming your way.
Why Successful Investors Generally Ignore Forecasts and Predictions 
Yes, people crave forecasts – even though those forecasts rarely turn out to be accurate.
Here's a real world example.
The CXO Advisory Group tracked the results of 6,582 predictions that were made by 68 different investment gurus from 1998 to 2012.
Despite the fact that there were many well-known and highly respected names in the group, the average accuracy rate of the 68 gurus was 47% – and 62% of the gurus had accuracy scores below 50%.
In other words, a room full of monkeys flipping quarters would have had a better collective track record for predicting future
market events than these 68 investment gurus over that 14 year time span.
Final Thoughts
What most people do when they look at forecasts is they get sucked into the story of the forecast.  And often the forecasts are made by highly intelligent people that present a very convincing case as to why the forecast is likely to be right.
So here's my real estate investment advice for 2017 (and forever):  Ignore the forecasts – and use a system that follows trends instead.  The sooner you figure out that no one has a special crystal ball, the better off you will be.
::::::
To read the latest issue of The Campbell Real Estate Timing Letter, Click HERE
To read a sample issue,  Click HERE
::::::
Comments/questions are always welcome – and you can send them to [email protected]
STAY INFORMED! Receive our Weekly Recap of thought provoking articles, podcasts, and radio delivered to your inbox for FREE! Sign up here for the HoweStreet.com Weekly Recap.