April 4, 2017 | Wanted by the Police in Argentina…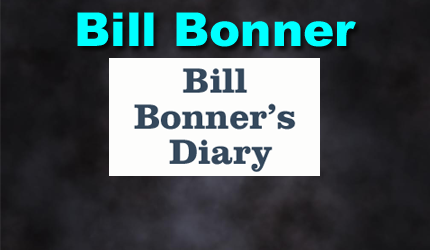 Is an American author of books and articles on economic and financial subjects. He is the founder and president of Agora Publishing, and author of the daily financial column, Diary of a Rogue Economist.
GUALFIN, ARGENTINA – It took us 24 hours to get here…
…during which time your editor drove 350 miles (mostly on dirt roads)… got stuck in the desert… took a long walk by starlight… and was wanted by the police…
We will tell the story as it happened…
March or Die
There is a certain romance to walking along in the dark.
But Elizabeth and I had already been hiking for an hour and a half… and the romance had been dropped in a rut.
So deep were the crevasses, and so many rocks were in the road, that we held hands to avoid falling in one, too.
We knew that if either of us twisted an ankle or broke a leg, he would be left for dead.
"March or Die," we reminded Elizabeth of the motto of the French Foreign Legion, which seemed appropriate under the circumstances.
Behind us was the truck, immobilized in deep sand. In front of us was the 25 miles we estimated that stood between us and our destination… almost all of it uphill.
"At least there is enough light to see the road," said Elizabeth.
She was looking at the half-full part of the glass. It was not a "road" at all, but a bare track through the desert. Barely visible at all, at times it disappeared completely.
Occasionally, we used our cellphones to light the way. But we were careful to preserve our batteries: If ever we got a signal, we would need them.
"Oh, c'mon. Cheer up," she continued. "Nothing is really wrong. We're lucky. We're having a nice walk by starlight. We'll come back for the truck tomorrow."
Eight-Hour Ordeal
The lucky part was that she was such a good sport about it.
Some women may have been tempted to look at the other half of the glass – the part that had an eight-hour ordeal in the middle of the night in front of them.
On Sunday morning, Sergio, our local man on the ground, had left a Volkswagen Amarok truck for us in a parking garage in the city of Salta.
The key was in it. But so was a lot of trash.
"He should have at least cleaned it before giving it back to us," Elizabeth commented, annoyed.
There was an empty beer bottle in the front seat. The CB radio was missing. And the windshield was cracked.
"I'm really rather disappointed in Sergio," she went on. "He should have fixed these things."
But the truck ran well… at least for the first 350 miles. Then the road turned to sand. We put the truck in four-wheel drive. But the gears had been changed…
Instead of the 4×4 settings – low and high – we recalled, it had only "off road" mode. And in "off road" mode, the Volkswagen didn't have the power or control it needed to get through the deep sand.
"Damn, why did he change the transmission without saying anything to me?" we complained, not expecting an answer.
It was now dark. We had not seen a house or another vehicle for two hours. Most likely, there wouldn't be another truck passing for days. There was no phone signal.
What to do?
We suited up and headed out…
Where's the Party?
After the aforementioned hour and a half picking our way through the desert, we had worked our way down to the river valley.
There were faint lights farther downriver. A small settlement was tucked along the riverbank where a neighbor grows grapes.
It was in the wrong direction, but perhaps we could find someone there who could give us a ride up the valley to our farm.
But by the time we got there, the lights had gone out. It was pitch dark. We walked along the middle of the dusty road trying to make out shapes.
We were looking for automobiles or trucks. There was no point in going up to a house and knocking on the door, waking the inhabitants; if they had no car, they couldn't help us.
A dark figure appeared in the middle of the road stumbling toward us.
"Hola!" we called out.
It was a young man.
We explained our situation and asked if anyone in the village had a car.
"No," he said.
We were going to pursue the conversation, but we realized that he was so drunk, he could barely stand. He was swinging a liquor bottle from his hand and looked as though he might fall over at any moment.
"Okay… sin problema… We'll just continue walking."
A few minutes later, another dark figure appeared. Again, it was a young man. And again, he was completely drunk.
He was in a jolly mood and suggested that he might be able to take us up on his motorcycle.
Again, we thanked him and kept walking.
"Where are these drunks coming from?" Elizabeth wondered. "Where's the party?"
Miracle!
We were in a tiny settlement of no more than five houses.
There was no noise. No light. Nothing.
Then, after a few more minutes of walking, a pair of headlights appeared.
We flagged down the car, for this would surely be the last one that would pass by this night.
Miracle!
Here in the middle of nowhere… in the middle of the night… was a taxi cab.
He had just delivered the foreman of the nearby vineyard to his home and was on his way back to the village of Molinos, about an hour away.
"What luck…"
We explained our situation to the taxi driver – how we were on our way to Gualfin when we got stuck in the sand up in the desert.
"Could you run us up to Gualfin?" we asked him.
"Where is it?"
"At the end of the valley."
"How long will it take to get there?"
"About 45 minutes."
"No… I'm sorry. But that road is too dangerous at night. Unless you know it really well, you could get stuck. And then what would I do?"
"Don't worry about that," we reassured him. "I know the road well. We've been coming here for 10 years."
"You've been here for 10 years?"
"Yes… off and on."
"And you know all the roads well?"
"Yes… very well."
"Then how come you got stuck in the sand?"
Excellent Adventure
There was no good answer.
The contradiction could not be easily resolved… and certainly not to the taxi driver's satisfaction.
So instead of going up to the ranch, we rode with him down to Molinos.
"Man… you are so lucky that I came along when I did," the driver insisted several times. "Otherwise, you'd have to walk all night."
He was right. We encountered no other cars along the way.
In Molinos, we went to the only hotel in town, the Hacienda, and arrived just before they barred the door for the night.
Again, we were lucky. We know the staff at the hotel, who found a room for us and prepared a plate of cold cuts served with a bottle of wine from the vineyard where we had been rescued.
"This has been an excellent adventure," Elizabeth concluded.
Thus fortified, we turned in for the night… but not before alerting Sergio, via email, about what had happened.
"He'll get the message in the morning," we laid out the plan to Elizabeth.
"He'll contact Gustavo [our ranch foreman] by radio. He'll probably be here before we get up. Then we'll go and pull the truck out of the sand."
"Well, you should say something to Sergio about that truck. He really should have been more careful."
We were about to compose another note on the subject… when we got another message from Sergio.
"Bill, you took the wrong truck from the garage. The police are looking for you."
Regards,
Bill
The original article can be  read here
STAY INFORMED! Receive our Weekly Recap of thought provoking articles, podcasts, and radio delivered to your inbox for FREE! Sign up here for the HoweStreet.com Weekly Recap.