April 19, 2017 | The Nanny State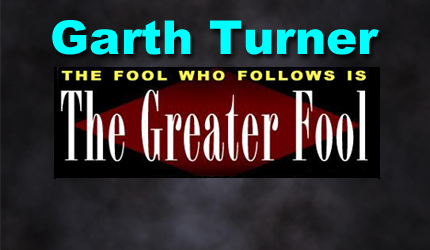 A best-selling Canadian author of 14 books on economic trends, real estate, the financial crisis, personal finance strategies, taxation and politics. Nationally-known speaker and lecturer on macroeconomics, the housing market and investment techniques. He is a licensed Investment Advisor with a fee-based, no-commission Toronto-based practice serving clients across Canada.
Damn. And here I was all ready to write about the erosion of the historic Trump rally, the fizzlement of Trumpflation and what you should do about it. But, no. First we have to deal with this tediously delusional Toronto housing issue again.
Thursday morning at nine, Ontario's wildly unpopular premier will jump out of a cake holding what her officials are touting as the momma of all market-dousing packages aimed at gelding speculators, neutering realtors, backing off foreigners and putting the brakes to runaway prices and house lust.
Yes, this is such a big deal it couldn't even wait for the April 27th budget. The governing politicians have determined there's nothing – not crumbling expressways, crippling electricity bills, closing factories or a Third World-style debt load – more critical than the fact moisters can't afford $1.6 million houses in the urban core. Of course governments have been largely responsible for the Bubble That Ate Toronto. The feds threw interest rates in the ditch, sweetened the RSP homebuyer plan, created housing tax credits and allowed CMHC to back billions in loans to buyers without money. The province coughed up its own incentives – especially to encourage first-time buyers, like relieving them of land transfer tax. And now we reap the result. Houses homeowners can't afford to sell nor buyers buy.
What happens tomorrow (if the speculation is right)? Here's the buzz…
Universal rent controls covering all tenants, not just those living in older units. This will make renting a more palatable option, while kicking amateur condo-owning landlords in the nads. It's expected rent hikes will be limited to inflation + 1.5%.
A speculation tax, maybe just on foreign dudes, maybe on everyone. What constitutes specking is the big question. Does a guy who moves into a place, renovates it then lists, get hit? People who own a house for less than a year? Someone who buys a condo for their daughter at UofT then sells it when she elopes? And how much?
The province takes over the direct regulation of the real estate business, as BC did last year so your tax dollars can flow to more bureaucrats. Plus the outlawing of assignment clauses, which allow a buyer to sell property again before closing. This will whiplash the condo trade.
A serious inter-government capital gains crackdown as the CRA teams up with the province to mount an audit orgy. Revenuers will have full access to land registry information. "We want to make sure anyone who is speculating is paying their fair share," said the treasurer on Wednesday, "and that means those that are taking advantage of capital gains exemptions shouldn't be."
Establishment of a foreign buyer data registry so the citizenship of every person buying every piece of property is recorded. A great example of politicians following, instead of leading in a Trump-like fashion. It's always easier to blame some offshore dudes instead of telling your constituents they've been acting like demented, debt-snorfling beavers.
Legislation to allow Toronto to establish an Empty Houses Tax, just to ensure the very worst idea that BC ever came up with is imported into Canada's largest city. So much for property rights.
And just maybe there may be some actions announced to make building houses cheaper – reducing the Greenbelt, easing development controls, reducing lot levies…
The main target, however, is speculators. Says Treasurer Sousa: "The degree of speculation in the system is crowding out families who are trying to buy into the market and establish their own roots." Like all politicians, he's a merchant of false hope. There is no right to own real estate in Toronto, Ontario or anywhere else. In an urban area of six million people it's simply unreasonable to believe everyone gets a house – and yet this flawed premise will lurk behind every word uttered in the morning.
The package may contain about 10 actions. They're designed to immediately 'cool' the market without killing it. Lots of smart people think this is impossible, since mortgages still cost 2.5%, listings are scant and demand outstrips supply. But real estate is the most emotional of assets, intensely desired when it's rising in value and shunned when falling.
If prices were truly being moved by planeloads of Chinese or thousands of flippers, then a foreign buyer tax or a speculation levy might work. But until we have a tax on stupid, not so much.
The market will croak on its own. Yes, that's what they fear the most.
STAY INFORMED! Receive our Weekly Recap of thought provoking articles, podcasts, and radio delivered to your inbox for FREE! Sign up here for the HoweStreet.com Weekly Recap.