April 6, 2017 | Shortcut to Gold Riches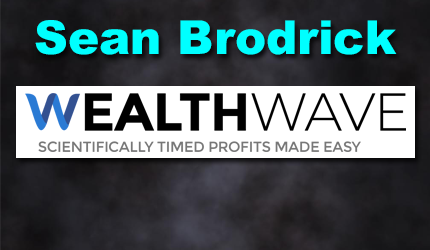 Sean is the natural resource analyst for Weiss Group. You can read his thoughts on gold, oil, cannabis, uranium and other natural resources at Wealth-Wave.com
"I know a shortcut," the guy driving the Ford Explorer said in his strong Australian accent. He yanked the wheel to the left and we turned off the grassy plateau we were on.
The way ahead was down a steep, STEEP decline. STEEP!
Far below us, we could see a dirt road that we wanted to get to. The Aussie's "shortcut" would save us an hour of backtracking across one-lane, two-rut dirt roads chiseled into the side of mountains.
So yeah, we all thought it was a good idea.
For the moment, anyway.
I was in the way back row of the Explorer — crammed there after another vehicle I had been riding in gave up the ghost. My previous ride was a Chevy Suburban. It was beaten to death by a mob of bad roads.
I'm a big guy. Wedged there in the back with other Chevy survivors, I was all for getting back sooner rather than later.
But right after the driver turned — and the Explorer tipped forward down the slope — that's when it happened  …
The Explorer started to bounce and buck as it slammed into rocks hidden in the grass. Its wheels must have left the ground, ever so briefly. At least, that's what I pictured. Because my butt left the seat, and my head slammed painfully into ceiling.
"This isn't the shortcut," the driver said in sudden realization, adding a paint-peeling Down Under epithet.
And that's when I knew I was going to die and my corpse would be eaten by coyotes.
All in the pursuit of a huge and rich gold find.
***
But I was not eaten by coyotes. As the great French philosopher, Montaigne, famously said, "I've had lots of terrible misfortunes in my life, most of which didn't come to pass."
In fact, the Explorer somehow survived the ride down that steep hill. Though I'm pretty sure a laundromat worth of loose change was bouncing around the interior by the time we got to the bottom.
We ended up with another flat — the third of the trip — by the time we got to the dirt road, turned for the highway and passed some hunters. The hunters flagged us down and pointed out the flat. They actually helped us fix the tire. Excellent fellows.
And it was on that trip that I was introduced to one of the last great known gold deposits on the Carlin Trend …
Now, it may not be THE LAST gold deposit. There could be more to be found.
After all, Nevada's Carlin Trend is one of the richest gold districts in the world. It's like, millions of years ago, a giant strode along in a straight line … dropping massive quantities of gold ore with an ice cream scoop.
So there may be others. But this deposit is the one that's known. This is the one that is likely going to be a mine. This is the one that has money, a crack team, and is drilling fast-and-furious to prove up what the dreamers and the doers both believe strongly is there.
Gold … and lots of it!
I was reminded of my trip during a recent meeting in Boca Raton, Fla. With the same gold exploration company. The fellow from the company was different, but the deposit is the same. Only better. More advanced. They have a huge drill program planned for this summer. They'll come out with multiple resource estimates on various deposits on their property.
This is the year that the gold explorer may even issue a preliminary economic assessment (PEA) on two of its deposits. That's when you know the projected Internal Rate of Return (IRR), and other things that give potential buyers an idea of costs.
And costs will likely be cheap. This is a near-surface oxide deposit that can be heap-leached cheaply. Test recoveries average about 82%.
That's good. It's always important to know how much gold will be recovered, not only how much is there. A miner's curse is "May you have interesting metallurgy." This deposit has boring metallurgy. The kind that keeps costs low.
So these guys are expecting a buyout down the road. They expect one of the bigger fish in the mining pond to scoop up some or all of their deposits.
I've explained how junior miners are on the launch pad. How the exploration model for big miners has changed. Now, the big fish let the juniors take all the early risk.
It's a good model. But it has one fatal flaw. Let me show that to you in a chart that was compiled by Financial Post DataGroup.
It shows equity financings for explorers listed on Canada's TSX. The TSX is where junior miners primarily list.
See if you can spot the problem …
Can you spot the (falling) trend in equity financing for explorers?
The problem is that there was a long stretch, in the depths of the gold bear market, where juniors were not raising any money. This means no exploration was being done.
Even now, the recovery is weak. It's only just starting back up again.
This compounds the problem. The already-stunning lack of new discoveries of gold deposits. I told you about that, too. And so that means gold miners are facing a crisis in their pipelines.
It takes years to find and develop new mines.
But there is one way to fill those pipelines: Buy explorers that have projects with good grades and decent upside.
It's not like the big companies can't afford it. They're sitting on freakin' gold mines!
To be sure, there is no guarantee that any deposit has to be bought. So, this Nevada explorer I visited is making plans for development just in case they aren't bought out.
Good. That's just what another favorite explorer of mine did. That other explorer is called Exeter Resources. I also visited their big project, called Caspiche, down in the Atacama Desert in Chile. It is high-altitude, bone-cold and dry as dust.
I pounded the table about Exeter. I told people this was one of the last great known gold deposits in the Western Hemisphere. Most recently, in March, I made Exeter a top pick during my visit to the PDAC in Toronto. That's the Prospectors and Developers Association of Canada. The world's biggest mining conference.
A few weeks later, Exeter was acquired by Goldcorp. For approximately 2.5 times its market cap. BOOM!
I'm happy for Exeter. But let me tell you, that project had some challenges. The Atacama is so dry, it's where scientists go to replicate the surface of Mars. But the fine folks at Exeter worked through the problems. They bought water rights. They came up with mine plans for Caspiche. They de-risked their project.
And Goldcorp swooped in to buy the company and Caspiche. Just as I predicted. Now, the folks from Exeter and the people who invested in them have to carry their wallets around in wheelbarrows. Metaphorically speaking.
Here's the great thing: This project in Nevada — the new gold explorer I'm talking about? It doesn't have many of the challenges that Caspiche did. It's much more accessible. Lower altitude. All it needs to do is prove up the gold that the folks running the company thinks it has. And find a buyer.
And the folks running the company — hot diggity! The board is a Who's Who of the junior mining community. These guys don't waste their time on projects that don't have promise.
Sure, there might be more challenges ahead. Junior explorers are inherently risky. That's why you can buy them so cheap. But that also means they can hit it out of the ballpark.
We are in a new gold bull market. I told you about that, too. It started in January 2016. I told you how bull markets in gold run 4 to 7 years. Pullbacks can be bought.
And this gold explorer, for all the risks that come with just being an explorer, is one that smart people will consider.
I'm still finalizing my research on this company, and almost a dozen others, but I plan on giving you specific recommendations as we enter May. That is historically a great time to enter new mining trades, and I believe this May in particular will be especially good.
Just click here and I'll make sure you get a special invitation to the release of those ideas.
But for right now, I recommend waiting for my final picks and instructions. As my hair-raising ride proves, seeking out the next big winners in the junior mining sector can be hugely rewarding but it can also be fraught with danger along the way. It takes serious research … background knowledge … and an iron stomach to separate the good opportunities from the car wrecks.
All the best,
Sean Brodrick
STAY INFORMED! Receive our Weekly Recap of thought provoking articles, podcasts, and radio delivered to your inbox for FREE! Sign up here for the HoweStreet.com Weekly Recap.