April 28, 2017 | Elected Representatives VS Unelected (the Deep State)!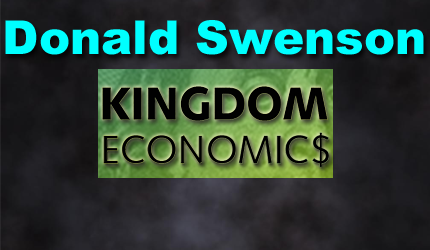 Donald B. Swenson: Born January 24, 1943, Roseau, Minnesota. Graduated H.S. 1961, Moorhead High, Minnesota. Graduated College 1968, Moorhead State University, Minnesota. Designated member of Appraisal Institute (MAI), 1974. Employed with Western Life Insurance Company, 1968 – 71; Iowa Securities Company, 1971 – 73; American Appraisal Company, 1974 – 81. Part-time teacher/valuation consultant/bartender, 1979 – 2008 (taught workshops at Waukesha County Technical Institute, Wi. and Madison Area Technical College, Wi.). Retired 2008 (part time teacher/blogger), AZ. Self educated economist/philosopher/theologian: http://kingdomecon.wordpress.com.
My view of our leaders/administrators reveals that we all have (on the surface) a group of elected representatives (those we voted for) who we presume will do the will of the people and then we have a group of unelected operatives (which I will call the Deep State) who actually rule this planet (from a decision-making point-of-view). Who is aware of this distinction? I think it is an important distinction! Today, much attention is focused upon those who rule over us and who do not actually represent us via our voting. I voted for Mr. Trump (let's say) but who within the corridors of POWER actually make the key decisions which affect us all in real-time? Who are these Deep State operatives? We could also call these operatives the 'insiders'!
Let's review my list of Deep State operatives which I have discovered from my private research:
Those within the halls of banking would make-up my first list. These operatives have enormous power over us yet they operate independent of our knowledge and authority.  Did I elect Ms. Yellon, for example, to the Federal Reserve Board? Did I elect her adviser/associate Mr. Stanley Fischer? Did I elect the most powerful daily manipulator of our markets, Mr. William Dudley at the New York Fed? All the above have enormous power over my/your life yet we did not elect these folks. Central Bankers essentially RULE this planet and yet NONE are elected by the people!
Those appointees within our Treasury and the National Council of Economic Advisers at the White House also have deep experience and a direct impact on most economic decisions (which directly affect me/you). Did I elect any of their philosophy, ideas, or input on the crucial issues of economic survival? Person's like Mr. Mnuchin at the Treasury has enormous power to manipulate our money, dollar, silver, gold, and our markets (independent of free market actors). Mr. Gary Cohn is another operative, appointed but not elected to create policy, which could and is changing the prior ideas enunciated by Mr. Trump while campaigning. Is this typical of our Deep State operatives? I think so! They have enormous power to change what voters thought would be policy!
When it comes to Foreign Policy we elected a philosophy of staying OUT of direct conflicts with foreign military powers (like Russia, China, North Korea, Syria, Iran, etc.). The primary goal of Mr. Trump was to battle ISIS and defeat this group but avoid all the other entanglements. But what are we getting from our Deep State operatives? We are getting mostly the opposite. The CIA and our Military Intelligence leaders have now been given nearly total authority to search out and destroy foreign enemies which they think will hinder our global hegemony. This is typical of what happens…as we do not rule this Nation via our voting. In reality, the Deep State rules (both our Nation and the entire Planet) and has ruled for most of recorded history!
The entire planet is now ruled by unelected Deep State operatives who desire this concept called the ONE WORLD GOVERNMENT. One centralized governance over the entire planet. We have this agenda called AGENDA 2030 which was voted into official policy by the United Nations (2015). We have these operatives at the United Nations who decide who must follow select rules, goals, and laws which the people have no idea about. Who understands this program called Agenda 2030? Who are behind these policies and who are enforcing all these rules and goals? Does any voter know? I would suggest that many of these administrators could also be viewed as part of the Deep State. They have an agenda and they do not need our approval to implement their AGENDA.
Leaders like Henry Kissinger, Pope Francis of the Vatican, prior President Barack Obama, George Soros, the leaders with the WTO, IMF, WB, BIS, EU, Bilderberg Group, CFR, NATO and our 17  secret Intelligence Agencies…all have enormous input which often is contrary to what people voted upon (for) when they voted. So who RULES this planet in reality? I would suggest that this DEEP STATE (unelected operatives in high positions of authority at various venues on planet Earth) actually rule over us. We are pawns in the hands of operatives (with power) who do not follow ANY of our desires. What a shame! We are actually ENSLAVED!
People need to start thinking about how our corrupt SYSTEM actually works and then ignoring the rhetoric of well-heeled billionaires and administrative elites who work BEHIND closed doors. Voting is mostly for show and it has nearly ZERO influence on those in real positions of POWER. Our problem is the SYSTEM and until we change this corrupt SYSTEM nothing will change. Think about the big picture, the meta-narrative which transcends this fantasy called elections. Let's get informed on who actually rules over us. This DEEP STATE is part of the problem and the greater problem could be the spiritual broadcasts coming from the ultimate power center of our universe (this invisible power center which none like to talk about). Enjoy and think for yourself! I am: https://kingdomecon.wordpress.com.
Some additional images to consider when we think of the Deep State:
Trump is impotent to change the SYSTEM! This is impossible as he is essentially NOT in control! The Deep State will continue to operate until we the people change the SYSTEM. The Meta-narrative or the Big Picture is what we all need to focus upon. Who actually rules this planet (ultimately)? Where is this Logos which provides the ideas which our political operatives act upon? Is it time to get to the CORE of the problem? I think so!
STAY INFORMED! Receive our Weekly Recap of thought provoking articles, podcasts, and radio delivered to your inbox for FREE! Sign up here for the HoweStreet.com Weekly Recap.