March 23, 2017 | Picnics on Vesuvius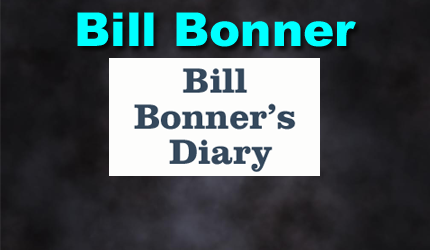 Is an American author of books and articles on economic and financial subjects. He is the founder and president of Agora Publishing, and author of the daily financial column, Diary of a Rogue Economist.
RANCHO SANTANA, NICARAGUA – Today could be a big day…
The House is supposed to vote on the Republicans' proposal to amend Obamacare.
Most likely, it will fail.
That will set back the entire Trump agenda. And it will make people wonder: If Trump can't reform an unpopular and overly expensive medical care system, what can he do?
Tax reform?
Maybe not.
Budget cuts?
Unlikely.
Hopelessly Lost
Today, we'll also hear from Fed chief Janet Louise Yellen.
She will be at great pains to reassure the nation of the most unlikely thing: that she knows what she is doing and where she is going.
She will claim that she has a map… and that she has her eye on it – watching the landscape to make sure she is in the right place.
A careful listener will conclude just the opposite: She is hopelessly lost.
A quarter of a century ago, Lord Rees-Mogg, now deceased, wrote a book titled Picnics on Vesuvius. There are some things, he noted, that are inherently dangerous. But you never know when they will blow up.
That is the risk of holding interest rates down for eight years. And it's a threat that hangs over the U.S. stock market today.
But we interrupt our market coverage… to report on developments here in Nicaragua.
Taking a helicopter on a gusty day seemed risky to us. But yesterday, we flew up the Pacific coast where we were scouting real estate investment opportunities.
Buying foreign property is dangerous, too. Much can go wrong and usually does.
We are no strangers to dropping money down foreign ratholes. We've done it in France, Ireland, Canada, Argentina… and Nicaragua.
And although few of these investments have paid off financially, we don't regret them. They've always been a great source of adventure, challenge, and humility.
Bad Reputation
Here in Nicaragua, for example, one of our roving reporters discovered an opportunity 20 years ago.
Back then, the country was just recovering from a nasty civil war (partly funded by the U.S.) that left it with a bad reputation, little infrastructure, and widespread poverty.
"Who would want to go to Nicaragua?" was the question that greeted our reporter.
"You should," was his reply. "It has some of the best beachfront property in the world. And they're practically giving it away."
The country had that "Third World" look (and still does). Rusty tin roofs. Trash piling up in open communal sewers. Carts pulled by oxen. Bumpy dirt roads.
Nicaraguan capital of Managua, a city of rusty tin roofs
But the people were friendly. And when we finally got to visit the property in 1996, it was a relief to mount horses for the ride to the beach.
We realized that our reporter had not exaggerated. The coast was beautiful – high cliffs, coves, and broad bays with white, sandy beaches.
And it was warm, with a constant breeze coming off Lake Nicaragua blowing over the narrow isthmus that separates the lake from the Pacific Ocean.
The Nicaraguan coastline in the morning
Without hesitating, we paid about $1,000 an acre for some of the world's most spectacular coastline.
(At this price, it was almost impossible for us to lose money. But we found a way. Real estate development is trickier than it looks.)
But even though we have not made money, others have made mucho.
Helicopter Ride
Recently, one of our first lot owners sold his house for more than $1 million.
It's the highest price ever paid for a house in this part of the world.
New condos here at Rancho Santana are selling for more than $700,000. And around our clubhouse, restaurant, and hotel, it is hard to find a parking place.
But what's happened here so far is probably just the start of a trend that will last for decades.
The Florida real estate boom began in the 1920s. It has been going on – with periodic busts – for nearly 100 years.
But here, the land is prettier. Household help is cheaper. And with so many Americans reaching retirement age and looking for a better way to spend the final part of their lives, it seems likely that the area will continue to growth.
That in mind, we boarded a Bell helicopter at 7 a.m. for a trip up the coast.
A helicopter flight is still a rare-enough event that our departure drew a crowd. Keeping their distance, there were about a dozen people who waved goodbye as we took off.
The first few miles were fascinating… with more cliffs and coves. Some broad coves had a single house. Other stretches of beach had multiple ramshackle surf camps.
Farther along, we could see the Masaya Volcano puffing smoke. There were also brush fires burning on the hillsides. In places, the smoke was so thick, we couldn't see the ground.
Clear Sailing
Back on the coast, it was clear sailing. After a few minutes, the California-like coastline gave way to something more akin to Florida.
The land was flat… and the coast was level. Rich people from Managua had built their vacation homes at the water's edge – one next to the other like in Palm Beach.
There were a few more resorts and developments, too. Most looked quiet, even forlorn, as we flew overhead.
Inland, there were giant salt pools where the ocean water evaporated, leaving natural sea salt to be collected. Next to these pools, there were often large, white buildings.
"What are they for?" we asked the pilot.
"Shrimp."
After about 40 minutes, the coast changed again. Now we were over green areas where rivers meandered out to the ocean.
These were swampy areas with few buildings and few people. One had been turned into a national park.
At the mouth of one of these rivers was the port town of Corinto. It looked like an industrial center but on a small scale. There were oil tanks and big ships, but only a few. There were a few warehouses and workshops, too. But the town is small.
Still heading north, we finally arrived at our destination: the coast of Chinandega.
There were several properties on offer. The first was a complex marina deal. The place was beautiful, but there were problems: not enough water. Not enough electricity. Feuding with the neighbors, one of whom had turned his waterfront lot into a graveyard for boats.
One lay on its side on land, rotting. Another was half submerged, rusted out and drowning.
Still another had already been taken up to boat heaven. Or at least half of it had ascended. The other half lay on the sand… a bent keel… like the spine of a dead fisherman.
One part of the project, an island, was pretty enough but almost impossible to develop: no water or electricity. And no way to get supplies to the island without floating them over on rafts.
These problems could be solved, but it would be exhausting. And expensive.
Ash and Smoke
So we got back in the helicopter and headed farther north.
There we found one 440-acre parcel, directly on the ocean, on offer for $1.1 million. Another, 950 acres, was available for $2.7 million. Still another presented an opportunity to buy 1,900 acres of forest with 1.1 miles of coast for $5.5 million.
All of these properties ran from the ocean up the side of Nicaragua's own Vesuvius: Cosigüina.
The volcano has been quiet in recent years. But it is not dead. It made a fortissimo eruption in 1835, throwing so much ash and smoke into the atmosphere that it lowered the entire world's average temperature by more than one degree.
Compared to the U.S., the prices didn't seem bad. But down here, they were "gringo prices" – a lot more than Nicaraguans pay when they trade land between themselves. The locals always have an advantage.
And when you buy foreign real estate, you have to realize that every one of them looked at your property before you bought it and turned up their noses.
Not a single one of the people who know the property far better than you thought it was worth the money.
Besides, foreign property is expensive and hard to deal with. These properties especially so. Hours from paved roads. Little power. Little water. Always the possibility of running up against local or national governments.
Is the title good? Is the area protected from development? Is there some resource, animal, or mineral the feds will want to seize? Or will they just want to limit foreigners from owning precious beachfront? And when will the volcano erupt?
All of these questions came to mind as we flew over these farms and checked them out. But one question stood out: Precious beachfront?
They were right up against the Pacific. But between the land and the water was a rocky escarpment as high as 100 feet.
"I guess it would be easy to commit suicide if the deal didn't work out," we said to ourselves, thinking positively.
"Is there any way to get down to the beach without killing yourself?" we asked the selling agent.
"Oh, yes… There's a path that goes down through the canyon," he replied, pointing to a little break in the cliff wall with a visible footpath running up through the center.
"Yes," he went on. "These properties are challenging. If they weren't, the owners would be asking for a lot more money. Here, you're getting them for little more than the price of land in the interior. The oceanfront doesn't cost you much."
Yes, for as little as $2,500 an acre, you could have your own oceanfront paradise. At least until Vesuvius erupts…
Next up, we have our editor at large coming to you from the Florida coast. Tomorrow, back to our regular beat: economics… politics… you name it.
Regards,
Bill
The original article can be read here
STAY INFORMED! Receive our Weekly Recap of thought provoking articles, podcasts, and radio delivered to your inbox for FREE! Sign up here for the HoweStreet.com Weekly Recap.