February 1, 2017 | Why Trump Must Drain the Swamp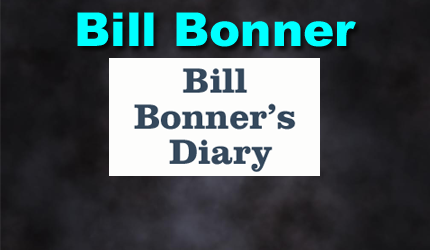 Is an American author of books and articles on economic and financial subjects. He is the founder and president of Agora Publishing, and author of the daily financial column, Diary of a Rogue Economist.
BALTIMORE – The Dow is back below the 20,000-point mark.
Federal debt, as officially tallied, is up to nearly $20 trillion.
The two go together, egging each other on. The Dow is up 20 times since 1980. So is the U.S. national debt. Debt feeds the stock market and the swamp.
What's not up so much is real output, as measured by GDP. It's up only 6.4 times over the same period.
Debt and asset prices have been rising three times as fast as GDP for 36 years!  Best bet: Sell stocks and bonds (debt). Buy GDP. How? To be addressed in due course.
Swamp Critters
But let's not get distracted. We're applying a revolutionary new formula, S = rv (w-w – w-l), that will tell us whether President Trump is making America great… or not.
[Satisfaction (S) equals the real value (rv) of win-win deals (w-w) minus win-lose deals (w-l).]
As you can see, in order to do the job, the president must follow through on his vow to "drain the swamp." Because that's where the win-lose deals come from.
The swamp is home to the Deep State swamp critters – the major beneficiaries of regulations, wars, politics, government spending, bureaucracy, deficits, debt… and, importantly, the Fed's fake money.
The bigger, deeper, and thicker the swamp… the less real wealth and satisfaction for everyone else.
Swamp critters – in Lower Manhattan or the upper Potomac – do not add wealth; they live at others' expense.
They are always on the win side of win-lose deals. If you're not one of them, you're on the other side.
And if President Trump is really looking out for you… he must cut those win-lose deals.
We've gotten a lot of mail on the subject already. (See below for today's batch.) Not all of it flatters your editor's inflated ego or his fragile opinion of himself. But he reads all the mail with interest and curiosity before going into the bathroom to cry.
Now, back to the subject at hand…
Super Bowl World
People don't willingly enter win-lose deals. That's why they need the government – to force people to take the other side of the bad trade.
Most people instinctively know that if you're forced to do something, it's a losing proposition. But they think we live in a Super Bowl world, where one side always wins and another must lose.
That is, more or less, the way the pre-civilized world worked for thousands of years. Competition was a zero-sum game: One group won at another's expense.
But since the invention of money, property rights, and the "do unto others as you would have them do unto you" code, capitalistic win-win deals have made the world richer.
People hustle. They produce. They trade. Everyone is better off.
We've also seen that the only way you can identify real value is by looking at what people really want.
Some choose gold. Some choose leisure. Some choose illegal drugs or Elvis outfits. People don't necessarily get what they want, but they get what they deserve.
Seduction vs. Rape
Government evolved in the pre-civilized era. It doesn't trade.  It insists. It doesn't take "no, thanks" for an answer.
Government is not a seducer, not a sweet talker; it is a rapist.
(And here we draw a veil over the psychological perversities of the human race – the Patty Hearsts who fall in love with their kidnappers… the Soviet Gulag inmates who cried when Stalin died.)
This is not to say that the government produces nothing of value. There are a lot of good people working for the feds. Many do good work: Teachers. Doctors. Police and judges.
If the fire department gets your cat out of a tree, for example, that is a win for you.
But wait… Nothing the feds produce is subject to the discipline of price and quality competition or the need to satisfy a customer.
So, how do you know that more resources weren't consumed getting the animal out of the tree than it was really worth?
And why should your neighbors – whose taxes support the firefighters – pay to get your mangy pet out of your damned tree?
Simple Test
Nothing is ever as neat and clear as we would like. There is always some ambiguity… and much doubt.
Here at the Diary, we take it as a fact of life that nobody really knows anything. Including us. We see through the glass darkly, along with everyone else. But at least our new formula wipes off some of the dust.
"War is the health of the state," wrote American journalist Randolph Bourne. Swamp critters love it. Everyone else loses.
But if a foreign army is invading your country, you accept the cost of defending yourself.
You're going to lose something… The question is: "How much?" And you're happy to have the government take the lead in protecting you.
Since the War of 1812, there has been only one invasion of the continental U.S. Then, the enemy burned down whole cities and shot everyone who stood in its way.
Naturally, Americans did what they could to defend themselves. But it was lose, lose, lose… all the way.
The most recent estimates put the number of losers (the death toll) as high as a million, not to mention the economic loss, which was catastrophic.
And the invader, of course, was the U.S. feds themselves, invading Virginia in 1861. The South was crushed. The swamp grew.
Which brings us, finally, to three of Mr. Trump's proposals: a "border tax" to force the Mexicans to pay for the wall… beefing up the "defense" budget… and funding more infrastructure programs with deficit spending.
Win-win? Or win-lose? Making America richer… or poorer? Draining the swamp… or adding more water?
Let's see… tomorrow.
Regards,
Bill
The original article can be read here
STAY INFORMED! Receive our Weekly Recap of thought provoking articles, podcasts, and radio delivered to your inbox for FREE! Sign up here for the HoweStreet.com Weekly Recap.