February 1, 2017 | The Melt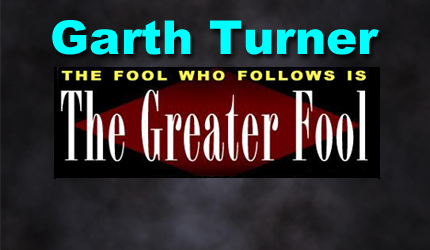 A best-selling Canadian author of 14 books on economic trends, real estate, the financial crisis, personal finance strategies, taxation and politics. Nationally-known speaker and lecturer on macroeconomics, the housing market and investment techniques. He is a licensed Investment Advisor with a fee-based, no-commission Toronto-based practice serving clients across Canada.
Vancouver real estate is melting down while Toronto melts up. In YVR, buyers rock. In the GTA, they're livestock – herded into unwanted auctions, kept in the dark, treated as dumb commodities. Neither market is healthy, balanced. Nor can current conditions last. What a mess.
Troubles in Toronto boil down to one thing. Supply. Currently there's a 19-day supply of fresh houses as listings plunge but demand is sustained. The result is predictable. Multiple offers, bully bids and sale prices that soar far about list. Potential buyers are forced to table offers at a specified time, taple a certified cheque for $100,000 or so to the paper, cough up a bid for more than the sellers asked, then wait at the curb to see if they make the cut – the opportunity to find even more money, on the spot. Risk abounds. They're paying too much. Financing could be rejected. The appraisal might be less than the sale price. Or a simple matrimonial homicide ensue.
Why so few houses? Mostly because nobody can afford to move. Once you find a greater fool to overpay for your digs, you must go and compete for another place. I ask every recent seller I meet if they'd buy their own house at the price they received. "Hell, no," they say. "Are you nuts?"
This is a sick market. With any new shock, it will start to fall over.
Realtors know that. It's why they fear a Chinese Dudes tax in the GTA. Not because foreign buyers are pushing prices and sales, but because any sharp breeze will send this gossamer craft crashing back to earth. A new tax. Mortgage rate spike. A Trump attack. Anything.
In that vein, the local GTA realtors' cartel has just offered proof  a river of cash out of China, Russia or the US is not  influencing Toronto's blistering market. Of the 113,133 houses sold last year, they say only 4.9% involved foreign buyers. Half of them were securing real estate for their own use, and 66% of the buys were for houses listed under $1 million. Hardly a game-changer in a sea of 6,000,000 people.
So why are prices out of control? As I've been telling ya, it's supply.
"If you look at the active listings at the end of December 2016, they were half of what they were at the end of December 2015. It's pretty difficult not to say that the real issue underlying price in the GTA is the lack of inventory," says the real estate board. Correct. Foreign buyers are a distraction. A scapegoat. Like the Trumpster's war on Muslims. (The White House actually said this week the slaughter of Muslins in Quebec by a local white Trump supporter shows how dangerous those pesky Islam guys are. Seriously.)
So, if the province caves to prevailing deplorable sentiment and brings in a Chinese Dudes tax, expect a rerun in the Big Smoke of what's happening in smoked-up Vancouver. Lots of unintended consequences.
On that note, let's slide welcome some original analysis by a thoroughly knowledgeable Blog Dog who wishes anonymity lest he be hung like a piteous sausage from the Port Mann bridge. "In the coming 24 hours, the REBGV will issue a press release with a whole bunch of massaged numbers and fictitious benchmarks for January," he says. "Here are some real numbers from the board's own database."
1. Processed and Sold in January: 313 in 2017 vs 763 in 2016; down 59%
2. Average Sold Price in January: $1.58 million in 2017 vs $1.83 million in 2016; down 14%
3. Median Sold Price in January: $1.28 million in 2017 vs $1.46 million in 2016; down 12%
4. New Listings in January: 1,921 in 2017 vs 2,031 in 2016; down 5% (keep this in mind when reviewing the over $3 and $5 million stats below)
5. Average New Listings Price in January 2017: $2.65 million (or 68% higher than the Average Sold Price in January 2017)
6. Median New Listings Price in January 2017: $1.92 million (or 50% higher than the Median Sold Price in January 2017)
7. Number of Houses Sold over $3 million in January: 22 in 2017 vs 105 in 2016; down 79%
8. New Listings for Houses Asking over $3 million in January: 485 in 2017 vs 430 in 2016; up 13%
9. Total Current Listings for Houses Asking over $3 million: 1,073 houses.
10. Sales-to-Listings Ratio for Houses over $3 million: 2% or approx. 4 years of supply or inventory at this sales rate.
11. Number of Houses Sold over $5 million in January: 6 in 2017 vs 23 in 2016; down 74%
12. New Listings for Houses Asking over $5 million in January: 170 in 2017 vs 139 in 2016; up 22%
13. Total Current Listings for Houses Asking over $5 million: 405 houses
14. Sales-to-Listings Ratio for Houses over $5 million: 1.5% or approx. 5 years of supply or inventory at this sales rate.
Bonus Stat #1. Dollar Value of Houses Sold in January: $494 million in 2017 vs $1.4 billion in 2016; down over $900 million in Greater Vancouver alone.  This does not include the Fraser Valley or the rest of the province.  At this rate, the BC government will collect $300 million less in Land Transfer Tax (aka. Christy Clark's 2015 and 2016 windfall profits to balance the BC budget).
Bonus Stat #2:  Of the 313 sales in January, 91% of those Detached Houses sold for less than their original asking price.  (versus approx. 33% in January 2016)
My interpretation of the real numbers:  Despite the real estate cartel's carefully orchestrated narrative, supply is not the issue and has not been the reason for the obscene price appreciation for many years now.  Inventory is now building at a record pace, particularly for houses listed over $3 million.  The local, hard working, honest tax paying residents of all races and ethnicity cannot afford those houses.  Beginning in the summer of 2016, there was a quantifiable reduction in foreign money flooding the Vancouver market.  The trickle down effect of that reduction is now accelerating throughout the BC region. The most telling statistic for me is the average asking price of the new listings at $2.65 million vs the average sold price of $1.58 million in January.  Keep in mind, 30% of all active listings in Greater Vancouver are asking over $3 million, 1,073 listings; whereas 93% of houses sold in January for under $3 million.
As stated, this market is one sick puppy. The GTA real estate scene's been similarly infected, and any push will send it into an unhappy spiral. If you really want to make an epic move, sell today and buy in Nova Scotia. I hear they have Starbucks. The Internet. Cable. And wall-to-wall Liberals.
STAY INFORMED! Receive our Weekly Recap of thought provoking articles, podcasts, and radio delivered to your inbox for FREE! Sign up here for the HoweStreet.com Weekly Recap.