February 8, 2017 | Bitcoin Bounce, Gold Moving Higher: Trend or Fad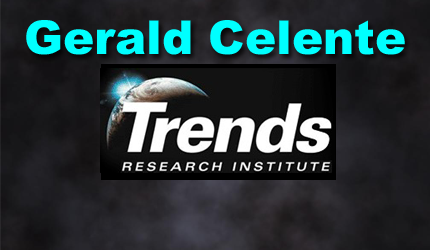 Gerald Celente, who developed the Globalnomic® methodology to identify, track, forecast and manage trends, is a political atheist. Unencumbered by political dogma, rigid ideology or conventional wisdom, Celente, whose motto is "think for yourself," observes and analyzes the current events forming future trends for what they are — not for the way he wants them to be. And while Celente holds a U.S. passport, he considers himself a citizen of the world.
KINGSTON, NY, 8 February 2017—Yesterday, Bitcoin spiked more than 2 percent, hitting its highest price since January 4. Today, gold hit a three-month peak, pushing prices up 7 percent this year.
And although equity markets continue to trade near all-time highs in the US, bitcoin and gold prices also have moved higher. Are bitcoin and gold's steady rise signaling the onset of the market storm? Or is a greater trend taking shape?
This is unlike the old days when strong equity markets, a strong dollar and strong economic growth would push gold prices lower. In the new world geopolitical and economic order, we forecast that gold and the relatively new alternative currency, bitcoin, will rise despite positive market conditions.
As for bitcoin, yesterday's jump was largely attributed to the news that China's foreign-exchange reserves continued to shrink. They fell for the seventh consecutive month, down $12.3 billion, sinking below the psychologically key $3 trillion level.
Beijing already has scrapped over $75 billion in foreign transactions last year to stem currency outflows, and it is burning through its reserves to stem its currency depreciation (the yuan is down 6.6 percent against the dollar, its worst performance since 1994). That's inspiring Chinese citizens to buy bitcoins as a hedge against further yuan depreciation. Although the government hit bitcoin traders with a flat fee of 0.2 percent per transaction two weeks ago and pledged to "further curb market manipulation and extreme volatility," trading volume continues to accelerate.
Going for the gold
On the gold front, we noted in last week's "Trend Alert: Where's gold going? Play the Trump Card!" that the Dow Jones Industrial Average had its worst day since Election Day after a number of President Trump's executive orders, including restricting immigration into the US from seven Muslim-majority countries. As the equity markets sank, gold spiked some $15 per ounce, gaining more than 5 percent in January, its best month since June 2016.
Beyond the Trump Card, investor confidence is being unnerved by unsettling rumblings across the geopolitical landscape. In France, for example, Marine Le Pen's anti-European Union, anti-euro National Front party has overtaken former establishment party frontrunner François Fillon in the presidential race. That followed accusations that he showered his wife and children with nearly $1 million in taxpayer money for no-show jobs.
In Germany, the Netherlands and Italy, strong eurosceptic, anti-immigration populist parties continue to gain momentum, threatening the established economic and political European order.
And on the war front, beyond the endless War on Terror and Middle East wars, tensions again have escalated in Israel following both the government's decree to build thousands of illegal settlement homes in occupied Palestinian territory and the passing of a new law allowing the expropriation of private Palestinian land. Over in Ukraine, the civil war powder keg has again been lit.
TREND FORECAST: Rising interest rates in the States will push gold prices lower as the dollar strengthens. However, as a myriad of destabilizing geo-economic and geopolitical tensions increase, gold prices will rise as investors seek safe-haven assets. And while bitcoin continues to gain strength and respectability, government attacks to diminish its value remain a possibility.
STAY INFORMED! Receive our Weekly Recap of thought provoking articles, podcasts, and radio delivered to your inbox for FREE! Sign up here for the HoweStreet.com Weekly Recap.