February 14, 2017 | An Homage to Love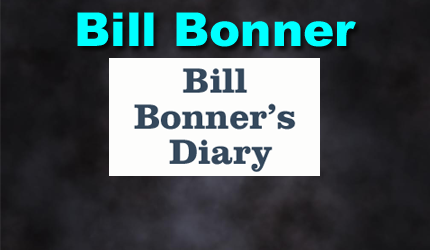 Is an American author of books and articles on economic and financial subjects. He is the founder and president of Agora Publishing, and author of the daily financial column, Diary of a Rogue Economist.
BALTIMORE – St. Valentine's Day.
Today, we pay homage to love.
As mysterious as central banking. As sublime and incomprehensible as negative interest rates. As baffling as Trump's budget plans.
At first glance, love seems well away from our normal beat here at the Diary. But on closer inspection, we find that it is right up our alley.
The Spirits Gather Round
We drove down to Virginia, south of Charlottesville, again yesterday. Mother has been slipping… and then stabilizing… slipping some more… and then stabilizing again.
Now, she is struggling. Skin and bones… unable to get out of bed or even sit up… She uses all her remaining force just gasping for air. Even with oxygen tubes in her nose, she can't get enough of the essential gas.
Deprived of the precious air… she sees people who aren't there and calls out to them.
"Mom, Uncle Edward died 40 years ago. He isn't here," we correct her.
"Oh… yes, he is…"
And maybe she is right. The spirits gather round… beckoning to her… inviting her to join them. Angels hover over the house like drones, preparing to lift her up.
Death… love… the future… the economy – all are fundamentally unknowable. You never know what you'll get. But you always get what you deserve.
There's no way to know what is coming – neither the hour nor the place. You can't make it happen or predict when it will. Like Trump, it just happens.
"Stocks, Dollar Falter as Investors Await Yellen," says a Bloomberg headline.
But what do they expect? Ms. Yellen knows no more about what will happen than we do. Perhaps even less. What do they hope to get from her?
We don't know.
A Flickering Light
Meanwhile, the light unto the world that is Donald J. Trump flickers.
As you know, if he is to really improve the lives of his supporters, he must do more than call out Nordstrom or threaten foreigners. He must drain the swamp…
Alas, when he should have been moving in with heavy pumps, he has spent his popular momentum and precious time on silly fights and largely symbolic objectives.
Cabinet breakdowns… executive order misfires… loose cannons careening across the White House decks… scrapes with judges… dustups with the media… conflicts of interest…
In short, whatever else may be said about Donald Trump and his new administration, their eyes are not on the ball.
Unless the insiders are brought to heel, no real change can happen. In order to succeed, they must take on the deepest elements of the Deep State right here in the USA.
The Trump Team must try to rein in the gunmen and the moneymen, or it is nothing but another group of conmen.
But so far, reforming the fake-money system has not even been mentioned. And instead of reeling in the military, Trump seems to want to give it more slack.
It's only in the first few months that a new administration can make any significant changes; after that, it is too late.
The Deep State quickly builds its ramparts and breastworks. Positions are fortified. Even the most seasoned and clever politicians cannot penetrate them once they are well entrenched and (with our money) well supplied.
What will happen?
Nobody knows anything. Which is why death and love are as suitable for this Diary as economics and finance.
And if there is something that cannot be known, your editor cannot know it as well as anyone and better than most. Like a drunken boatman… he goes where the currents take him.
Between One Generation and the Next
Last night, we sat by the bed and held her hand.
On TV, we saw another generation. Our daughter, an actress, had a part in the show Scorpion. She played a Russian chess master who escapes a trap by jumping out of a second story window into a trash bin filled with soft bread dough.
We laughed; she doesn't know how to play chess. But she does a good Russian accent.
So there we sat. Between one generation and the next, like a stale roll between two croissants.
The issue of one. The progenitor of the next.
One shining on national TV, young and beautiful. The other, her eyes shut… straining to breathe.
Happy Valentine's Day.
Regards,
Bill
STAY INFORMED! Receive our Weekly Recap of thought provoking articles, podcasts, and radio delivered to your inbox for FREE! Sign up here for the HoweStreet.com Weekly Recap.